First of all, congratulations on your pregnancy! How exciting! And nerve-wracking at the same time. I remember when we were expecting the arrival of our first baby: we were so happy and anxious all at the same time. And one of the things that we found to be quite stressful was figuring out if we had all we needed for the baby.
That's when a newborn baby checklist printable comes in very handy!
Most people prefer to wait for the baby shower before buying all the things needed for a newborn baby. Others, such as myself, can't resist some shopping before the event. Either way, you can use my printable baby list as a guide for your baby registry, or to figure out what's left after you've received all the presents.
And don't forget that you don't need to buy everything new! Second-hand clothes and items are a perfect solution too for a new baby. You won't believe how easy it is to find things in near-new conditions for a newborn!
Related: Baby on a Budget – Top Tips on How to Save Money with a New Baby.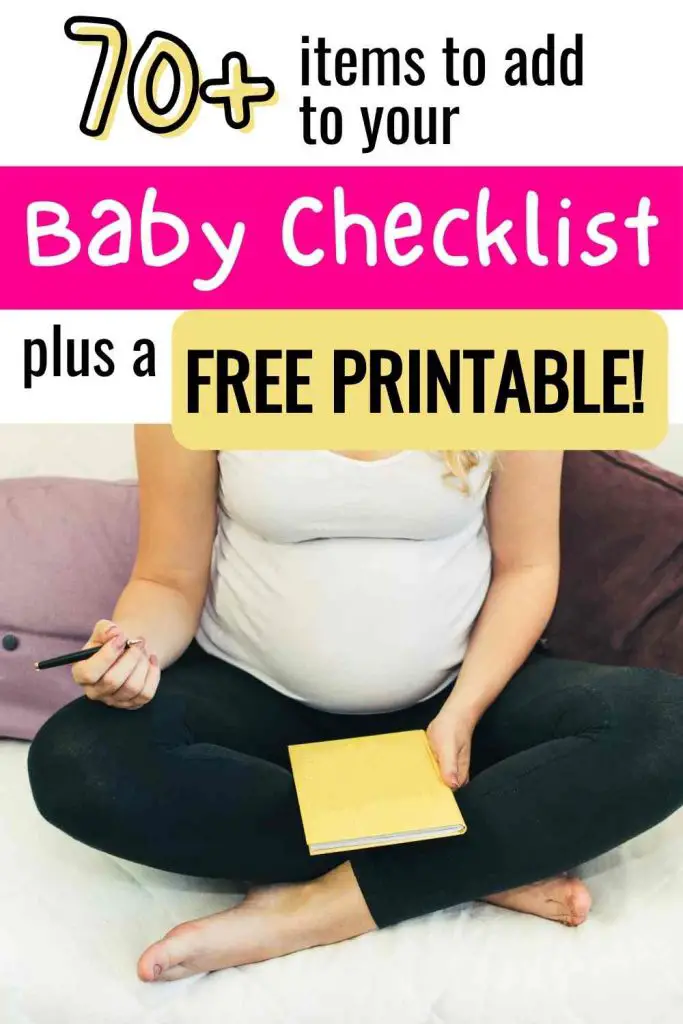 Newborn Baby Checklist
Here's my ultimate newborn baby checklist, which includes all items that you will need for baby, with some personal observations.
The list focuses on items for a newborn, so it covers more or less everything that you need for the first 3 months of life. Some of them are not absolute essentials and you can live without them (like the changing table, for example), so choose wisely what you need if you are on a tight budget.
Also, you may not need everything in here, depending on what you plan on doing. For example, you won't need formula if you plan on breastfeeding!
If you just want to grab the baby checklist pdf scroll to the bottom 🙂
Related:
Baby's Clothes
Clothes are definitely a must have in your baby checklist. And don't go too sparingly, because babies are famous for their throwing up and diaper blowouts with poop spreading everywhere!
If you are on a budget, consider getting lots of second-hand clothes. It's usually quite easy to get good quality newborn clothes, as little babies grow out of them super quickly. And don't forget to keep them in storage for second baby once you've finished using them.
Also, consider how often you plan on doing the washing. I personally wash every day because I also use cloth diapers. Some people wash every 2-3 days.
What I found very tricky with clothes is figuring out the size! Of course you won't know the exact size of your baby until they arrive in this world, but also same-size clothes from different brands can sometimes be so different, which is extremely confusing!
I would highly recommend focusing on size 0-3 months, but also have a few newborn-size clothes (which is smaller than 0-3 months!). Really don't buy too many of these, as your baby will outgrow them in no time.
Here's all the essential clothes you will need for your newborn and that are included in the printable baby list.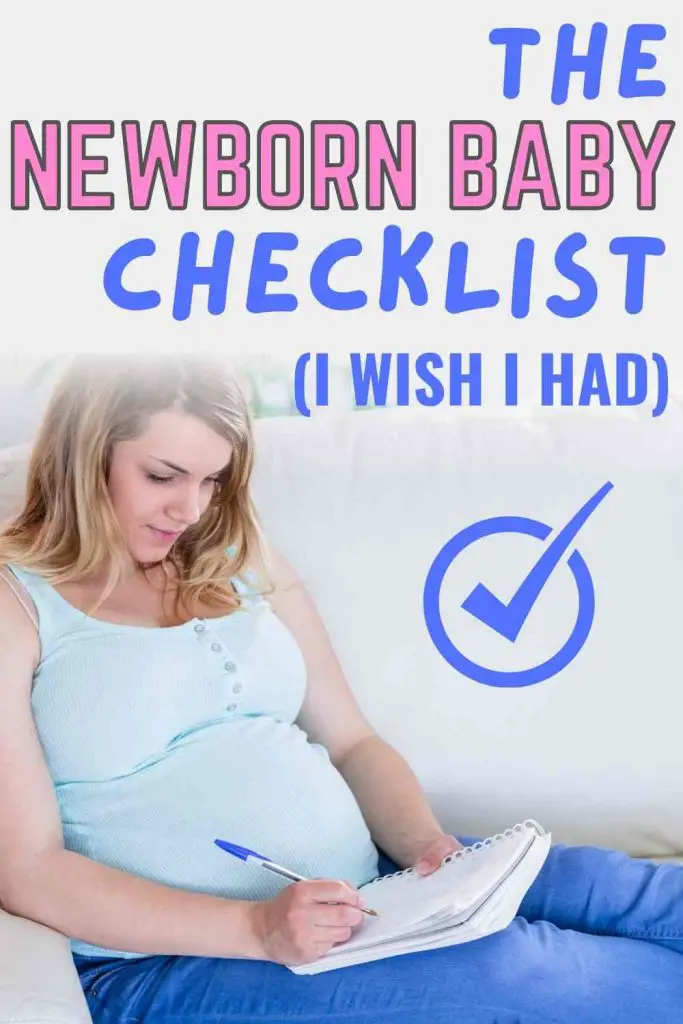 1) Bodysuits / Onesies
Pack at least 4-8 bodysuits (also called onesies) to put on your baby during the day.
They should be short sleeves if you are going to have your baby in summer with warm weather, or long sleeves if you are due in winter. If it's very hot, you also have the options of sleeveless bodysuits.
I actually put a short sleeve under a long sleeve bodysuit on my daughters when it's very cold.
2) One-Piece Footed Pajamas
One-piece footed pajamas are perfect for when putting baby to sleep, unless it's too hot obviously. They also work perfectly if you prefer one piece over separate pants and tops/bodysuits.
In fact, one-piece footed pajamas and onesies/pants are quite interchangeable during the newborn phase. It is sometimes so much easier to transfer your sleeping baby from the bassinet to the car without having to change them.
You have the choice of either zip or buttons to close these, and I highly recommend a two-way zip onesie (that either opens from the top or bottom) like this one here: makes it so much easier for diaper changes at night!
You should get 4 to 8 one-piece footed pajamas, depending on how cold it is.
3) Sweaters
Get 2 to 4 sweaters, or more if you are living in colder temperatures, to keep baby warm.
Tip: I found that lots of people still love to knit and gift sweaters, so don't buy too many!
4) Pants
You should get at least 4-8 pants as well, to go over baby's legs when wearing a bodysuit.
Note that some pants also cover the feet, which is probably what you want for a very small baby, so that you don't have to worry about them losing their socks all the time!
5) Socks
Get 4-6 socks to keep baby's feet warm if you prefer them to the footed pants. Or put them on your baby under the footed pants if it gets too cold.
6) Beanies / Hats
You should get 2 beanies for winter or a couple of hats for summer. Definitely add hats to your baby beach essentials if you are planning on going to the beach with your little one.
No matter the season, you should actually pack a beanie in your hospital bag for when baby is born. Your baby would have come out from the warmest environment in your belly and will get cold in the hospital: a beanie will keep their head nice and warm.
Related: Hospital Bag Checklist for Mom, Baby and Partner (with FREE Printable)
7) No-Scratch Mittens
You should have 2-3 No-Scratch Mittens down in your newborn supply list as well: enough so that you have a spear in case you lose a pair!
These are not real necessities, but I found them to be extremely useful when baby was very little and with long fingernails, but it was too hard to keep trimming them. Mittens helped preventing my daughters from scratching their face all the time. They were also good at keeping their hands warm when it was too cold.
That said, newborns like to use their hands to sooth themselves, so try not too leave them on for too long. I didn't use them at night when they were sleeping for example.
8) Going Home Outfit
If you want something special for when coming back home from the hospital or birthing center, don't forget to tick off a going home outfit from your newborn baby checklist pdf, or printable hospital bag checklist.
9) One-Piece Jumpsuit or Snowsuit
If you are in the thick of winter in a country where it gets pretty cold, also get a one-piece jumpsuit or snowsuit. This makes it so much easier to keep your baby warm, instead of just a jacket with a blanket on their legs.
You can find lots of very cute ones on Amazon, like this one here.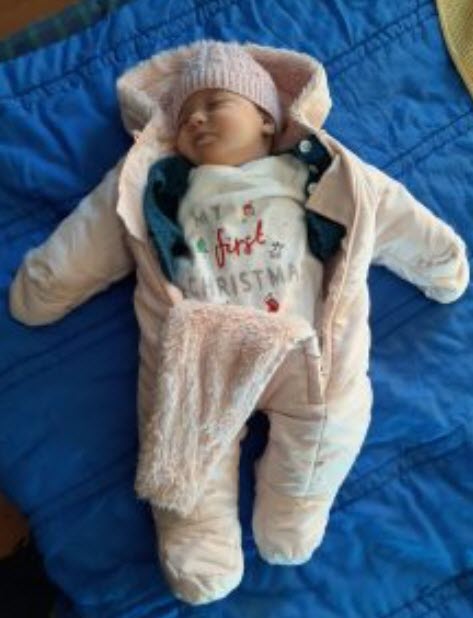 Nursery
Decorating and getting baby's nursery ready when still pregnant can be so much fun and extremely exciting. I loved decorating all the walls and thinking about all the pretty things to put in there 🙂
Here's a list of things to tick off the baby nursery checklist printable, or that you may need for your room if you decide baby is going to sleep with you at the beginning.
Related: 20+ Fun & Creative Things to do while Pregnant
10) Nursing Chair
A Nursing Chair is not a must, though it's definitely a favorite for most moms. It can be particularly helpful if you plan on having baby in his/her own room and feed them there.
We had one for our first daughter, who was bottle fed in her room. Whereas with our second daughter I found it to be much easier to just breastfeed in bed, as she was sleeping in our room.
Related: 25 Formula & Bottle Feeding Tips (to Make it Easier!)
11) Crib / Bassinet / Co-Sleeper
Crib / Bassinet / Co-Sleeper: the choice is yours. I would definitely recommend a bassinet or co-sleeper for the very first few months (usually 4 months), and then move your baby to a crib (when they hit the 4 months sleep regression!). However, some moms put their babies straight into a crib.
I absolutely loved using the Chicco Next2Me co-sleeper, it made breastfeeding at night so much easier! I wish we did the same with our first daughter, instead of putting her on a bassinet separate from the bed.
12) Mattress
Don't forget to buy a mattress for the crib or the bassinet / co-sleeper! Most bassinets or co-sleepers come with their own mattress but, with cribs, you usually need to buy your own mattress.
There's a few things to consider when buying a crib mattress, like its materials, firmness or breathability. However, the most important thing is that it needs to be quite firm.
It might also be a good idea to look into furniture packages, that include the crib, mattress, changing table and other items. If you live in Australia, there are some good ideas here.
13) Fitted Sheets
Get at least 2 Fitted Sheets, so that you have a spare change for when baby burps or leaks through the diapers.
Related: Baby Diaper Blowout (Hacks & Tips for NO more Mess!)
14) Mattress Protector
An absolute must in the baby essentials checklist pdf is the mattress protector! You definitely want this to avoid any stain or smell to get on the mattress. And get 2, so you have a change.
One trick I learnt with my first daughter? Put both on, and just take the top one off if it gets dirty! Avoids trying to put a clean one on in the middle of the night.
15) Baby Blankets
You should get 2-3 baby blankets for when out and about if it's a bit chilly, or for when putting baby to sleep.
I personally used baby blankets for my daughters until they were about 4-5 months and started rolling. Plus both my daughters hated swaddling. However, a swaddle is usually recommended for the first weeks of life. And once baby starts rolling, you can use a sleeping bag.
If you are expecting a baby, you should check out this list of best baby girl blankets to get some ideas and understand the difference between all the different types and materials.
Related:
16) Crib Mobile
A No products found. is such a great item to have for your baby! It will take a little while for your baby to start seeing this, but once they do, it's a really nice entertainment!
No products found.
No products found.
17) Baby Monitor
I really recommend getting a Baby Monitor for your peace of mind. There are so many different options out there: with just audio, with video as well, with WiFi or no WiFi, with temperature reader, etc.
We started with just an audio monitor, thinking that was going to be enough. But now we've ended up having 2 video monitors (one for each one of our daughters) that can also read the room temperature! It's so much nicer to relax on the couch in the evening, being able to see that they are OK.
18) White Noise Machine
I also really recommend getting a White Noise Machine and tick this off your newborn baby checklist printable. It really helps your baby associate the noise to sleeping time, so it becomes easier to put them to sleep while still awake and to let them self-settle.
You'll really want to teach them how to do this when they hit the 4 month sleep regression, trust me! It will save you from months of sleep deprivation.
I personally uses the Hushh Portable White Noise Machine and I love the fact that I can hook it on the car seat or stroller when I am out.
Related: 8 Tips for New Parents to Avoid Sleep Deprivation
19) Night Light
Having a dimmed night light in the room makes it so much easier to settle your baby when putting them to sleep. And will make them feel safer in the room when they grow older. In fact, as such, it can be a perfect pacifier alternative.
I use an Himalayan Salt Lamp, which is said to emit a stream of negative ions that can purify the air against allergens and pollutants to relieve stress. Plus it's pink, so perfect for our daughter's room.
Diapering & Changing
Newborn poops a lot (check our guide to the wonderful world of poop colors you'll experience). So diapers and related accessories are definitely one of the most essential things a newborn baby needs and not to forget from your baby supply checklist!
Here's what you need to get.
20) Diapers
Aim for about 50 newborn diapers to start with. Maybe get a few different brands to try and see which ones your prefer and which ones are more effective at dealing with diaper blowouts.
If you are considering cloth diapers (well done!), you can find more information on how many to start with here: Reusable Diapers – a Guide to Cloth and Swim Diapers. I also have a FREE Course on Cloth Diapers for Beginners here.
Related: Baby Diaper Blowout (the Best Hacks and Tips to deal with the Mess!)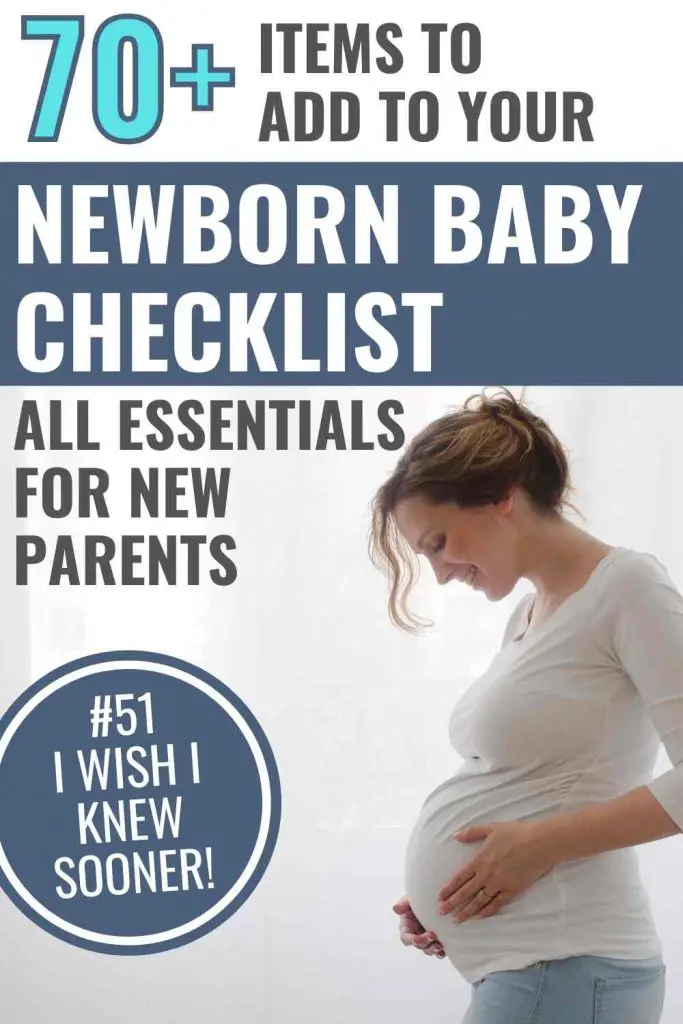 21) Wipes
Buy lots of wipes! Oh my … I can't believe how many wipes I go through a day!
Consider cloth wipes if you want to reduce your amount of waste and save some money at the same time. Just buy super cheap cloth wipes on Amazon, wet them with some water and store them in a plastic container. It's that easy!
I try and use cloth wipes as much as possible, particularly when at home. Otherwise I tend to use simple unscented baby water wipes.
22) Diaper Rash Cream
And don't forget the diaper rash cream. Babies can develop rashes quite quickly, particularly when they start teething.
if you are looking for a natural solution, check out the No products found..
23) Changing Table / Dresser
You might want to get a changing table or a dresser, but know that you can also get away with putting a changing pad on the bed. We got one for our first daughter, but never used it for our second. It was taking up too much space!
24) Changing Pads
I would recommend you get 2 Changing Pads: one for the changing table and one for anywhere else in the house where you might need it. We keep one in the bathroom to put our baby on after the bath.
25) Changing Pad Covers
With the changing pads, also get Changing Pad Covers. It's not nice to place your warm baby on the cold changing pad, so get at least 2 covers (to have a spare change).
If you don't want to buy them or you run out, you can also use a blanket. However, the blanket tends to go everywhere when baby becomes more mobile.
26) Diaper Pail
Whether you use cloth or disposable diapers, no one wants smelly diapers around the house or in the normal bin. They stink BAD!
We store cloth diapers in a waterproof bag / dry pail, like this one here. Whereas we store disposable diapers in a diaper pail that keeps all the odor sealed in. It's called the Munchkin Diaper Pail.
27) Diaper Pail Liners / Bag Refills
If you do buy a diaper pail that uses No products found. like the one above, don't forget to buy some of those as well.
28) Diaper Bag
A No products found. should definitely be on your newborn supply list. It is so handy to have for when you are out and about! Diaper bags have all those nice pockets for the bum cream, wipes, bottles, etc.
I have No products found., and absolutely love it. It also comes with a removable changing pad. I personally prefer one that goes on my back, instead of one that goes over just one shoulder.
Feeding
Whether you are planning on breastfeeding, pumping and bottle feeding or formula feeding, here's all the things you need from the newborn baby checklist pdf below.
Note: if you are still pregnant or with a newborn and struggling with breastfeeding, check out these online breastfeeding classes, including FREE courses. Whereas if you are planning on bottle feeding, check out these tips for bottle and formula feeding that will make your life so much easier.
If Breastfeeding exclusively:
29) Nursing Pillow
A Nursing Pillow will help you and baby feel more comfortable while feeding, even if you aren't nursing!
You can get a FREE Nursing Pillow at www.nursingpillow.com by using the promo code MUMINTHEWOODS at checkout.
30) Nipple Cream
Hats off if you don't end up needing a Nipple Cream while breastfeeding for the first time …
Most moms will experience nipple pain or itchy breasts when breastfeeding for the first time: a nipple cream gives immediate relief and helps healing.
So, definitely add this one to the baby essentials checklist. I used the Madela Lanolin one and it worked like magic!
Related: Sore Nipples While Breastfeeding?! 15 Tips that Saved Me!
31) Nipple Shield
A Nipple Shield is another life savior with regards to sore nipples or itchy breasts when breastfeeding. It allows you to keep breastfeeding while protecting your nipples and allowing them to heal.
I used the Madela Contact Nipple Shield and it really really helped. You only need one, and use it for both breasts if they are both sore.
32) Nursing Bras
If you are planning on breastfeeding, definitely get at least 2 Nursing Bras. However, if you can, I would recommend getting 3-4.
They can often get wet from milk leaking from your breasts, particularly during the first months of breastfeeding, even if you are wearing nursing pads.
33) Nursing Pads
I would aim for about 30 Disposable Nursing Pads to start with. However, really consider reusable ones – they are so easy to wash!
Just make sure you buy good quality ones, so the milk doesn't go through them. I initially bought some very cheap ones that would be soaked in no time. I used to put 2 on each breast and they were hardly absorbing anything. I then switcher to the Philips Avent ones and they lasted forever!
You can get 10 FREE Reusable Breast Pads at https://www.breastpads.com/ by using the code MUMINTHEWOODS.
34) Nursing Cover
Are you planning on travelling and/or don't feel comfortable breastfeeding in public? Then get a Nursing Cover!
I was never shy breastfeeding in public personally, so hardly ever used one. But I am actually glad I had one when travelling from New Zealand to Italy and ended up breastfeeding in Doha: I didn't feel too safe breastfeeding in front of people there.
You can grab a FREE Nursing Cover at www.uddercovers.com/ by using the promo code MUMINTHEWOODS.
35) Bottles (if bottle feeding either breastmilk or formula)
Get at least 6 to 8 bottles, so you don't have to worry about constantly washing or sterilizing them. Particularly when baby is small, they feed very frequently, so you want to have a few around the house.
You can also use some to keep your milk in the fridge if you are using a breast pump.
Make sure that you get different size nipples so that you can get the right flow for your baby. Usually newborn start with a very slow flow, and gradually increase as they grow. This is particularly crucial if you want to avoid your baby having colics or reflux and try paced bottle feeding.
Related: Paced Bottle Feeding (Benefits & Tips to do it Right!)
36) Bottle Sterilizer
I highly recommend getting a Bottle Sterilizer, as they make your life so much easier! We used the Philips Avent Microwave Sterilizer for our first daughter: you just stick it in the microwave for a few minutes and the bottles are ready to go again.
No products found. includes a sterilizer, bottles and a bottle brush.
No products found.
No products found.
37) Bottle Brush
Buy a Bottle Brush so that you can clean your bottles properly, and get one that includes a Nipple / Teat Brush, as the nipple can be a little bugger to clean.
We use this Nuby Bottle Brush, which includes both.
38) Formula
Seems obvious, but if you are planning on feeding your baby formula, don't forget to tick this off your newborn baby printable checklist.
There are different types of formulas, not just cow milk protein-based formulas. An example is soy-based formula if you want to keep your baby off animal proteins.
We personally ended up using a goat milk-based formula with our first daughter for example, as it helped with reducing the amount of colds she was getting in winter.
39) Breast Pump
I have personally only tried a manual breast pump, but then realized I didn't really need it and kept breastfeeding. However, you may want to consider an electric one if you plan on using it often  or if you are planning on going back to work soon – makes life so much easier.
You can have a look at a comparison between the Spectra S1 vs S2, and how they compare to the Madela ones here. Or read a review of the Haakaa Brest Pump here.
If you are going to be pumping, I would also highly recommend you enroll in one of these online breastfeeding classes, including pumping and free courses. These will teach you how to use a pump properly, to avoid a decrease in milk supply and so that it doesn't hurt, as well as how to store milk safely.
40) Milk Storage Bags
If you are going to pump and store milk, also get some Milk Storage Bags. If you need help choosing the right milk storage bags, have a look at this article here.
41) Bottle Warmer
A Bottle Warmer is a must-have to warm formula or breast milk. Definitely one of the best formula feeding tips I got.
We used the Avent bottle warmer and were quite please with it.
Others:
42) Bibs
Buy 100 Bibs!! Okay joking … maybe not 100 … but close! 🙂
You will need lots of bibs, particularly if bottle-feeding. Not to mention when babies start on solids. The more you have in your shopping list for new baby the better!
If you are going to bottle feed, one of my best tips is to buy bibs with a waterproof back, so that breastmilk of fomula don't go on baby's clothes.
Related: 25 Formula and Bottle Feeding Tips (to make it Easier!)
43) Burp Cloths
You should get something like 4-6 Burp Cloths: you really want a few of these for the first few weeks. Milk often comes back up after baby has been feeding, and best if it lands on a burp cloth than on your clothes.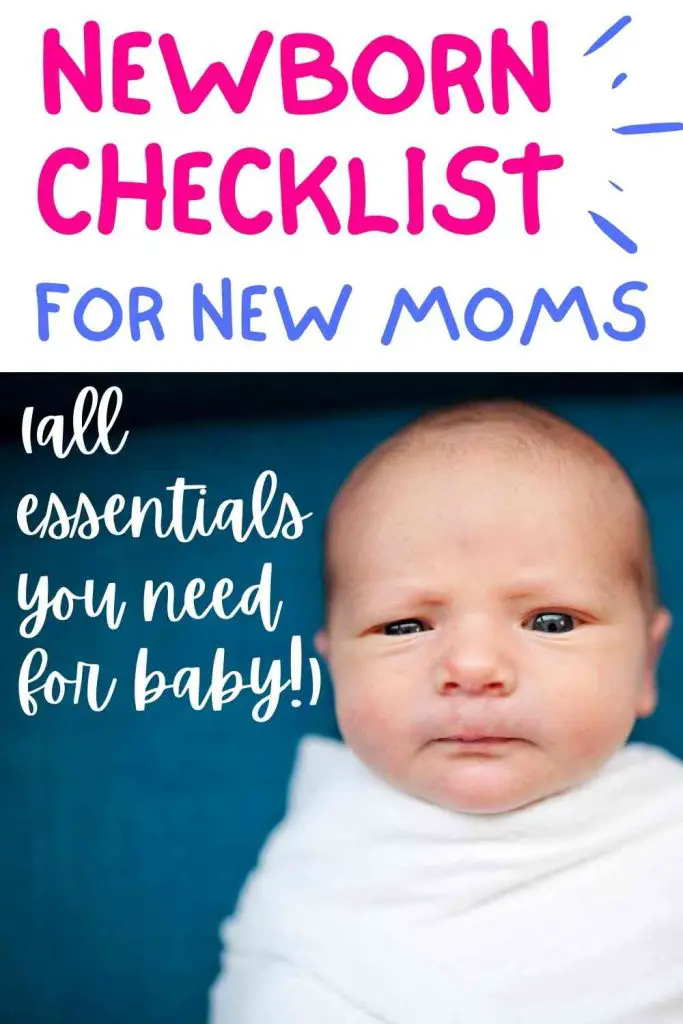 Bath Time
Bath time for newborns is not as much fun as when they get a bit older and start splashing everywhere and laugh at the little ducks in the water, or play with the watering can. And bending over the bath while holding your baby to give them a bath can actually be quite uncomfortable.
That said there are a few accessories that make life a lot easier in the bathroom. Here they are, together with other baby bath essentials.
For a more detailed list of baby toiletries that you'll need for your newborn, also check out this post: The Ultimate Baby Toiletries List (all Essentials you need!)
44) Baby Bath Tub
If you don't have a bath, definitely get a Baby Bath Tub to bath baby in. However, I would consider buying one even if you do have a bath: there's just no point in filling the whole bath with water just to wash your baby.
Also consider getting a Baby Bather where you can place your baby in, without having to hold them yourself. Bending over the bath tub can become quite hard after a while, as your baby gets heavier and heavier!
45) Hooded Towels
Lots of parents buy nice hooded towels for their babies, thinking they are newborn essentials. And so did we.
However, we soon realized we preferred normal towels. They might not be as cute as baby hooded towels, but we found them to be way more practical. Up to you!
You can get a FREE hooded towel at www.hoodedtowels.com buy using the coupon code MUMINTHEWOODS at checkout.
46) Wash Cloths
For me, Wash Cloths have been one of the best investments for my daughters and one I would definitely want to have in my newborn baby printable checklist.
We ended up using them for so many different purposes, not just when having a bath. We keep some in the kitchen to clean their hands and face after they've eaten, we used to use some as sort of burp clothes and, as I mentioned above, instead of disposable baby wipes.
You can buy them in packs on Amazon and are so cheap. Definitely stock up on a few of these!
47) Baby Body Wash
Have a look at these organic baby body wash options, perfect for baby's sensitive skin.
48) Baby Shampoo
Baby Shampoo should be on your baby toiletries list if you are going to give birth to a baby with lots of hair. Otherwise you might not need it for a while.
So, maybe wait to buy this one until you have given birth, or start buying it anyway: you will need it at some point.
My first daughter was born with no hair, and took her a few months to start getting some worth shampooing. Whereas my second daughter was born with lots of hair straight away!
49) Baby Lotion
A Baby Lotion will help keep your baby's skin hydrated, so that it doesn't become too dry. Make sure you buy a lotion specific for baby, that doesn't contain harmful ingredients to their skin.
I have personally used the Aveeno Baby Lotion and found it to be very good.
50) Bath Toys
Your baby won't enjoy playing with Bath Toys for a while, but they can soon become a good distraction to keep them entertained in the bath or when you are dressing / undressing them.
So, definitely start stocking up on a few of these soon.
51) Bath Kneeler / Elbow Rest
Again, bending over the bath with your knees on the floor and your elbows on the side of the bath can be so uncomfortable! I honestly though this was such a useless accessory, but I was then gifted one when we had our second daughter and totally loved it. Definitely worth the investment if you want to be a little bit more comfortable.
Personal Care
52) Nail Clippers
Baby's nails grow super fast! Don't forget to add Nail Clippers to your newborn essentials list and buy them!
53) Vaporizer / Humidifier
A No products found. (or Humidifier) adds moisture to the air, making breathing easier when baby has a cold. You have the choice of cool-mist or warm-mist vaporizers.
They both work great, though I would recommend a warm-mist one because they are slightly less noisy. We use the No products found., which really helps our daughter sleep at night when congested.
54) Nasal Aspirator
A Nasal Aspirator is perfect to suck mucus out your congested baby to help them breathe better (unless you want to suck it out with your mouth that is!). I used this one from Amazon and was a life savior during the first months of winter when my second daughter was still very small.
55) Safety / First Aid Kit
Babies can get sick too, particularly if it's their first winter and they need to start building their immune system, so it's better if you are prepared. You'll need a digital thermometer, a medicine dispenser, etc.
You can actually get a Healthcare Grooming Kit on Amazon that includes everything you need in case your child gets sick, plus a brush, the nail clipper, nasal aspirator, etc.
56) Baby Brush
Finally, depending on how much hair your baby is going to have (you might not need it!), don't forget a Baby Brush for your newborn baby checklist.
Out and About
57) Folding Changing Pad
A Folding Changing Pad can be so handy when you are out and about. I would change my daughters on the grass or on the disgusting baby changing tables in the restaurant toilets.
I recommend you buy at least one to keep in your diaper bag.
58) Infant Car Seat
Talking about absolute essentials… this is one you can't miss from your baby list.
I highly recommend getting one that clicks on a base. That way the base is always in the car, and you just click the car seat in and out. Much easier than trying to put the seat belt around the car seat every time.
When we were in Italy we used the Graco SnugRide, whereas in New Zealand we used an Evenflo infant car seat. They were both great and could both be fitted on our stroller adapter.
59) Car Seat Canopy
A Car Seat Canopy one can come in handy if your baby is sleeping and you don't want him/her to wake up with outside noises and lights.
You can get a FREE Car Seat Canopy at www.carseatcanopy.com/ by using the promo code MUMINTHEWOODS at checkout.
60) Stroller
Think carefully about the type of stroller you want. Do you like to go for walks on the beach or off-road? Or do you just go for leisurely walks in the city?
I live close to the beach, so I have the Baby Jogger City Mini GT three-wheels stroller that goes on all type of terrains. My stroller has a clip-in adapter for the car seat, so that I can go for walks with the car-seat on the stroller. I found this feature to be so incredibly handy, particularly when not wanting to wake baby up when moving from the car to the stroller of vice versa.
It also has a clip-in adapter for the bassinet, which was awesome when baby was very small!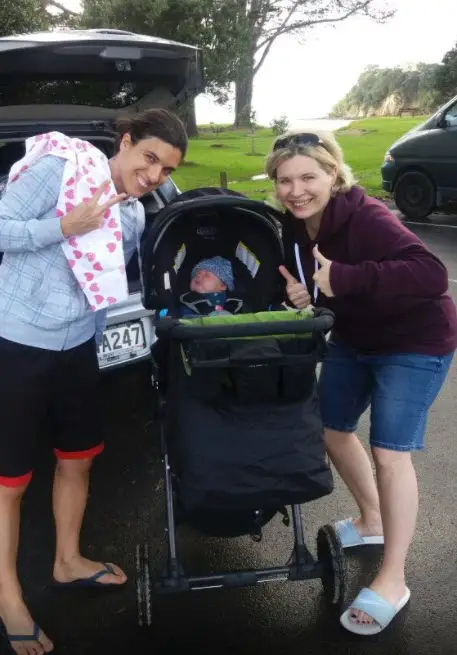 61) Bassinet for the Stroller
If you are looking for a bassinet that can be placed on a stroller, we used the Baby Jogger Bassinet that could fit on our Baby Jogger City Mini GT and were very happy with the product.
The only disadvantage about these bassinets though, is that they are quite tiny and won't be long before your baby can't fit in it anymore. So, if you are on a tight budget, maybe you can do without.
62) Stroller Accessories
The list here can be quite long, but here's some ideas:
If you want to buy an Uppababy Vista or Cruz stroller, there's a good selection of stroller organizers here for example.
63) Mirror
You also really want to get a Baby Car Mirror for your car, but make sure to buy one that's got a wide angle. We made the mistake to first buy one that doesn't, and we constantly struggled trying to see our daughter in the back.
64) Travel Crib
Unless you are co-sleeping with baby in your bed, you'll need a Travel Crib for when you are away on holiday. We put ours to good use with our daughters!
65) Travel Fitted Sheets
And…. Travel Fitted Sheets for the travel crib mattress.
66) Baby Carrier / Wrap
I personally loved wearing a Baby Wrap for when my daughters were very small, then preferred to transition to a baby carrier and hip seat carrier.
I used the Baby K'Tan wrap for the very first few weeks and loved how easy it was to put on. I found it was also perfect for settling my daughters at home when they were upset. The only disadvantage about the Baby K'Tan was that it comes in different sizes, and mine wouldn't fit my wife. So, we also had to buy a universal one that both my wife and I could wear.
A baby carrier though was easier to use once my daughters got a bit bigger, around 4 months of age. I also found the Baby Carrier to be much more convenient when travelling, as it can be put on and take off quicker. So perfect for when travelling on a plane and having to constantly take it off to get through security.
While with my first daughter I used a traditional baby carrier, with my second daughter I actually fell in love with hip seat carriers! These are way more comfortable for your shoulders and back, and can transition to just a waist carrier (just a hip seat with a belt that goes around your waist) when baby gets older.
Related: 10 of the Best Baby Hip Seat Carriers
67) Baby Carrier Cover
If it's very cold, you can also buy a cover to put on the carrier. These are also wind and water resistant usually.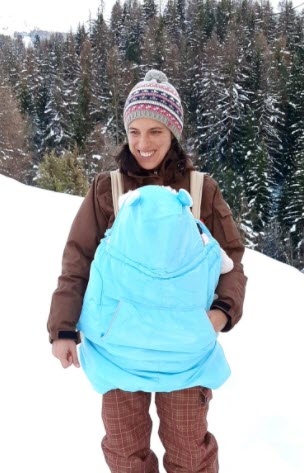 Others
68) Pacifiers
If you are planning on giving your baby a pacifier, get at least 2 or 3. Make sure to buy more than one, so that you always have an extra one with you in case you loose the first one.
Even better if you have some funny baby pacifiers in the mix, so you can always have a laugh when looking at your baby's face!
If, on the other hand, you'd rather avoid having to give your baby one, check out these Pacifier Alternatives.
69) Toys
Get some rattles and a play mat or activity gym. If you want to plan ahead for when they are teething, then also get some teething toys. I think Sophie La Giraffe is the best!
70) Books
Your baby won't be able to follow you reading a story for a long time, but it's so nice to start reading some books to your baby from when they are very little, or even while you are still pregnant! Have a look at these non-classic children's books for some inspiration, or check out these books to read to baby in womb.
71) Bouncer
You can not have a baby and not have a bouncer! Definitely thick this off your newborn baby checklist printable!
I used to take my daughters all over the house with me inside the bouncer. It makes life so much easier, as you don't have to carry baby the whole time.
Get one with vibration and music as well, like this one from Fisher-Price. Your baby (and older baby, once you have 2!) will love it!
72) Baby Scales
If you are planning on weighing your baby at home, then you should be getting a set of baby scales. A special digital baby scale is not the only option, you can also use a kitchen, bathroom or luggage scale.
Related: How to Weigh Baby at Home
Newborn Baby Checklist Printable
Do you want to get a printable version of the Newborn Baby Checklist above? Then I have a new baby checklist pdf right here for you! Download it, print it, cross out anything that you don't want, and start checking what you already have and what you still need.
Newborn Baby Checklist Printable: Final Thoughts
Expecting a baby can be so exiting and overwhelming at the same time: so many things to think about, items to buy and thinks to organize. Well, I hope the list above gave you some peace of mind and confidence that everything that you need is in one place now, and all you need to do is to start ticking things off.
Here's some other things that will help:
If you are creating a baby registry, and if you want to add some useful, but not ordinary, items to your registry, check out these 15 ideas from A Cheeky Little Monkey.
If you are planning on giving birth at the hospital or a birth center, start thinking about what you need to pack for your Hospital Bag! You can also download a Hospital Bag Checklist Printable here, which includes anything you need for mom, baby and partner.
Other useful links for pregnancy:
Other useful links for labor & delivery:
Other useful links for postpartum:
---
Are you an expectant mom and have some questions about the above newborn baby checklist printable? Or are you already a mom who's gone through this and have some suggestions or recommendations for other items that should be added in here? If so, then please let me know in the comments below – I'd love to hear from you!
Did you find this useful? Pin It!