NEW FREE INTRODUCTORY COURSE TO HYPNOBIRTHING
The Ultimate Free Introductory Course to Hypnobirthing and all of its Benefits to achieve the Most Amazing Birth Experience
ARE YOU LOOKING AT HAVING A POSITIVE, CALM, EMPOWERING & PAIN FREE BIRTH?
I gave birth to my daughter with a natural / vaginal birth. It was beautiful, pain free and extremely empowering. And I did it all with the help of Hypnobirthing.
It was such a life-changing moment that, all I wanted to do after giving birth, was to spread the word of Hypnobirthing to as any women as possible. I wish every women in the world could approach giving birth without all the fear of pain or complications, and trust that her body knows exactly what to do. In fact, the body doesn't need to go through excruciating pain to bring a life into this world!
It all sounds amazing, right? Yes, but it's not that easy to achieve! Hypnobirthing is like running a marathon, you need to train for it if you want to make it to the finish line. So many women fail at Hypnobirthing because they do not know the proper techniques or because they do not practice enough.
Hypnobirthing uses deep relaxation, visualization, affirmations and special breathing techniques to achieve the birth that we all dream of. Its success also depends on the mom-to-be being able to release any fear related to giving birth. And enrolling in a Hypnobirthing course is the only way to learn all of this. Hearing about it from a friend or reading about it in a book is not enough.
But how can you know for sure that Hypnobirthing is the right choice for you? 
How can you be sure that it works? 
And how can you find that out before enrolling in an expensive Hypnobirthing course?
This is exactly where my FREE course can help you!
WHAT EXACTLY IS THE INTRODUCTORY COURSE TO HYPNOBIRTHING?
This FREE Introductory Course to Hypnobirthing is a 2-weeks email course that will take you through all the benefits of Hypnobirthing and explain how and why it works. It will introduce you to all the different Hypnobirthing techniques, including some practical exercises, and explain the importance of releasing any fear before giving birth.
You will receive an email every other day and by the end of this course, you will have a clear understanding on whether you believe Hypnobirthing can help you in your birthing journey or not. And you will know if it's worth taking the extra step of enrolling in a full course. It will also give you some recommendations on online courses that you could take, in case you can't attend any class face-to-face.
IS THE INTRODUCTORY COURSE TO HYPNOBIRTHING FOR ME?
If you can say, "Yes, this is me!" to any of these statements, then this course is FOR YOU!
If you said "Yes" to any of these, I promise you this course will blow your mind to the possibilities of Hypnobirthing and will have you excited at the idea of having the most amazing birth experience.
WHAT EXACTLY IS THE INTRODUCTORY COURSE TO HYPNOBIRTHING?
In this FREE Course, I will be lifting the curtain to Hypnobirthing, to show you exactly how it can help you achieve the most calm, positive & comfortable birth experience. This includes:
And WAIT there's more, you will also get this information: 
You will learn the strategies behind why Hypnobirthing works and how you can be successful at it.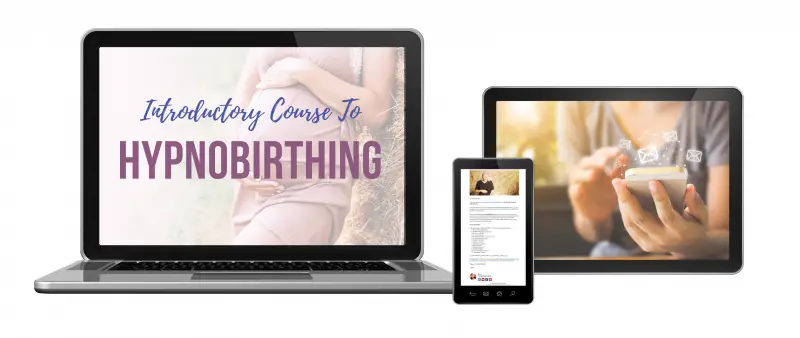 EMAIL #1: THE HYPNOBIRTHING PHILOSOPHY
Understand what Hypnobirthing and what it is based on, as well as how it could help you in your pregnancy and birthing journey.
EMAIL #2: THE DIFFERENT HYPNOBIRTHING PROGRAMS
Believe it or not, there are different Hypnobirthing programs out there. All very similar but not exactly the same. Find out what these are and how they differ.
EMAIL #3: BIRTH THROUGHOUT HISTORY
Find out how, through history, women have been taught how to give birth in a way that's totally against their instinct and nature. This creates lots of fear surrounding birth and leads to painful and, often, complicated births.
EMAIL #4: THE BIRTH PHYSIOLOGY
Learn the physiology of birth and how fear can significantly affect this, causing lots of pain for the laboring mom.
EMAIL #5: BIRTHING WITHOUT FEAR AND THE POWER OF THE MIND
This email will teach you how Hypnobirthing can help you release any fear or stress, and how your mind has the power to turn your birthing experience into a positive one. 
EMAIL #6: THE HYPNOBIRTHING TECHNIQUES
A list and introduction to all the different Hypnobirthing techniques.
EMAIL #7: RELAXATION TECHNIQUES
Some examples of relaxation techniques that you can start practicing at home.
EMAIL #8: BREATHING TECHNIQUES
An explanation on how good breathing can really help you relax, and instructions on how to start practicing the correct Hypnobirthing breathing techniques.
EMAIL #9: VISALIZATION TECHNIQUES
An explanation of how visualization works and a visualization exercise that you can start practicing.
EMAIL #10: BIRTH AFFIRMATIONS
An explanation of how birth affirmations works and a long list of birth affirmations to choose from.
EMAIL #11: DEEPENING TECHNIQUES
To be successful at Hypnobirthing, you need to get into a deep state of relaxation, to a point where your body almost feels limp. I will share with you my favorite deepening exercises so you can start practicing this technique as well.
EMAIL #12: PERINEAL MASSAGE
Perineal massage is also important for the success of Hypnobirthing: to lessen discomfort and avoid tears. This email includes instructions on how to practice it.
EMAIL #13: ONLINE HYPNOBIRTHING COURSES
A list of providers of online Hypnobirthing courses, with information on what they offer.
EMAIL #14: HYPNOBIRTHING RESOURCES
A list of extra Hypnobirthing resources you can look into.
Hi Monica, thank you for putting together those 14 emails. I have found it really useful getting to know more about hypnobirthing before spending lots of money on a course. 
Your explanations have helped me to decide to look further into hypnobirthing and hopefully combine the techniques with a water birth in December.
Thank you!
Thank you SO much for creating these super helpful emails. I've really learnt a lot from them and am so glad I found you as a resource. 
I am 24 weeks and doing everything I can to prepare for birth and this is by far one of the most helpful tools I have found. I am so excited to start a course and so appreciate all your advice!
I have enjoyed these emails SO MUCH! They are incredibly informative and easy to read.
The course has further upped my interest in hypnobirthing and I feel confident, excited even, about giving birth!
I am the proud mom of 2 beautiful girls and author of the blog Conquering Motherhood.
Giving birth to my second daughter with Hypnobirthing was one of the most wonderful and empowering events of my life. That's what's inspired me to start this blog and share my story with you. Also, being a mother of a baby and a toddler, I know mom's life is not always easy. Finding comfort in knowing you are not alone has always helped me. 
So, I'd like to pay it forward and share with other moms what I have learnt along the way. Here you will find tips, suggestions and recommendations on how to tackle motherhood.