If you're thinking of decorating your baby's furniture or bedroom, you'll not only want to make it look lovely but want to make sure that the materials you use aren't toxic and especially that you use baby safe paint for cribs, walls or furniture. In this article I've described some of the best baby-safe paint options available and what to look out for when choosing materials and paints to help you provide your child with an environment that is free of harmful chemicals.
What kind of paint is considered to be safe for your baby?
Baby cribs, baby furniture, and the nursery itself (walls, ceiling, woodwork, etc) can all be painted with natural or water-based paints that are non-toxic and have "zero-VOC" ratings. These paints are normally safe for your baby to use.
However, the majority of paint sold contains Volatile Organic Compounds, also known as VOCs, and can be harmful so you should avoid these.
When you start applying these paints, they release into the air a gaseous form of an organic compound chemical known as VOC. It's worth noting that not only paints release these dangerous chemical gasses and VOCs are commonly found in a variety of products, including the following:
Paint, varnishes, and paint thinners, glue, adhesives, flooring and carpeting, cleaners, pesticides, cosmetics, deodorants, oil, gasoline, diesel – all these product groups could generate VOCs which might trigger health problems.
VOCs are known to be the cause of a wide variety of adverse health effects, ranging from skin irritations and headaches to nausea and damage to internal organs. As a result, you should steer clear of products that contain volatile organic compounds not only for the sake of your baby but also for your own health.
One of the product groups that generates a lot of these volatile compounds is paint – so here are some things to consider when looking for products to use to paint your nursery.
Nursery, Cribs: Baby-Safe Crib Paint
To help you select baby-safe paint, it's well worth understanding the common paint safety factors and look carefully at the chemicals in the paint brand you're choosing. There are two main sets of chemicals to watch out for: VOCs and APEs.
Why Choose Paint Free of VOCs?
You should shop for paint that is free of volatile organic compounds (VOCs). These VOCs are hazardous because of the following reasons:
Chemicals released into the atmosphere by the paint are also one of the reason's paints have such a strong and unpleasant odour.
If you inhale these chemicals you could experience both long-term and short-term health effects. VOCs have the potential to irritate the eyes, nose, throat, liver, kidneys, and other organs.
If you're painting indoors, the impact of VOCs can be much worse unless you ventilate the room very well.
As a result, low or zero VOC paint should be used in baby cribs. Your child is likely to spend a significant amount of time in their cribs so would be exposed to any impact from paint for an extended period of time. To reduce this risk, go for water-based or milk paints as a choice for zero-VOC products.
Choose Paint Free of APEs
You should also avoid paint that contains alkylphenol-ethoxylates (APEs). APEs include nonylphenol and octylphenol (these chemicals are all commonly used in some paints and other products for surface finishes).
It's suspected that APEs are what are called 'endocrine disruptors', which are substances capable of interfering with the body's natural hormonal cycles. They have been linked to developmental, reproductive, brain, and immune issues, as well as other health problems. It is best to avoid using products containing endocrine disruptors near infants.
Look for products labelled BPA free to be sure you are using safe paint.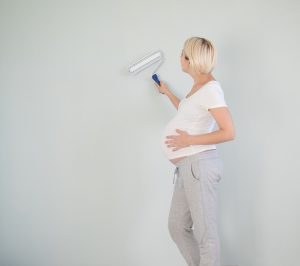 Is It Safe to Paint Your Nursery While Pregnant?
If you are pregnant, you might be planning how to decorate your nursery – but is it safe for you to do the painting yourself? Even if you choose low- or zero-VOC paints, it's going to be safer if you can get someone else to do the decorating and even if you can get someone else to do the painting, always ventilate the room well and, before going in to the room, allow the paint to dry completely.
Our Look At The Top Six Baby-Friendly Paints
We've selected five paint brands that are safe for babies and children due to their high-quality ingredients, non-hazardous and zero-VOC composition and excellent coverage.
1) Interior Chalked Paint by Rust-Oleum
Rust-Oleum has a range of non-toxic paints that are a great choice for decorating cribs. furniture or other features in your nursery.
The Chalked Paint range delivers a matte, smooth finish with even coverage; it is suited to painting a variety of surfaces including wood, metal, and ceramic.
When applying the paint, you'll find it's low-odour and dries quickly (in under an hour); it's made with latex which helps the drying time and also allows you to clean up or remove spills or over-paint with a cloth and water before it dries.
2) Retique It by Renaissance Furniture Paint
When it comes to paints that are safe for use around children, we like Renaissance's furniture paint as it's hypoallergenic, contains no VOCs, and is non-toxic. You'll find plenty of color-options with more than a dozen colors in the palette.
You should be able to apply it without a primer and (depending on the surface you're painting) you might be able to get good coverage from just one coat, though two will give you a deeper finish.
3) Amy Howard One Step Paint
This Amy Howard brand of paints contains no volatile organic compounds (VOCs) and is water-based, so is near-odourless, making it a good choice to use when decorating a nursery. Since it's water-based, there's another advantage of quick drying time and it should be dry in less than half an hour. There's a modest range of colors with a chalk finish.
4) Chalk Mountain Furniture Paint
The Chalk Mountain range of furniture paint is non-toxic, zero-VOCs and low-odour and dries quickly, all of which make it a good choice for work in a nursery. There's a great range of over 50 colors to help you express your creative side with bold or subtle colors in your baby's nursery.
5) Shabby Chic Furniture Paint
There's a good range of over three-dozen colors in the Shabby Chic furniture paint range that offer water-based chalk paints that are low-odour and emit low-VOCs. This one-coat range gets great reviews used on furniture and cribs.
6) Fusion Mineral Paint
The Fusion Mineral range is last on our list because although it is non-toxic, contains no formaldehyde and contains no lead (all of which are good things!) it is not a zero-VOC paint and instead is a low-VOC product. It's low-odour and good for use in your nursery.
Summary to choosing baby-friendly paints
You should be safe to go with any of the baby-safe paints that we have mentioned in this article. Just make sure that the color and tone of the brand you choose is clearly marked non-hazardous and VOC-free.
FAQs For Baby-Safe Paints
What kind of paint can I use on a baby crib that won't harm the baby?
Any paint marked as non-hazardous with zero or very low levels of VOCs (Volatile Organic Compounds) is considered to be safe for use on a baby crib. When shopping for paint for your baby's crib or other furniture in the nursery, be sure to look for a brand that is marked VOC-free.
Is it safe to refinish and paint a baby crib after it has been used?
Yes, you should be safe to refinishing and repaint a baby crib and it's often a good idea especially if the crib is older and might have some rough surfaces that might be hazardous for your child.
Is it safe to use chalk paint to decorate a baby's crib?
Yes, you should be safe to decorate furniture, walls or ceilings in your nursery with chalk paint. Make sure to follow the directions for use carefully, which normally means waiting a month for the paint to dry completely and for the wax finish to cure.
Is furniture paint safe for furniture for babies?
Yes, as long as it is clearly marked as non-hazardous and free of VOCs. Always make sure to check the label to see the chemicals it contains and make sure to choose a paint that in addition to being free of VOCs, doesn't have a high percentage of vinyl or acrylic compounds.