Baby's first Christmas is such a special and sentimental time for every new parent. The first Christmas as an extended family!
This is a time when we, as parents, start introducing our little new baby to beautiful Christmas traditions, such as taking a photo with Santa, making some Christmas ornaments, buying the cutest Christmas outfit, or getting your baby their very first Christmas stocking. I remember I loved every moment of my daughters' first Christmas and, even though they probably didn't really appreciate all the traditions and presents, it's been fun and unforgettable moments watching them being a part of it all.
If you are looking for some of the best stocking stuffer ideas for babies to celebrate this Christmas, you've come to the right place! I have rounded up here some the best Christmas stocking fillers for babies, including stocking stuffers for baby boys or baby girls, stocking stuffers for newborns, as well as for older babies.
Some of the items below are actually listed in my newborn baby and baby toiletries checklist, so this Christmas could be an opportunity to buy the few items that you are still missing for your baby and that would make your life easier.
Also, you will only find items that make sense to put into a Christmas stocking here. I have gone through so many articles that list items as ideas for baby stocking stuffers that will actually never fit in one! Of course you can get different size stockings, so you can buy a big one for your baby to fit larger items, but the tallest ones are usually around 20- 22″, with most of them being between 15-18″.
Related: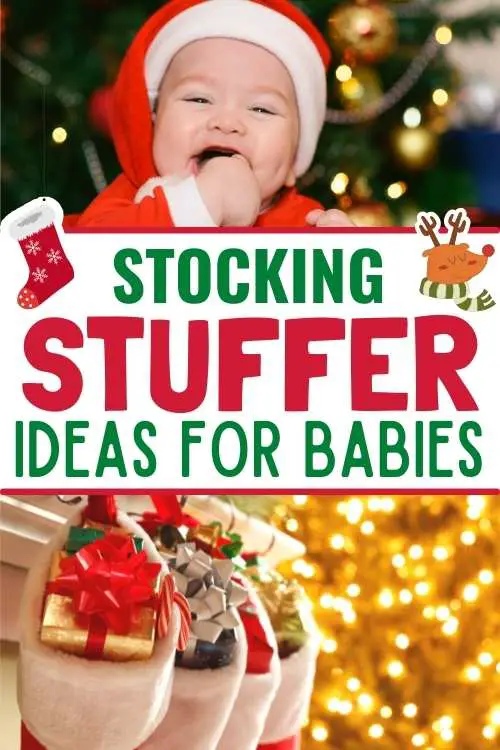 Stocking Stuffers for Baby's First Christmas
Here's the list of the best baby stocking stuffers for baby to celebrate their first Christmas! The list is split in different categories to make it easier for your to sort through.
Clothing / Accessories Stocking Stuffers
1) Christmas outfit
A Christmas outfit is a must in my opinion, particularly for baby's first Christmas. So, why not add one in your baby's stocking and put it on for Christmas day?
I personally really like this Carter's 2-Piece Bodysuit with the wording "my first visit from Santa" at the front and a little reindeer on baby's bottom. Perfect as a stocking filler for newborn. Or check out this very cute elf outfit that comes in different sizes all the way to 24 months.
>> Carter's 2-Piece Christmas Bodysuit on Amazon here <<
2) Christmas Beanie
Christmas is also a very cold time of the year, so you may need to buy a beanie for your little one anyway. But a Christmas-themed beanie would make a perfect stocking stuffer for baby.
I am absolutely in love with this Rudolph Reindeer Beanie Hat below: I just want to squeeze that little red nose! But if you want something more classic (still with Christmas colors), check out this red and white beanie.
>> Rudolph Reindeer Beanie Hat on Amazon here <<
3) Baby Socks
If you are in a very Christmas mood and also want some themed socks, check out these Huston Baby Christmas Unisex Socks. They actually have a lot of choice, not just Christmas-related socks, but I totally adore the ones in the picture below.
Or you can have a look at these super cute socks with funny phrases underneath. My favorite one is "At my age you just can't trust a fart!".
>> Huston Baby Christmas Unisex Socks on Amazon here <<
4) Baby Mittens
Don't forget your little one's hands: they can get pretty cold when going outside this time of the year. Baby mittens will really help keeping their hands nice and warm. Not to mention that they avoid newborns scratching their face (with their fast-growing nail!). So, this could be a perfect stocking stuffer for infants.
Have a look at these adorable crochet baby mittens from the picture below, or you can browse through a lot of different baby mittens on Amazon.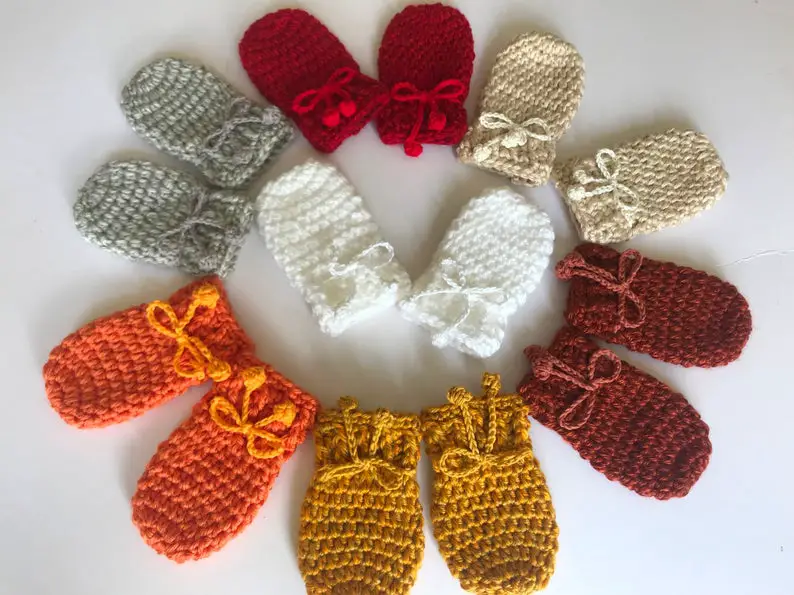 >> Crochet Baby Mittens on Etsy here <<
5) Santa Hat
Most parents also have their babies wear a traditional Santa hat on Christmas day so, unless you've got it out and on your child's head already, think about folding it into their stocking.
If you prefer an elf hat to Santa's hat, check out this elf long tail crochet beanie on Amazon.
>> Santa Hat on Amazon here <<
6) Baby Leg Warmers
Again, winter is all about keeping your child comfortable with the cold temperatures, and leg warmers are perfect at keeping their little legs nice and warm. They are also very handy as they make diaper changes easier (particularly if your baby as a diaper blowout), and are perfect if you are into Elimination Communication (EC).
Related: 26 Baby Diaper Blowout Hacks & Tips (NO more Mess!)
>> Baby Leg Warmers on Amazon here <<
7) Baby Shoes
A new pair of baby shoes or nice booties could also fit in a Christmas baby stocking. I love these baby girls princess shoes shown below: I think they'd be absolutely perfect to go with a Christmas outfit and they'd be a great idea for a stocking stuffer for baby girls.
Otherwise, you can shop for other baby shoes on Amazon.
>> Baby Girls Princess Shoes on Amazon here <<
8) Tights
Baby tights are another alternative to leg warmers. Not as convenient for diaper changes, but they are perfect if you want your baby girl to wear a little skirt.
>> Baby Tights on Amazon here <<
Teethers / Pacifiers
Teether and/or a pacifier are always a good idea for babies, particularly when those little and annoying teeth start to come through around 6 months. If you have a little one that starts to wake up multiple times a night, that might be the reason.
Related: Baby Waking Up Multiple Times a Night – here's what you need to know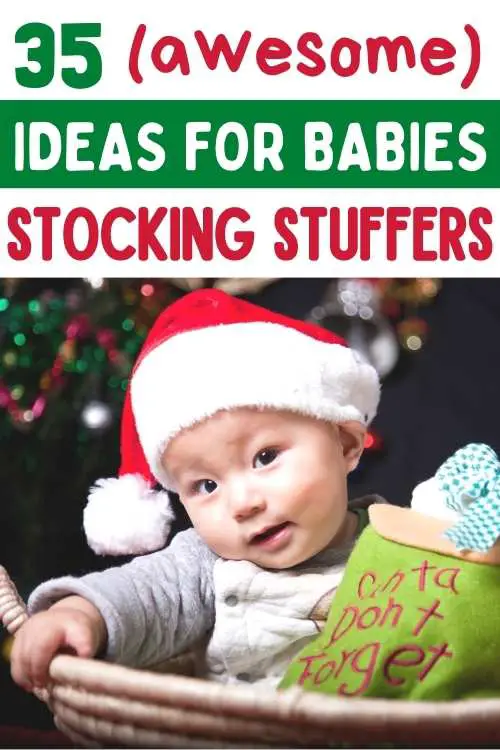 9) Pacifier
Of course you can get your baby any pacifier, but Ulububu has some super cute holiday pacifiers with a snowman and "let it snow" wording, which would be perfect as a stocking filler ideas for babies. And, if your baby likes pacifiers, having an extra one handy is always a good idea.
My first daughter used to have about 3 pacifiers in her crib at night, hoping that she's find at least one when she was waking up at night! However, if you are trying to get rid of the pacifier, make sure to check out these pacifier alternatives.
>> Holiday Pacifiers on Amazon here <<
10) Pacifier Clip
If your baby likes to take their pacifier everywhere you go, a pacifier clip is also a very good item to have and something that you might have not thought about yet. Trust me, it's frustrating when you have to pick up the pacifier from the floor from the 100th time or if you keep losing it!
>> Pacifier Clips on Amazon <<
11) Sophie La Giraffe
Sophie La Giraffe is one of the world's most famous teethers: I actually don't know of any baby who didn't have one.
You can buy the bigger giraffe that make a sounds when you squeeze it (though it might take up too much space in your stocking), or the little teether one. You can even buy one that's a little keychain so you can add it to your car keys and never lose it: it will come in handy for an emergency if your baby is screaming in the car.
>> Sophie La Giraffe Teether on Amazon here <<
12) Fruitsicle Pop Tray
Another great item to relieve sore gums and awesome idea for a stocking stuffer for baby is a fruitsicle pop tray. You can freeze any of your home mashed purees for it and the clever design will catch any drips.
>> Fruitsicle Pop Tray on Amazon here <<
13) Teething Gel
Using teething gel for teething relief is another one of my best tips if your baby is teething and waking up multiple times a night. If you don't have one already, this could be a good one too for your baby's stocking.
>> Teething Gel on Amazon here <<
14) Lovey Blanket
Last but not least, for the teethers and pacifiers, consider a lovey blanket for your baby: it can give your baby a great sense of comfort and reassurance.
For a Christmas-themed one, check out this deer lovey blanket, or you can have a look at the bigger selection from Amazon.
>> Lovey Blankets on Amazon here <<
Personal Care
Personal care items are also other good stocking stuffer ideas for babies. And, if you want to make sure you've got everything you need, know that most of these items are both in my baby toiletries essentials and newborn baby checklist.
15) Nasal Aspirator
You might not feel the need to buy this until the weather starts getting cold and your baby starts getting a bit of a runny nose. But when that happens, a Nasal Aspirator is going to be your savior.
It is perfect to suck mucus out of your congested baby to help them breathe better. I personally used this one from Amazon and was so convenient to have when my second daughter was still very small in the middle of winter.
>> Nasal Aspirator on Amazon here <<
16) Nail Clippers
This is a must to add to your toiletries list for baby: those nails grow fast! And, because newborn babies like to constantly touch their face, they can easily scratch themselves if you don't trim them.
If you are one of those moms who's not grossed out by anything, you can easily bite them off, as baby's nails are very brittle. However, if you prefer to use a nail clipper, this one from Safety 1st does a perfect job and could easily fit in any baby Christmas stocking.
>> Safety 1st Baby Nail Clipper on Amazon <<
17) Toothbrush
You won't really need to start using a toothbrush until your baby's first teeth start pocking through at around 6 months of age. But if it's Christmas, and your baby is approaching that age, a baby toothbrush could be a good stocking filler idea. You baby might like the idea of sticking it in their mouth straight away!
Kids toothbrushes have smaller heads than adults that can fit better in your child's mouth. They come in a variety of colors and patterns, and often have larger handles to make it easier for them to hold it.
>> Colgate My First Baby and Toddler Toothbrush on Amazon here <<
18) Washcloths
Washcloths are so handy to have with babies. I actually used them for so many things that buying them in bulk was one of the best investment I ever made I used them to bath my daughters, as reusable wipes to clean their bum, as burp cloths or even to wipe their hands and faces when they started on solids.
You can buy them in bulk on Amazon and they are so cheap. Definitely stock up on a few of these and hide a couple in baby's stocking: even if it's just so you can play peek-a-boo with them for a little while!
>> Washcloths on Amazon here <<
19) Baby Brush
Here's an item that might not make a lot of sense to you, unless you have a baby that was born with lots of hair! I don't believe I used a hair brush on my first daughter until she was almost two years old for example.
However, if you decide to use it as a baby stocking stuffer, make sure that you buy one specific for babies – never use an adult brush on them! It needs to be a gentle-bristle brush, that will help protect your baby's delicate skin and prevent injuries.
The Molylove Baby Hair Brush is made from soft goat bristles that prevent static and are very gentle on your baby's soft spot. The soft goats' hairs are also hypoallergenic to the babies' skin, and have been proven to be able to soothe babies when brushing their hair.
>> Molylove Baby Hair Brush on Amazon here <<
Feeding
Moving on to babies that have started feeding on solids – there's a few stocking fillers ideas for you.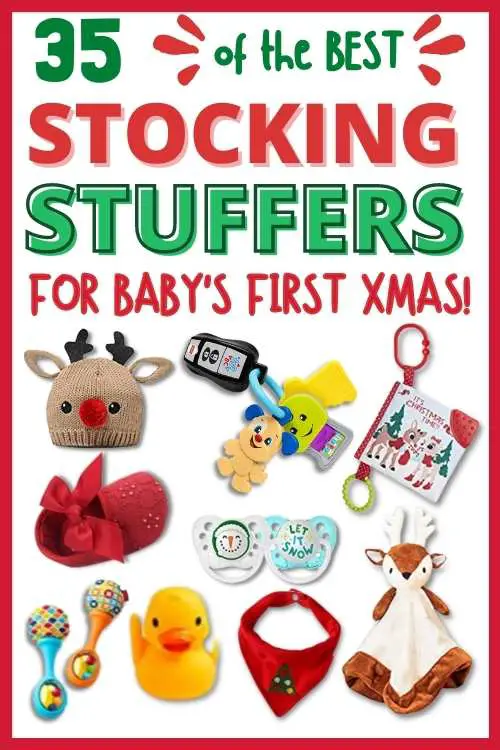 20) Sippy Cup
When babies start on solids, they usually start drinking water as well, and a sippy cup could be a good idea to add to baby's Christmas stocking. However, make sure that it is not too big, so it can fit in it.
This Nuk learner cup for example is only 5 oz and has a choice of so many different cue designs.
>> Nuk Learner Cup on Amazon here <<
21) Bibs
Bibs become a necessity from the moment babies are born. Whether it's to catch their drool or the food that falls off their mouth. And you can never have too many bibs!
If you want something specific for Christmas, check out these very cute Christmas-themed bandanas on Amazon.
>> Christmas Baby Bandana Bibs on Amazon here <<
22) Stay Put Suction Bowl
This might be a tricky item to add to your baby's stocking, depending on how big it is. However, if your baby is on solids and you have space in the stocking, also consider a stay-put suction bowl.
These will make your life so much easier when your baby is constantly moving and pushing the bowl of food on the floor.
>> Munchkin Stay Put Suction Bowl on Amazon here <<
23) Spoons
A baby spoon is also a stocking stuffer idea for babies. They'll probably love playing with it by the Christmas tree before they even start using it to eat some actual food.
>> Baby Spoons on Amazon here <<
24) Food Pouches
If your baby likes food (and stands still for more than 2 seconds if they have some in their hands), also consider some baby pouches like these ones below from Sprout Organics Baby Food.
I honestly tried so hard with my first daughter to only give her home-made purees and food. But with my second daughter I just realized I didn't have enough time during the day to do it all over again, and the food pouches became a great alternative for a snack, particularly when not home. My daughter loved them.
>> Baby Pouches on Amazon here <<
25) Treats
What kind of Christmas is it if, even your baby, doesn't get to indulge in some treats! If you are super careful about not giving your kids too much sugar like me, then the choices are a bit limited, but it's not impossible.
Not sure they can be classified as "treats", but usually babies love things to eat like these Baby Mum-Mum rusks or these freeze-dried yogurt drops from Baby Organics. Or my daughters have absolutely always loved these Little Bellies Organics animal biscuits. They are supposed to be from 12 months up, but if your baby is doing quite well with solids, they melt in your mouth and are safe to give to your little one.
>> Little Bellies Organics Animal Biscuits on Amazon here <<
Toys / Books
26) Rattle
Newborns and little babies love to be entertained by rattles, and these come in so many different sizes, so you are bound to find one that fits nicely in your baby's stocking. There are so many baby rattles on Amazon to choose from, so start looking.
>> Baby Rattles on Amazon here <<
27) Bath Toys
Bath toys are another thing that baby usually love, particularly when they start sitting up and holding thing with their little hands on their own. That said, I found that even with newborns, they were perfect to keep baby distracted and happy while having a bath. There's lots of little ones to choose from out there, and any of them would make a perfect stocking filler for babies.
>> Baby Bath Toys on Amazon here <<
28) Bath Book
Taking about bath stuff, bath books are also a good idea for stocking stuffers for babies. They are soft and flexible, so they can be easily folded to fit into a stocking. There's many bath books to choose from on Amazon.
>> Baby Bath Books on Amazon here <<
29) Soft Book
Soft books are a great alternative to bath book too (just don't use them in the water!) and perfect for babies. Check out these super cute Rudolph The Red-Nosed Reindeer teether book, including a teether and a ring that you can use to hook it anywhere (car, stroller, Christmas tree, etc.).
>> Rudolph The Red-Nosed Reindeer Teether Book on Amazon here <<
30) Mini Baby Book
If you prefer hard books, you can have a look at these mini baby books: they are the perfect size to fix in a Christmas stocking and your baby will love them.
>> Mini Baby Books on Amazon here <<
31) Bubbles
You can never go wrong with bubbles with babies, no matter their age! They usually love starting at the bubbles flying around when they are very little, and then start chasing them around when they can walk.
The only problem about bubbles and little ones is that they usually spill the water everywhere, and they get very upset if you don't let them hold the whole thing. So, check out this no-spill bubble tumbler for older babies! If you have a little one instead, who's still putting everything in their mouth, I would still hold it anyway, without giving it to them.
>> No Spill Bubble Tumbler on Amazon here <<
32) Noisy Toy
And what kind of Christmas is it if there's isn't a bit of music and noise? It still needs to be something that fits in the stocking though, so how about this Fisher-Price Laugh & Learn Keys? It makes music and it has a key that works as a teether as well.
Recommended for babies from 6-36 months.
>> Fisher-Price Laugh & Learn Play & Go Keys on Amazon here <<
Out and About
The items below are great stocking stuffer ideas for babies if you like to go out and about, even in winter when the weather is cold.
33) Car Toy
When in the car with my little daughters, they always loved having this hanging rattle over their head. You can fit it nicely on the handle of the baby capsule and will keep baby entertained for a while. It does take up a bit of space, but it's mostly soft, so you should be able to fit it in one of the biggest stockings.
>> Hanging Rattle on Amazon here <<
34) Stroller Toy
There are also lots of toys and rattles that you can hang on a stroller to keep baby entertained, and baby will love playing with them at home for Christmas as well. I particularly like these hanging animal rattles: you can hang them anywhere and I love the facts that you can play with them by pulling the legs.
>> Hanging Animal Rattles on Amazon here <<
Other Stocking Stuffers for Babies
35) Baby's First Christmas Ornament
Last but not least, a Christmas ornament can also become a perfect baby stocking stuffer. Have them take it out of the stocking and hang it on the Christmas tree to be on display for the rest of the holiday season. It will be a beautiful keepsake to always remind you of your baby's first Christmas.
I have gathered here a list of the best baby's first Christmas ornaments for you to choose from. There are both already-made or DIY ideas, and lots of them can easily fit in a stocking (just make sure not to add one with glass for safety reasons, or anything that's too fragile and might break!).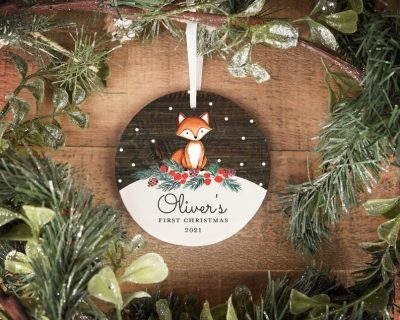 Stocking Stuffers Ideas for Babies: Final Thoughts
Here it is mama, my list of the best baby stocking fillers ideas for babies. I really hope you've found some good inspiration in here and are ready to fill your baby's stocking with some awesome presents.
For more Christmas-related articles for baby's first Christmas, also check out these posts:
---
Do you have any question about any of the items listed above? Or have you come across other awesome stocking stuffer ideas that you think should be added here? Then please let me know in the comments below – I'd love to hear from you!
Dir you like this article? Pin It!