Are you pregnant or with a new baby already and looking at putting together a baby toiletries list to make sure you've got everything you need for bath time and diaper changes? Our guide will help you with suggestions to make sure you've got everything covered.
Expecting a new baby or trying to survive the first few weeks with a newborn, while still trying to make sure you've got everything you need, can be really overwhelming. I remember! So, I've already put together a list here for you and all you need to do is make sure you check everything off it.
It includes all the toiletries you need for a newborn or an older baby, plus other items and tips that will make bath time much easier for you. Some are absolute essentials, others are more "nice to have" instead of must-haves.
If you are looking more a more comprehensive checklist of all items you need to get ready for a baby arrival, also check out the related post: 70+ Items Newborn Baby Checklist (with FREE Printable).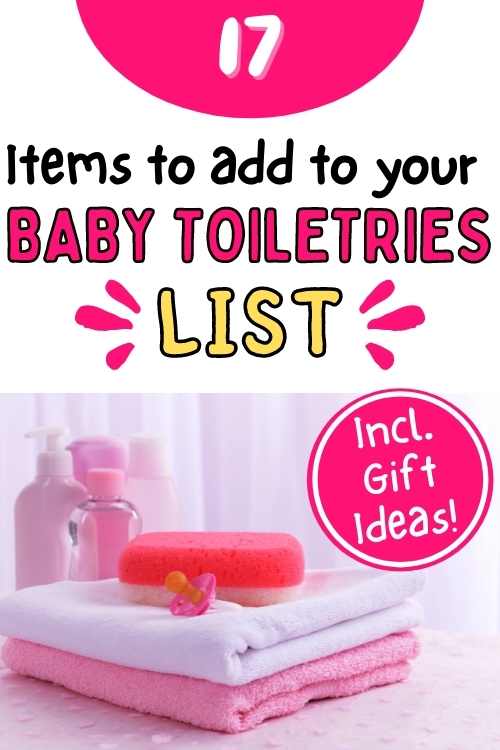 What are Baby Toiletries?
Let me start by going through what "baby toiletries" are exactly, as there seems to be a bit of confusion amongst parents as to what exactly the word means.
In general, toiletries are defined as personal care items used for hygiene or grooming. It can include anything from oral care items such as toothbrush or toothpaste, hair products like shampoo or conditioner, or bathroom items like toilet paper, clippers and more.
The Cambridge Dictionary describes toiletries as "soaps, shampoos, toothpaste, and other items used to keep yourself clean".
However, for babies, they are usually considered to be all items needed for cleaning and bathing your baby, as well as caring for their skin, hair or nails. This means that they also includes things such as diapers and diaper creams, wet wipes, etc.
To be as helpful and efficient as possible, I have included a variety of items in this baby toiletries checklist, including grooming items, products to clean / wash your baby with, and other baby essentials for the bathroom as well as diaper changes.
When should I Start Shopping for Baby Toiletries?
If you are wondering when it's a good time to start buying baby toiletries, I would recommend doing it no later than 36 weeks. In fact, you are considered full term already at 37 weeks, and you might go into labor anytime after that.
Related: 15 Signs that Labor is 24-48 Hours Away
That said, some items are more urgent than others, so you don't necessarily have to buy everything before baby is born. For example, while diapers and wipes are absolute must-have baby toiletries for when you get home with your newborn, you can probably hold off a bit longer to get the baby shampoo, baby brush, or sunscreen.
A good idea might be to add some of the items below to your baby registry as well, so some friends can gift them to you. And I have added some baby toiletries gift sets ideas below as well 🙂
If you are having a baby shower and/or creating a baby registry, make sure to look into Amazon's awesome baby registry, super easy to set up and it includes a FREE welcome box for parents, as well as a 10% completion discount on items left on your registry (15% off for Prime members).
The Ultimate Baby Toiletries List
So, what toiletries do you need for baby exactly? Here's my ultimate checklist with all essentials you need, including recommendations for the best baby toiletries to buy.
The list is divided into a newborn toiletries list and another list for older babies. If you have an older baby, you also need everything from the newborn list. But, if you have a newborn, you don't really need to look at the other list for a while longer.
Newborn Toiletries List
Here's a list of the best baby toiletries for newborns.
1) Baby Bath Tub
If you don't have a bath, you should definitely get a Baby Bath Tub to bath baby in. However, I would consider buying one even if you do have a bath: there's just no point in filling the whole bath with water just to wash your baby.
I wouldn't recommend you spend too much money on a bath tub, as your baby will outgrow it relatively quick and it doesn't have to be anything fancy at all! I had a super simple bath tub similar to the one below.
This one has a non-slip and padded back to help keep baby safe and in a seated position and a hook to hang it to the wall when you are finished. And it also work perfectly as a laundry basket!
That said, there are other baby bath tubs that can be more convenient, particularly if you don't have the strength in your arm to bath baby when they are still little and unable to sit independently. The Skip Hop Baby Bath Tub for example has a sling that holds your baby for you in different positions as they grow, and that can be removed once baby can sit.
Or, if you don't have much space in your bathroom, you can get a foldable /collapsible baby bath tub like this one.
2) Towels
Towels are definitely essentials for your newborn toiletries list . However, while lots of parents buy cute and nice hooded towels for their babies, thinking they are the best, I soon realized I preferred normal towels for my daughter. They might not be as cute as baby hooded towels, but we found them to be way more practical. Up to you!
Either way, make sure to buy towels with a good absorbency and that are nice and soft to the touch. Baby towels that are made from 100% cotton or bamboo like the ones below from Burt's Bees Baby are usually a good choice.
You can get a FREE hooded towel at www.hoodedtowels.com buy using the coupon code MUMINTHEWOODS at checkout.
3) Washcloths
Washcloths are also very important to add to your newborn baby toiletries checklist, as this is what you will use to clean your baby when bathing them. I actually used washcloths for so many things that buying them in bulk was one of the best investment I ever made!
I used them to bath my daughters, as reusable wipes to clean their bum, as burp cloths or even to wipe their hands and faces when they started on solids.
You can buy them in bulk on Amazon and they are so cheap. Definitely stock up on a few of these!
4) Diapers
I could I forget about diapers in this list! Aim for about 50 newborn diapers to start with. Maybe get a few different brands to try and see which ones your prefer and which ones are more effective at dealing with diaper blowouts.
If you are considering cloth diapers (well done!), you can find more information on how many to start with here: Reusable Diapers – a Guide to Cloth and Swim Diapers. I also have a FREE Course on Cloth Diapers for Beginners here.
Related: Baby Diaper Blowout (the Best Hacks and Tips to deal with the Mess!)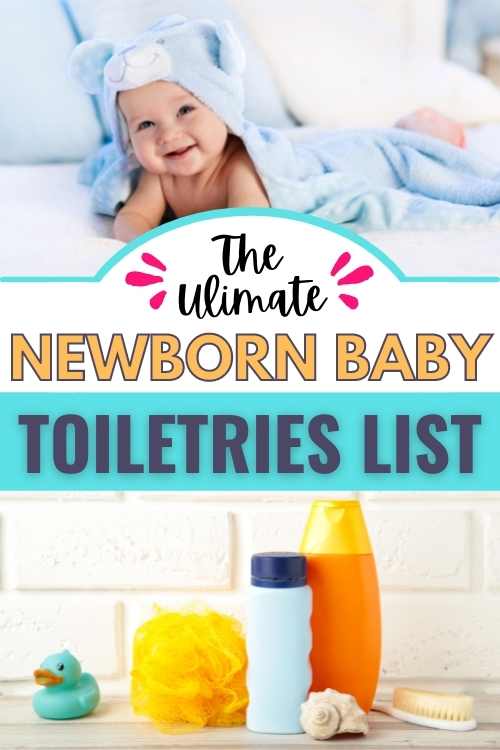 5) Diaper Rash Cream
And don't forget the diaper rash cream. Babies can develop rashes quite quickly, particularly when they start teething.
The ingredients that work best for treating diaper rashes include zinc oxide, lanolin, aloe and calendula. Avoid products with heavy fragrance, which can cause even more irritation, as well as baby powder, which is not recommended by the AAP. A good product is the Aquaphor Baby Diaper Rash Paste for example.
if you are looking for a natural solution, check out the No products found., made with only organic herbs and oils (no petroleum, parabens or artificial fragrances).
No products found.
No products found.
If you are using or going to use cloth diapers, diaper creams made of lanolin, such as the Aleva Diaper Cream, are preferred over chemical ingredients, as lanolin doesn't affect the absorbency of the diaper or damage the waterproof cover as much as chemical ingredients do. Or, other options are creams that contain calendula or red clover.
6) Baby Wipes
Whether you are using cloth wipes or disposable wipes, you also need to take these into account. And you'll need lots of baby wipes!!
I tend do use cloth wipes at home, and disposable for when going out. With cloth wipes, I just wet the washcloths and store them in a plastic container.
If you prefer the idea of using disposable wipes, make sure to buy alcohol or fragrance free wipes, particularly for a newborn. In fact, some babies and usually newborns have very sensitive skin and can't handle fragrance on their diaper area, or anywhere against their skin.
Hypoallergenic wipes are also an option if your baby has very sensitive skin and cannot tolerate traditional disposable wipes.
I particularly like the WaterWipes brand: these wipes are made of 99.9% purified water and a drop of fruit extract, they are unscented and hypoallergenic. Perfect to buy in bulk if you are still expecting.
No products found.
Lastly, if you are worried about your impact on the environment, but can't be fussed with cloth wipes, you also have the option of biodegradable wipes! These wipes below are 100% biodegradable and compostable.
7) Baby Body Wash
There is no doubt body wash was should also be on the newborn baby toiletries essentials list. However, same as with the baby wipes, you need to be careful about added fragrances, as these can cause sensitive skins to get overly dry and irritated.
Also, know that harsh chemicals that are usually present in adult bod washes can irritate or even harm your baby's skin. So, it's really important that you stick to baby-specific products when bathing or showering your baby.
The Aveeno Baby Wash and Shampoo is often mom's number one first choice when looking at body wash or shampoo for baby. It is hypoallergenic and soap free – perfect for very sensitive skin. Plus it's made from natural oat extract, which has naturally moisturizing and soothing properties, and it's tear-free, so you don't have to worry about it going into your baby's eyes.
8) Baby Shampoo
I have added baby shampoo to this newborn baby toiletries list. However, unless you buy a 2-in-1 body wash and shampoo like the one above, you might not need this until later on depending on how much hair your baby is born with.
Every baby is different: my first daughter was born with no hair, my second one was born with heaps already!
Again, make sure that you buy a product designed for babies with no nasty chemicals, and be mindful of added fragrances. The Johnson's Baby Shampoo with a tear-free formula is one I would totally recommend.
9) Body Lotion
Baby's skin is more probe to dryness compared to adults, particularly with bath time, in cold weather or if they have very sensitive skins. So, you may need to baby lotion to combat the dryness.
I know I sound like a broken record here … but remember to say away from fragrances or harsh chemicals with body lotions as well!
I have personally used the Aveeno Baby Daily Moisture Lotion and I am very happy with the product. It is made from a natural blend of oatmeal and different emollient to help soothe and protect your baby's skin, it is hypoallergenic and fragrance-free.
10) Nail Clippers
You will not believe how fast baby's nails can grow – it's amazing! And because newborn babies like to constantly touch their face, they can easily scratch themselves if you don't trim them.
If you are one of those moms who's not grossed out by anything, you can easily bite them off, as baby's nails are very brittle. However, if you prefer to use a nail clipper, these ones from Safety 1st do a perfect job.
Make sure to buy a nail clipper specific for babies, as it's going to be very hard to use one for adults on those little hands.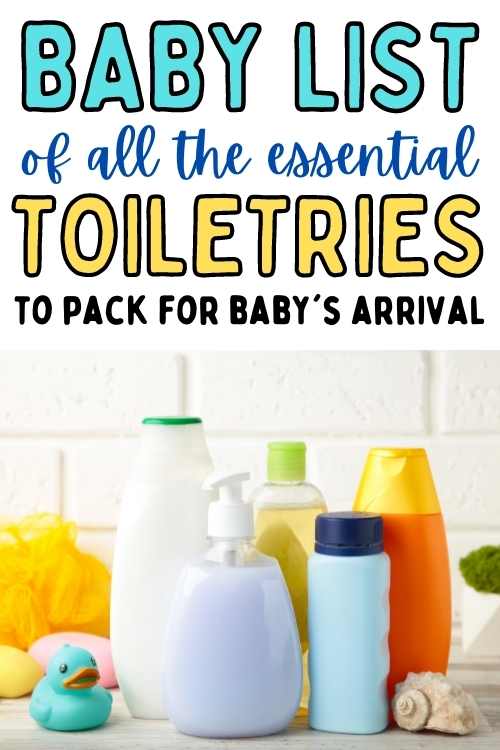 11) Baby Hair Brush
Here's another item that doesn't necessarily have to be on your baby toiletries list unless your baby is going to be born with lots of hair already. I don't believe I used a hair brush on my first daughter until she was almost two years old!
However, whenever the time comes for you to consider buying one, make sure that you buy one specific for babies – never use an adult brush on them! It needs to be a gentle-bristle brush, that will help protect your baby's delicate skin and prevent injuries.
The Molylove Baby Hair Brush is made from soft goat bristles that prevent static and are very gentle on your baby's soft spot. The soft goats' hairs are also hypoallergenic to the babies' skin, and have been proven to be able to soothe babies when brushing their hair.
12) Baby Eye Wipes
When babies are born, their tear ducts are not always fully developed and clear. One in five babies are actually born with tar ducts that are not fully developed and, in the majority of cases, they will develop slowly over their first few weeks of life.
In these cases, babies are not able to produce tears, so it's becomes very difficult for any debris that has collected around the eyes to be washed away. When that happens, you will need to wipe away any eye discharge that has accumulated to avoid an infection.
You can either use normal saline solution (sodium chloride) on some cotton wool balls, or you can buy specific baby eye wipes. These are free of preservatives, alcohol and other irritants – perfect for baby's delicate eyes.
13) Nasal Aspirator
This was my savior when I was in Italy in winter with my second daughter. She just got back to back colds and a nasal aspirator really helped clearing her nose, particularly at night!
While you could suck the mucus out your baby's nose with your mouth (which I have done plenty of times with my baby!), a nasal aspirator worked so much better when my daughter was very little. It's much more gentle and less invasive, so baby doesn't complain too much when you are using it.
I would definitely encourage you to add this to your newborn toiletries list! You will only be able to use it until your baby is about 5-6 months (after that, it's not powerful enough anymore), but it's totally worth the investment.
I personally used the Braun Nasal Aspirator.
14) Sunscreen
This is a must if spending time with your newborn outside in the sun, or if going with your baby to the beach. I have also added it to my baby beach essentials list here.
Be mindful though that because babies' skin is very sensitive, you really need to be considerate of that and take extra precautions (other than sunscreen) in the sun:
Avoid taking very young babies to the beach during the hottest hours (11am to 3 pm)
Make sure you have shading
According to Healthy Children, babies under 6 months should actually be kept away from direct sunlight as much as possible, as infants can't regulate their body heat like grownups. And, with regards to sunscreen, it's often advised to use it sparingly (if not at all) on kids younger than 6 months, and keep baby in the shade instead. However, we've found it to be too hard! When you are at the beach and it's hot – you want to have a swim with your baby and spend some time under the sun as well.
For kids over 6 months it's a must though. Do it before going out, so that it doesn't become a mission and you don't get all your hands sticky at the beach. I also recommend using a spray one as it's much easier when you have kids constantly moving around.
This Baby Bum Spray Sunscreen is perfect for babies: made only with natural ingredients that won't harm your baby and a maximum 50 SPF protection.
Older Babies Toiletries List
1) Toothbrush
You won't really need to start using a toothbrush until your baby's first teeth start pocking through, which might happen around 4 months of age. When that happens, don't forget to add one to your baby's toiletries list.
Kids toothbrushes have smaller heads that can fit better in your child's mouth, they come in a variety of colors and patterns, and often have larger handles to make it easier for them to hold it.
2) Toothpaste
And there can't be a toothbrush without a toothpaste!
Most baby toothpastes are free of fluoride and other substances that make it sage for babies to swallow them. And you should try avoid toothpastes with fluoride until your child is at least 3 and able to spit by himself.
The Orajel toothpaste is for children as young as 4 months up through 24 months or 2 years old. It's free from fluoride, alcohol, SLS, parabens, aspartame, dyes, and sugar.
3) Insect Repellent
The American Academy of Pediatrics (AAP) advises not to use insect repellent on babies younger than 2 months old. Before that age, you should dress your baby in clothing that covers their arms and legs and cover the stroller or baby carrier with mosquito netting.
Once your child is 2 months old and able to wear insect repellent, then you should choose one that contains no more than 30% DEET (a chemical commonly used in repellents).
The OFF FamilyCare Insect Repellent is an example of a repellent with only 15% DEET.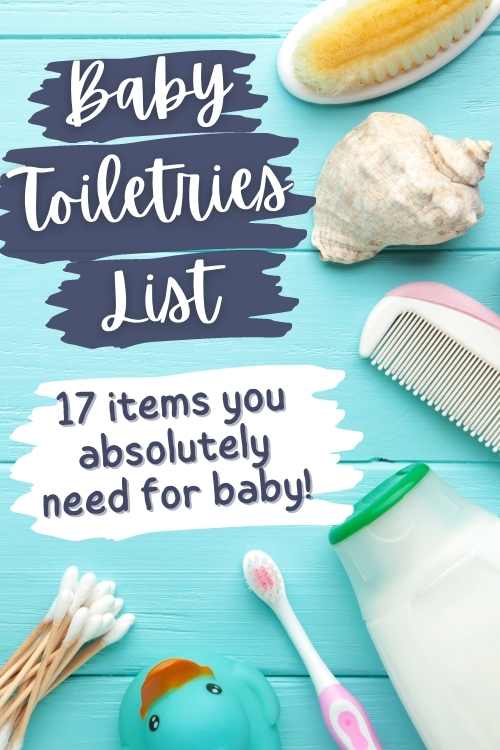 Tips to Make Bath Time Easier
Now that you have your baby toiletries list ready, here's some tips on how to make bath time with a newborn or with an older baby much easier!
1) Use a Bath Kneeler / Elbow Rest
Bending over the bath with your knees on the floor and your elbows on the side of the bath can be so uncomfortable when trying to bath a newborn! I honestly though this was such a useless accessory at the beginning, but I was then gifted one when we had our second daughter and totally loved it.
Definitely worth the investment if you want to be a little bit more comfortable.
2) Get a Baby Bather
A Baby Bather allows you to place your baby in the bath without having to hold them yourself. Bending over the bath tub can become quite hard after a while, as your baby gets heavier and heavier, so this is such a great accessory to have!
3) Have a Changing Pad for the Bathroom
If you can't fit a changing table in the bathroom, it's definitely worthwhile having even just a Changing Pad by the bath where you can lie baby down to change them and dry them up after a bath.
4) Use Non-Slip Mats
Once your baby starts to sit down on their own in the bath or shower, they can slip quite easily on the bottom, so a non-slip mat can come in really handy with that. We actually have two, so we can cover the whole length of the bath with two girls now!
5) Bath Toys
Your baby won't enjoy playing with Bath Toys for a while, but they can soon become a good distraction to keep them entertained in the bath or when you are changing them. They are particularly perfect if they are crying and you are trying to calm them down.
So, definitely start stocking up on a few of these soon.
6) Don't Bath Every Day
Newborns don't need to be bathed daily! So, particularly if you are tired and bath time has become more of a mission than anything else, skip a day or two. Your baby won't mind 🙂
How to Store or Pack Baby Toiletries
If you are wondering how to store all your baby toiletries, my main advice is to store them far away from baby's reach! The moment they become mobile, all they will want to do is squeeze the toothpaste or the baby lotion, and play with the thermometer or the nail clippers.
We made that mistake with our first daughter, so we our second daughter we hid them from the very start!
It also depends on where you want to have things. We like to have the bathroom stuff (body soap, shampoo, baby brush, toothbrush, etc.) in the bathroom, whereas everything that's required for bathroom changes (diapers, diaper rash cream and wipes) are in the nursery. The thermometer and nasal aspirator are also in baby's room.
The items in the bathroom are all stored in a little basket, whereas the items in the bedroom used to be in a couple of toiletry boxes under the changing table with my first daughter, and are now in a draw with my second daughter (we got rid of the changing table).
That said, there are a couple of items that can really help in keeping everything nice and organized, such as a diaper caddy or a toiletry bag. I love this diaper caddy organizer below from Lily Miles, or this plastic one that would be perfect for the bath.
For more inspiration on where to store baby toiletries, you can check out these Baby Toiletries Box Ideas here.
If you are using cloth diapers, these take up quite a lot of space, so you may need to be a bit more creative and smart about how you are going to store them. To help you out, here's some awesome cloth diapers storage ideas from other moms.
The Best Baby Grooming Kits
Instead of buying all the items for groom your baby separately, it could be idea to look at a baby grooming kits. These usually all come with a thermometer, a baby brush, nail clippers, a toothbrush, a nasal aspirator, and sometime a drug feeder to help give medicines to your baby. And they could be perfect additions to your Amazon baby registry!
Here's some of the best baby grooming kits available on Amazon.
Safety 1st Deluxe Grooming Kit
The Safety 1st grooming kit has 25 pieces including: a gentle care brush, comb, cradle cap comb, toddler toothbrush, nail clippers, emery boards, thermometer, nasal aspirator, bottle medicine dispenser, alcohol wipes and a zippered case.
American Red Cross Deluxe Grooming Kit
The American Red Cross deluxe grooming kit also comes with a baby to keep everything together and to carry around either at home or on the go. It includes a brush, cob, scissors, nail clipper, fingertip toothbrush, toddler toothbrush, mirror, nasal aspirator, thermometer, medicine dispenser and a comfort tip medicine spoon with cap.
Tommee Tippee Closer to Nature Grooming Kit
I love the Tommee Tippee Closer to Nature Grooming Kit because it has all the slots in the case already to keep everything tidy. It includes a nasal aspirator, scissors, nail clippers, emery boards, thermometer, brush and comb.
The Best Baby Toiletries Gift Sets
If you are looking for gift ideas for a friend's baby shower or new baby, you could make a gift set yourself with some of the products listed above, or there are also a lot of toiletries gift sets that you can choose from. These were honestly some of the best gifts we got from our friends for our daughter's baby showers – so useful and they allowed us to tick so many things off our baby toiletries list!
Here's a list of some of the best baby toiletries gift sets to give you some ideas.
Aveeno Baby Essential Daily Care Baby & Mommy Gift Set
The Aveeno gift set is one of my favorites because I absolutely love their products. It contains their baby body wash and shampoo, body lotion, their soothing hydration creamy wash and soothing relief moisturizing cream. It also includes a daily moisturizer and moisturizing lotion for mom, and a nice basket that you can keep to store baby's toiletries in.
Johnson's Tiny Traveler Baby Gift Set
The Johnson's Tiny Traveler Baby Gift Set is perfect if you have friends that like to travel! It includes baby body wash and shampoo, baby lotion, hand and face wipes, diaper rash cream, and a travel clutch. The travel clutch is also made of splash-resistant materials, so very easy to wipe and clean.
Aquaphor Baby Welcome Baby Gift Set
The Aquaphor Baby Welcome Baby Gift Set comes with their following products: baby healing ointment, diaper rash cream, baby wash and shampoo, water wipes, and a reusable canvas basket.
Baby toiletries List: Final Thoughts
Here it is mama (to be)! My complete baby toiletries list and gift set ideas for your newborn and/or older baby.
I really hope you've found this article helpful in preparing for your little one's arrival. For a more comprehensive checklist of everything that you need to get for your newborn baby, also have a read at this article here: 70+ Items Newborn Baby Checklist (with FREE Printable).
And if you are planning on giving birth at the hospital or a birth center, start thinking about what you need to pack for your hospital bag and have a look at this Hospital Bag Checklist Printable here, which includes anything you need for mom, baby and partner.
Other useful links for pregnancy:
Other useful links for labor & delivery:
Other useful links to prepare for postpartum:
---
Are you an expectant mom and have some questions about the baby toiletries list above? Or do you already have a baby and have more suggestions about baby toiletries that would make moms' lives easier? Then please let me know in the comments below – I'd love to hear from you!
Did you find this useful? Pin it!