It took me two babies to realize how important it is to be ready with a Postpartum Care Kit for after giving birth. And after my wife's experience with a c-section and my experience with a vaginal delivery, I have come up with this Postpartum Care Kit Checklist perfect for expecting moms.
I doubt I will need this for a third baby, so I really hope you can find good value in the postpartum essentials checklist for new moms below with all my suggestions and recommendations!
You should actually add this and other checklists to your Pregnancy Survival Kit, so you don't forget anything 🙂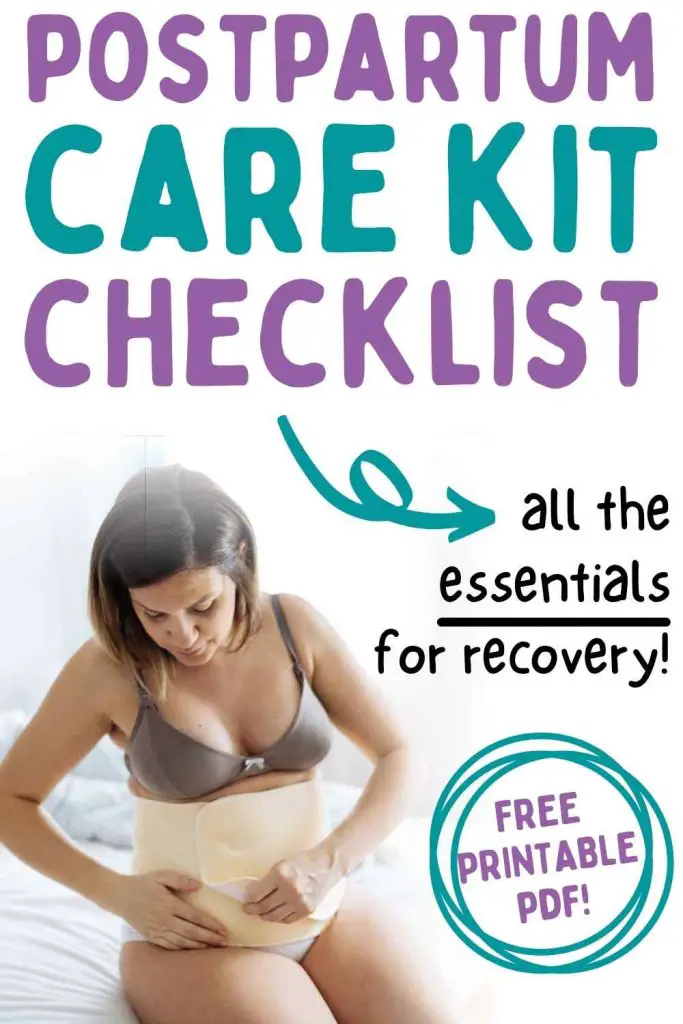 My Postpartum Experiences
Before I go through the postpartum checklist, let me explain why I think it's very important for you to get one ready while still pregnant.
Our First Baby
My wife gave birth to our first daughter. It was a planned c-section and, if there's someone between the two of us who likes to be prepared for any scenario, is my wife. So, she had a postpartum care kit ready from the moment she found out she was pregnant I think LoL
What eventually happened is that we realized she got too much of pretty much everything, and she didn't end up using half of the things she had bought.
Our Second Baby
I am the opposite on the other hand, which can be a good and a bad thing! I tend to underestimate what or how much stuff I will need. And so I did when I gave birth to our second daughter!
I wanted to breastfeed, yet I had hardly prepared for the scenario of sore nipples. My wife had to rush to the pharmacy to buy me nipple cream, and we had to turn the house upside down for 2 hours to find a nipple shield she had from when she had tried to breastfeed herself. And I didn't have a peri bottle, so I had to pee without one for two days …. SO sore!
It could have also helped a lot if I had prepared with what to expect postpartum! Because my wife went through a c-section, and because I wasn't really the one that gave birth the first time, I was pretty clueless about postpartum after vaginal delivery!
Related: What to really expect with your Postpartum Recovery
The Importance of a Postpartum Care Kit
That said, I really wish we had learnt from our first birth experience not to go overboard with the postpartum care kit, but at the same time make sure we had all the postpartum care essentials ready for home when we had our second!
The postpartum recovery checklist below does just that: it keeps the list to all the essentials for mom, without extra stuff that you will never need. But the things that are in here … do get them and pack them in time for your birth!
The checklist is split in the following sections, so that you can find exacetly what you need depending on your situation:
Postpartum Essentials that everyone needs
Postpartum Essentials for vaginal delivery
Postpartum Essentials for c-section
Postpartum Essentials if you are planning on breastfeeding
Other Post Delivery Essentials
And keep in mind that, even though you will be using this postpartum survival kit when you get home after giving birth, you should also pack most of these items in your hospital bag.
Related: Hospital Bag Checklist for Mom, Baby and Partner (with FREE Printable)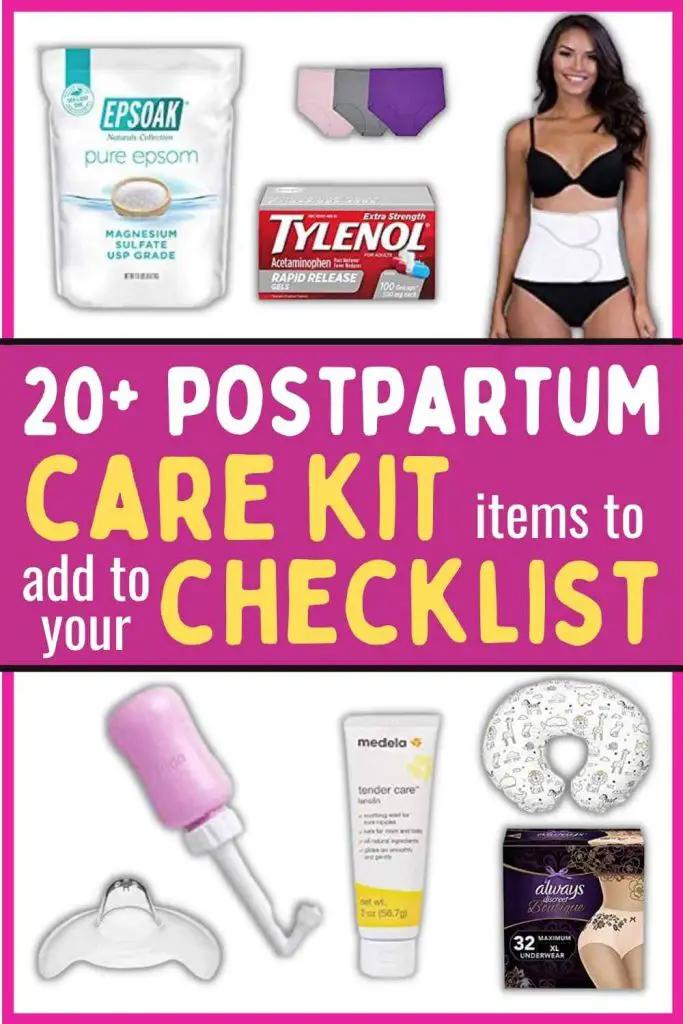 Postpartum Care Kit Checklist
Here's the postpartum kit checklist with all the postpartum necessities you need for your recovery. If you just wish to have a FREE printable checklist, you can get one at the bottom of this article 🙂
Postpartum Essentials that everyone needs
The list below includes items that everyone should have in their after birth care kit, no matter the type of birth: hospital, birth center, home, water, vaginal or c-section.
1) Postpartum Pads
In case you didn't know, postpartum comes with bleeding. A LOT of bleeding. And that happens even if you have a c-section.
Normal menstrual pads won't cut it. At lease for not for the first few days. So, you really want some good extra padding down there to avoid overflows.
And, if you have stitches, you really want comfortable pads made with good material, that will help with the healing.
For a list of Best Postpartum Pads, you can have a look here. Both my wife and I used incontinence and postpartum underwear for the first couple of days, then switched to normal postpartum pads. I personally really liked the Always Maxi Feminine Pads.
If you do the same, I would recommend getting 10 postpartum underwear and at least 150 pads. The amount of bleeding can vary significantly between women, but if you have any left overs, you can still use them when you get your first period after pregnancy.
Related: Best Postpartum Pads for a Quick Recovery.
PS Hospitals usually provide some postpartum pads, but I found them to be bulky and extremely uncomfortable, moving around everywhere.
2) MESH / COMFORTABLE & STRETCHY UNDERWEAR
The hospitals also usually provide some mesh panties. Some people like them, they are very stretchy and they are supposed to be really good at keeping the postpartum pads in place.
I personally couldn't get past the look 🙂 And because I wore postpartum underwear for the first couple of days after giving birth, I never tried them on.
After that, I got myself a few cheap, comfortable and super stretchy "granny panties": they might not look sexy mama, but they are perfect for the first few weeks postpartum. They still hold the postpartum pads in place to prevent leaking and they help support your lower belly.
Some nice stretchy panties that go over your belly are particularly good for you if you have a c-section, as you don't risk having any underwear rubbing against your stitches.
Tip: really don't spend much money on these panties, as you are most likely never going to use them again after postpartum and will be thrown away. Something like this could be perfect.
Related: 12 Must-Have Clothes for After Delivery in Hospital
3) PAIN KILLERS
Like my wife always says: "Take your pain meds: pain management helps speed up recovery!".
I am used to avoiding taking any form of pain medication until the pain reaches the threshold that I can't take it anymore. But this is really the last thing you want to do when exhausted after birth and looking after a newborn for the first time in your life.
If you do end up having any tear and stitches, you really can't do without painkillers. I also found them to really helped with nipple pain, in conjunction with using nipple cream, and after birth contractions. I really struggled with breastfeeding at the beginning, and my nipples hurt for quite a few weeks after giving birth!
The best option is to rotate Paracetamol (Tylenol) and Ibuprofen (Motrin or Advil), which is what they usually do in hospital. The Paracetamol reduces the pain, while the Ibuprofen reduces any inflammation, so they act synergically.
Just make sure to ask your doctor on advice on quantities and how long to take them for, particularly if breastfeeding. I remember being paranoid that the pain meds might harm my baby via the breast milk, but both my midwife and lactation consultant reassured me that it was safe.
Both Paracetamol and Ibuprofen are found to be safe while breastfeeding.
Related:
4) STOOL SOFTENER
This is one that many moms overlook unless they have hemorrhoids, but know that it can really help even if you have no issues "down there".
You really want to avoid having to push after giving birth, particularly if you have stitches (either from a vaginal birth or a c-section). Plus, Ibuprofen is great at giving constipation … you don't want that!
I ended up taking a stool softener for a good 2 weeks postpartum, until I stopped taking the Ibuprofen.
Again, make sure to ask your doctor for advice on what to take. However, something like Colace is totally safe to use postpartum and while breastfeeding.
5) POSTNATAL VITAMINS
Postpartum is definitely a very tiring and demanding period for a new mom, so postnatal vitamins are a great postpartum essentials to give you a boost of energy. Not to mention these other benefits of postnatal vitamins:
Most of them promote lactation and breast milk supply.
They provide lots of nutrients for both the new mom, helping with postpartum healing, and the baby (via the breast milk).
I personally take the Blackmores Pregnancy & Breastfeeding Vitamins. However, if you prefer an organic option, check out Actif Organic Postnatal Vitamin.
Tip: if you still have some leftover prenatal vitamins, keep taking those until you've finished them before starting to take postnatal ones! The nutrients in prenatal and postnatal vitamins are quite similar.
6) BELLY BAND / WRAP
The funny thing about the belly band or wrap, is that I had no idea it existed! My wife hadn't included it in her super comprehensive postpartum care checklist with our first baby, and I had never heard of it.
It was my mom who was adamant I had to have one for postpartum. She wore one after she gave birth to me and she could swear by its benefits. By the way, the main benefits of a belly wrap postpartum are the following (other benefits are listed here):
Support and align your abdomen until your abdominal organs and muscles can do their normal jobs again.
Help with floppy and loose skin and provide light compression to help your uterus shrink.
If you had a cesarean section, belly wraps can take the pressure off your incision while it heals.
Help with postpartum contractions
So, she bought me the Belly Bandit belly wrap, but the next funny thing is: it was the wrong size! Turns out the lady that sold it to us totally thought I was going to be much thinner than I ended up being postpartum, and the one we got was too small.
When we tried to change the size, they didn't have the right size in stock and I only got the new one almost 2 weeks postpartum. By that time I had already gone back to pre-pregnancy shape (I was quite lucky, I know!) and didn't really feel the need to wear one, so we returned it.
Long story short (sorry! 🙂 ) … make sure you have one ready for you for after you've given birth (you don't want to wait too long to get one or you will loose its benefits), and make sure you get the right size!
Another alternative to the belly wrap, is wearing some postpartum compression shorts. These offer the same compression benefits as the belly wrap, but you can wear them as normal shorts or as underwear (if you need help keeping those postpartum pads into place).
Related: Best Postpartum Compression Shorts
7) POSTPARTUM TEA
Believe it or not, there are also some teas that are very good for postpartum!
Red Raspberry Leaf Tea in particular helps stop postpartum bleeding by increasing uterine tone and can also increase milk supply.
Pink Stork have a good selection of organic postpartum teas with blends of different herbs, including red raspberry leaf, that support healing and provide your body with essential nutrients needed after childbirth. The also offer teas to help with breastfeeding, by increasing milk supply!
Related: Sudden Drop in Milk Supply: Signs, Causes and What to do to increase it again
Postpartum Care Kit Checklist for a Vaginal Birth
If you are planning on having a vaginal birth (with or without drugs), then I really recommend these postpartum essentials. I did have a vaginal birth and all of the items below really helped with recovery.
Note: I did have a little tear after birth and had to have some stitches, so it was quite painful to pee for a couple of weeks postpartum. If you manage to have no tear, then you may not need these. However, I wouldn't leave it to chance! If you do end up having a tear or an episiotomy and you have none of the items below, it's going to be quite a miserable recovery.
Related: How I had a natural and pain-free birth with hypnobirthing
8) PERI BOTTLE
A peri bottle is one of the must-have postpartum accessories. It will help you squirt some clean water on your vaginal area. You can use it while you are urinating, to avoid your urine from burning and irritating your healing skin, or after a pee or bowel movement to clean the area without having to apply pressure (so also perfect for hemorrhoids!).
I would recommend the Frida Peri Bottle for its design, which makes it easy to squirt water on the affected area. And I would buy 2: one for home, and one for when on the go.
Thie Frida Peri Bottle is also included in the Frida Postpartum Kit, together with 4 disposable postpartum underwear, 4 pads, cooling pad liners, perineal healing foam, a toiletry bag, socks and a delivery gown. It could be a perfect addition to your hospital bag checklist.
Tip: a good pee in the shower also does the trick! The running water from the shower on your body will act like the water from a peri bottle.
Extra Tip: if for any reason you end up not having one, but peeing hurts like hell postpartum, you can also use a normal plastic water bottle that has a lid that turns and that you can squeeze to squirt water out.
9) PERI CLEANSE AND BALM
A good addition to the Peri Bottle is a Peri Cleanse, together with a Peri Balm. They are both perfect postpartum products if you had a tear during birth or an episiotomy, or if you experience hemorrhoids during pregnancy or after delivery. .
A Peri Cleanse is a cooling spray that will leave your skin clean and healthy without the need to apply pressure with your hands with water and soap. It also helps soothing perineal discomfort.
I personally really like the Earth Mama Herbal Perineal Spray, containing only organic ingredients.
A Peri Balm has a very similar cooling effect to the Peri Cleanse but, instead of cleaning, it helps soothing the area and promotes healing. I used the Earth Mama Organic Perineal Balm after every bowel movement with hemorrhoids and it provided instant relief!
10) WATER WIPES
Another essential item to add to your postpartum care kit checklist is water wipes. I would strongly recommend you avoid using toilet paper the first few days / weeks after giving birth, irritating any wound you may have.
You can use any leftovers for your baby! I actually still use only water wipes for my babies to this day, manly reusable ones made of cheap face cloths I bought. I rinse the face cloths under water, squeeze them a bit, and store them in a plastic container.
11) COOLING PADS
Cooling pads are another great addition to the peri bottle, cleanse and balm for your perineal area and/or if you have hemorrhoids. You can place them on top of the postpartum pads and they hep reduce swelling, as well as speed up healing.
Frida Cooling Pads have no harsh chemicals or fragrances and are made with Witch Hazel, which works as antiseptic and helps fight bacteria to prevent infection. 
12) SITZ BATH SUPPLIES
I LOVED taking sitz baths postpartum. I would sit in the water for about 20 minutes, once or twice a day, and it really helped me with pain relief from both the vaginal tear and hemorrhoids.
Sitz baths have multiple benefits other than pain relief, and you can read all about them on this post from Carly (Mommy on Purpose). She recommends filling the tub with warm water (just enough to submerge your bits) and using a couple of cups of Epson Salts with 8-10 drops of lavender essential oil.
I personally followed her instructions and I found them to work a treat!
13) DONUT CUSHION
Last but not least, another essential for your postpartum recovery checklist if you had a vaginal delivery is a Donut Cushion!
Trying to sit down (on the couch or driving) for a long period of time, when you are very sore down there, can be extremely uncomfortable. A Donut Cushion helps relieve pressure and makes it a bit less of a torture. All of a sudden, watching a Netflix movie when baba is asleep becomes more of a reality 🙂
PS. A bit of useless information 🙂 I discovered donut cushions when I hurt my coccyx really bed at 13 years old. My mom drove us for 12 hours from the north to the south of Italy and the donut cushion is the only reason I survived the trip!
C-Section Postpartum Care Kit Checklist
If you end up having a c-section, whether it's an elective one (like my wife) or an emergency one, you are probably not going to need most of the items listed above for a vaginal birth 🙂
So, scrap all that and let's see what are the essentials you need to add to your postpartum kit checklist for a cesarean.
14) INCISION CARE AND SCAR TREATMENT
While some people prefer to leave their c-section scar to heal by itself, there are some creams that you can use that are said to to help reduce the appearance of scars and stretch marks, as well as promote healing. My personal feeling is: if it can't hurt, why not give it a try? 🙂
Honeydew Natural Scar Cream and Hearth Mama Organic Skin and Scar Balm and two great natural options. Or you could give these ScarAway Silicone Scar Sheets for C-Sections a try.
15) SOMETHING TO PROTECT YOUR BELLY
Okay, I get that this one might sound silly, but if you have a cat that likes to sleep on your belly, or a toddler that likes to jump on it, keep reading 🙂
We have two cats that like to sleep on our bed, mostly on us, and my wife was terrified that the cats would jump on her belly post c-section while she was still healing. We scratched our heads for a few days but, eventually, we came up with a perfect solution: a tray to go over her belly.
If you already have a breakfast tray >or a tray for your laptop that goes over your lap, then you can use that. We didn't have one, and we came across a super cheap shoe rack (something like this) that we saw in half and transformed in the perfect protection for my wife's belly 🙂
I honestly wish we still had it, so I could take photos to show you!
PS this might not work if you like to sleep on your side. But if that's the case, there's also no chance that your cat is going to jump on your belly!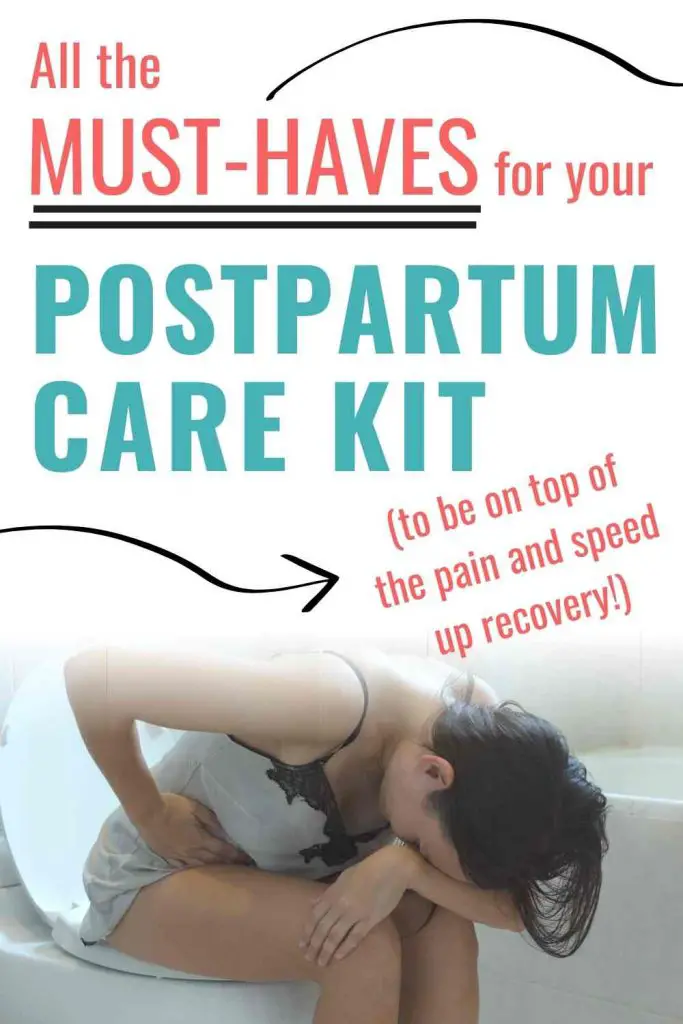 Postpartum Care Kit Checklist if you are planning on Breastfeeding
While breastfeeding can be very rewarding, it can also be a real challenge as a first time mom. Not to mention, painful! I was so not prepared for the pain of breastfeeding and, when things got hard, I really found the items listed below to help.
If this is your first time breastfeeding you might want to check out one of these these online breastfeeding courses to make sure you are doing it right. If, on the other hand, you are planning of formula feeding, check out these Formula Feeding Tips to make bottle feeding a breeze.
Related:
16) COOLING GEL PADS
If you have sore or cracked nipples, these Cooling Gel Pads will provide instant relief! You can reuse them for up to 72 hours and store them in the fridge.
I used to cry falling asleep after feeding my daughter from how sore my nipples were. These pads really, really helped.
PS. if nipple pain continues beyond one week or the nipple is cracked, bleeding, scabbed, blistered, or excessively painful, make sure to seek the advice of an Lactation Consultant or health care provider! The last thing you want to avoid is an infection, which can lead to mastitis.
I did end up seeing a lactation consultant, and she prescribed an antibiotic cream (safe for breastfeeding) to apply to both my nipples to prevent infection.
Related: Sore Nipples While Breastfeeding?! 15 Tips that Saved Me!
17) NIPPLE CREAM
Lanolin Nipple Cream is another one I couldn't live without! It's made of natural ingredients, so it's safe to leave it on the nipples when breastfeeding. And it really helped soothing the nipple area.
I personally used the Medela Nipple Cream.
18) NIPPLE SHIELD
I was so scared of using a nipple shield: I had this nightmares that my baby wouldn't be able to latch to my breasts afterwards. But the pain got so intense at some point, I decided to give it a go. And I am so please I did, it changed everything!
I remember my wife was given one when she was trying to breastfeed our daughter, and I was pretty sure we kept it. We turned the house upside-down for 2 hours to find it 🙂
When I finally tried it on, I was in disbelief at how painless it was to feed my daughter. And she kept latching on to my breasts without issues afterwards, so that was a relief!
I used the nipple shield intermittently for a few weeks, until the pain disappeared (finally!). So, if you are breastfeeding, or planning on breastfeeding, do yourself a favor and get a nipple shield! You might not end up using it, but it's a good idea to have it with you, just in case. IT's actually one of my best tips for sore nipples!
I used this Medela Nipple Shield.
19) CABBAGE LEAVES
Legend goes that cabbage leaves can also hep with breast pain due to engorged breasts … Well, not so legend anymore, as the National Institute of Health did a study on the matter and confirmed it.
So, make sure to have a cabbage in your fridge and, if you get engorged breasts, apply the leaves on them to get some relief!
The leaves can be stored in the fridge, but they need to be used when at room temperature. Also, cut some holes for the nipples. as the leaves should not be in contact with the nipples.
For Tips on how to avoid engorged breasts, read here.
20) BREASTFEEDING / NURSING PILLOW
A Breastfeeding / Nursing Pillow is a great postpartum essential for your postpartum care must haves checklist, particularly if you are going to have a c-section.
It can help keep some of the baby pressure off of your tender belly, and you can also wrap it around your tummy for extra support when you need to sneeze or cough.
You can get a FREE Nursing Pillow at www.nursingpillow.com/ by using the promo code MUMINTHEWOODS.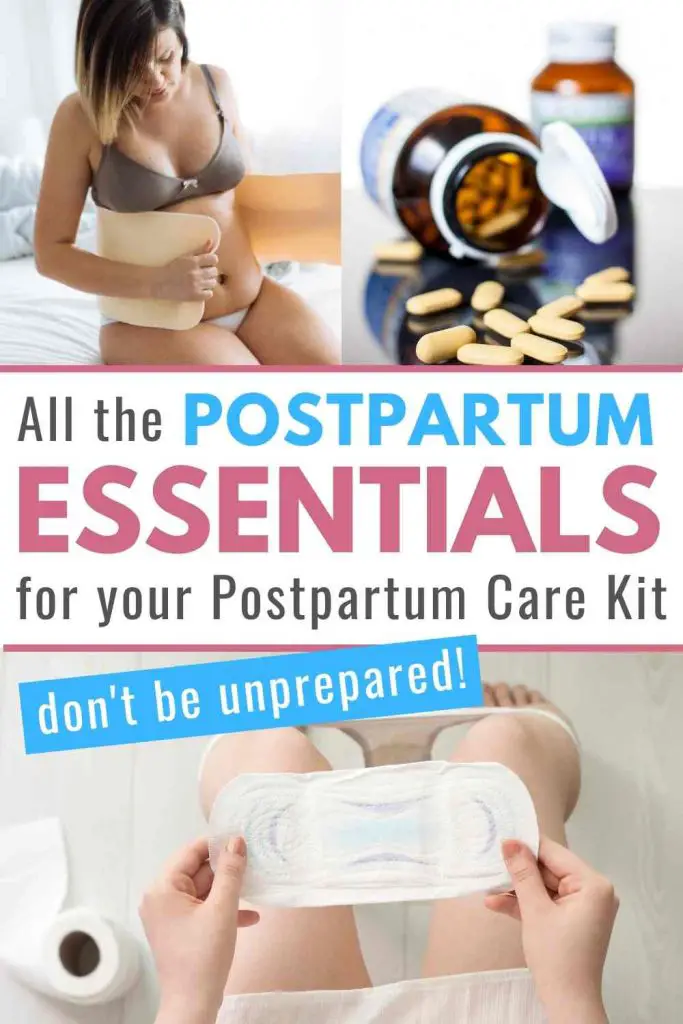 Other Post Delivery Essentials
While all the items listed above are must-haves for your postpartum essentials checklist, there are other postpartum essentials that you should consider. I have listed them here:
Robe: this can be perfect for covering up quickly if it's chilly in hospital, and it's nice and easy to open up if you are breastfeeding.
Comfortable Clothes: the key for postpartum is comfort!! I spent the first couple of weeks postpartum in either my pajama or in baggy house clothes. Particularly if you have a c-section, make sure to have pants that are not tight around the incision.
Nursing Pads: do not forget these! Once the milk comes, it's a constant flow, particularly the first few months of breastfeeding! You can get 10 FREE Reusable Breast Pads here by using the coupon code MUMINTHEWOODS.
Nursing Cover: if you are shy about breastfeeding in public. You can grab your FREE Nursing Cover here by using the coupon code MUMINTHEWOODS.
A good net of friends: don't underestimate the power of friends postpartum, particularly if it's your first baby. The first few weeks after delivery can be such an emotional roller-coaster, with lots of changes, new routines and very little sleep. Having some friends to talk to for support, that will cook some meals or give you a little hand with baby can make all the difference.
A supportive partner: make sure to let your partner know when you need a hand. And make sure you get some rest (and have those sizt baths 🙂 ) and let your partner take over for a while.
Frozen Meals: you'll have very little energy to cook postpartum, trust me. I was lucky enough to have my mom with me both times we had a newborn in the house, and she did all the cooking. But if you have no one to help with food, it could be a good idea to prepare some meals in advance and store them in the freezer.
Finally, if you experienced the appearance of the linea nigra on your belly during pregnancy and it doesn't seem to go away after birth, you can have a look here at some products and tips on how to get rid of it.
Related:
Postpartum Care Kit Checklist Printable
If you like everything that's in the above checklist, but you prefer to have a printable copy, then feel free to grab the FREE postpartum checklist pdf below 🙂
Postpartum Care Kit Checklist: Final Thoughts
Pregnant women are usually so scared of the actual birth, but postpartum can be real challenging and painful too! So, it's very important to be prepared: know what to expect and have all the postpartum care essentials ready that will help with an easier recovery.
The list above is very comprehensive and covers all sorts of scenario, so I honestly hope you found it to be comprehensive enough and that it got you packing!
And now that you've got your postpartum care kit sorted, it's also time to have a look at your Hospital Bag Checklist (if you are planning on giving birth in hospital) and your Newborn Baby Checklist, to make sure you've got everything you need for baby's arrival. If you buy a pregnancy planner, all these lists are actually usually all included. If you have time, you might want to sign up to some of the free baby samples (some are for you too!) from major suppliers.
If you are on a tight budget, make sure to also have a read at this article on How to have a Baby on a Budget, with lots of tips on how to save money with a baby, including coupons for baby products.
Finally, Not sure about what what to expect postpartum? Head over here for a list of all the changes your body goes through after birth and what to really expect.
---
Have you already been through birth and postpartum and you came across some other essentials that are not listed here but are worth sharing? Then please let me know in the comments below! I'd love to hear from you 🙂
Did you find this useful? Pin It!