Due date is approaching fast and, if you are early, you may give birth earlier that expected! So, have you got the hospital bag ready for yourself, your baby (oh, and don't forget your partner!)?!
Be prepared with this printable hospital bag checklist that will ensure you don't forget any of the essentials!
What to pack in your Hospital Bag – You are not moving in!
I remember when my wife was pregnant with our first daughter. She was not even 32 weeks pregnant and she was already downloading checklists after checklists on what to pack for hospital, and had a suitcase already half packed in our bedroom.
I remember the checklists she was printing were so incredibly long. I thought we were moving into hospital for like a month at some point!
In the end, she didn't end up needing the bag until 40 weeks, when she was scheduled for a c-section, and she hardly used half the things that were in the suitcase!
I am not saying you need to be as relaxed as I am … when I was pregnant with our second daughter I didn't pack anything until 39 weeks. But also don't be too relaxed. I ended up panicking while I was in labor because I wasn't sure I had packed everything I needed.
Pack only the essentials for labor and delivery (and going home), which may differ if you have a vaginal birth, a c-section or a water birth. And don't pack anything that the hospital is very likely going to provide, such as newborn diapers or wipes. Buy those for home, so you don't need to have a pit stop at the supermarket on the way home from hospital 🙂
Below you will find a list of only the most important things you will actually need for your hospital bag checklist for labor and delivery! No extra stuff that you will never need and will only take up space!
Related:
When to pack your Hospital Bag
I would recommend you start packing your bag(s) at 36 weeks pregnant. You are actually considered full term after 37 weeks, so you could go into labor any time now!
I get that if you are a first time mom, you may be getting quite anxious and excited earlier than 36 weeks, and start packing way in advance. That's OK too, totally up to you. If packing earlier will make you feel a bit more relaxed and in control – go for it! Just remember only to pack the essentials!
Also, consider adding the checklist to your Pregnancy Survival Kit to feel less anxious and more in control 🙂
If it's your second child … well you may be too relaxed like me and start packing at 39 weeks (to my wife's frustration 🙂 ). But don't forget that when labor starts, the last thing you want to do is think about what to pack in your hospital bag… and have an argument with your partner because you didn't pack the bag in time! And now they have to do it for you…
Related:
Where to leave your Hospital Bag
Think about where you want to leave your hospital bag, particularly if you work or spend long periods of time away from home.
While, ideally, you will be home when contractions start, and you can head to the hospital from there, it may happen that you go into labor when you are still at work or away from home. And, if you don't leave too close to the hospital, you may want to drive straight there from wherever you are.
So, it can be a good idea to leave your hospital bag in the back of your car. This way, no matter where you are, you will be ready 🙂
Any bag will work as an hospital bag. From a gym bag, to a suitcase, to a diaper bag! We personally found that having everything in a small suitcase was more practical to access everything once we were in hospital. However, lots of people prefer bags with lots of little pockets to store things separately.
You can even split all the items in different bags: one for you, one for baby and one for partner. Or one for labor and delivery, and one with things for when you are ready to go back home.
The Essentials to Pack in your Hospital Bag
Here's exactly all the essentials you need to pack in your hospital bag for labor and delivery, as well as for going home. I have broken it down into three categories: hospital bag checklist for mom, hospital bag checklist for baby and hospital bag checklist for dad (or partner). But don't worry, you can fit it all in one bag 🙂
I have included my personal views and recommendations on every item, as I don't believe everything applies to everyone. For example, you don't need breast pads if you are planning on bottle feeding 🙂
If you just want to grab the hospital bag checklist printable, grab it for free at the bottom of this article 🙂
Hospital Bag Checklist for Mom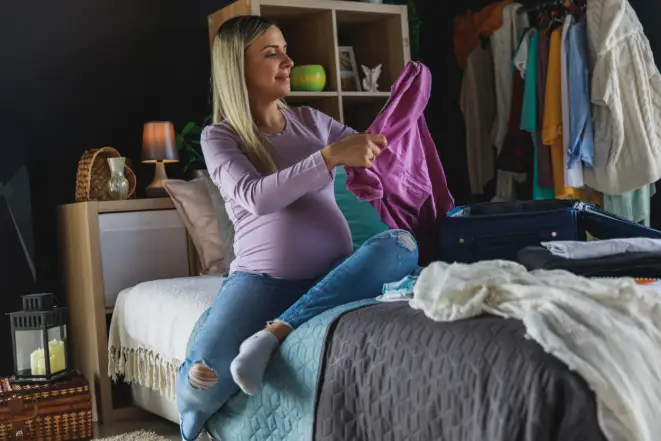 1) Must-Haves
Phone and phone charger: I am sure everyone has got these two on their list already!
Insurance Information: depending on what country you live in, it might be helpful to have this with you. I personally live in New Zealand where everything is covered from the government, so I didn't have to worry about it.
Birth Plan: bring some extra copies with you. The last thing you want to do is explain everything you wish for your birth to all the hospital staff while you are in labor. They might not be able to honor all your wishes, but it's a good starting point. Have a look here for a natural birth plan template.
A couple of changes of (comfortable) clothes: this includes tops, pants, undies, and socks. Add a sweater if you get cold and prefer it over a gown.
My waters broke while I still had all my clothes on in hospital, all over my feet as well…. so pack for any eventualities. Also, depending on how long you end up staying in hospital (i.e. if you have a c-section), you might want to have extra changes.
And remember: comfort is the key postpartum! Particularly if you are having a c-section, make sure not to pack pants that are tight around the incision. I would recommend having a look at these postpartum compression shorts, that are specifically designed to help recover postpartum and that you can wear both as comfy shorts or underwear.
Plastic bags for dirty washing.
I am so glad I packed these for my wet cloths after my waters broke!
Maternity / Postpartum Pads
Some hospitals will provide you with some, but the cheap uncomfortable ones. Also (and don't laugh here!), but I did buy incontinence pads for the first couple of days. And so did my wife when she had our first daughter. The bleeding can be quite intense straight after birth (you will bleed even if you have a c-section!), so you don't want to keep changing your pad every 10 minutes!
Slippers / flip-flops: you really want these… particularly if you hate walking barefoot on hospital floors like me.
Pajamas: unless you want to end up sleeping with the hospital gown.
Gown / Robe: these are perfect for covering up quickly if it's chilly in hospital, especially soon after delivery, when doctor are still checking up your bits. A robe in particular is nice and easy to open up if you are breastfeeding. These are definitely must-have clothing items for after delivery.
Drinks: it's very important to drink during labor, so don't forget something to drink. Maybe pack a reusable water bottle so that you can keep refilling it with the water from the hospital. You do not want your partner to keep having to walk back and forth to the water station 🙂
One like this one with a straw would be ideal!
Snacks: I tell you, you might not be hungry during labor, but you will be starving once the baby is out! I was served two pieces of dry toast (that's it!) when I had our second child. I was so glad I packed something else to eat. And even if you have a c-section, you'll enjoy some familiar food while being served hospital food.
Cooling spray like this one to relieve any pain postpartum, particularly if you had any vaginal tear! Going back, I definitely wish I had one of these.
Or, consider getting this awesome postpartum essential kit from Frida, which includes cold absorbency pads, cooling witch hazel medicated pad liners and a perinel medicated healing foam.
Related:
2) Toiletries
Hairbrush and toothpaste / toothbrush: these are a must!
Make up: I personally don't use any, but if you do, you might want to pack this.
Body wash / Shampoo / Conditioner: there's nothing better than a nice warm shower after a long labor. I could have stayed in the hospital shower for an hour after I gave birth… the hospital has some soap but you might want to pack your own stuff.
Hairdryer: the hospitals usually provide one, but you might want to have yours from home.
3) If you are Planning on Breastfeeding
Nursing Bras: don't forget these if you are planning on breastfeeding!
Nursing Cover: this is a good solution if you are a bit self-conscious about breastfeeding in front of other people. Grab your FREE Nursing Cover here by using the coupon code MUMINTHEWOODS at checkout.
I don't think breast pads are necessary to go to hospital as your milk supply will take a couple of days to come through! However, if you want to get ready for baby's arrival and feeding time, you can get 10 FREE Reusable Breast Pads here by using the code MUMINTHEWOODS.
Related: The Ultimate Newborn Baby Checklist
4) If you are Planning on Having a Water Birth
Bathing Suit / Bikini: for you and your partner if he/she is planning on getting into the water with you.
Towels: for when you get out. The hospital might provide these for you though.
5) Other things you might want to consider
Headphones: to listen to some relaxing music during labor. These are particularly important if you are doing Hypnobirthing!
Swiss or Birthing Ball: in the hospital where I gave birth they already provide one per room. Check with your hospital, because if they don't have them, you might want to take one from home!
Your own pillow: nothing like sleeping with your own pillow instead of the plastic and noisy one from hospital.
Candles with a familiar scent.
Bluetooth speakers: if you prefer these to the headphones.
Hair Ties or Headband: don't do like me and always forget hair ties behind! You definitely don't want annoying hair on your face when you are in labor 🙂
Related:
Hospital Bag Checklist for Baby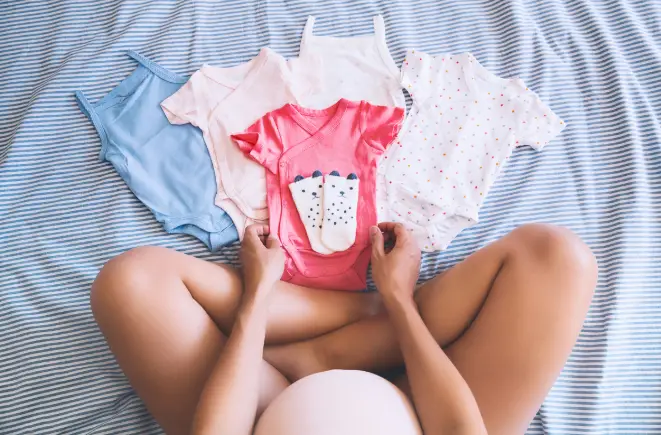 1) Must Haves
Car Seat: make sure you do not forget this one, as I have had friends who did! Install it in the car in time and, if you need help, there are many places where you can take it to get it fit.
You can get a FREE Car Seat Canopy at www.carseatcanopy.com/ by using the coupon code MUMINTHEWOODS.
Clothes: take a few onesies / pajamas / vests of different sizes (you never know exactly how small/big your baby is going to be). If winter, also pack a couple of jumpers and socks.
A couple of beanies: no matter if it's winter or summer! Newborns loose lots of heat from their head, and hospitals are usually cold, so you want to protect their little heads.
Extra warm blankets if the weather is cold. Hospital usually provides some blankets, but it's nice to have your own.
Mittens: to keep those little hands warm, but also prevent your baby from scratching his/her face.
Diapers: here in New Zealand the hospital provides new moms with some diapers, but it's always a good idea to take some extra ones from home.
Pacifier: if you are planning on using one.
Coming Home Outfit: this is not really a must, but a nice one to have for when you are ready to go home 🙂
2) If you can't or are not going to breastfeed
Have you also made sure that you have everything you need for baby's arrival at home? For a piece of mind, also check this Newborn Baby Checklist and Newborn Baby Toiletries List!
Hospital Bag Checklist for Dad (or Partner)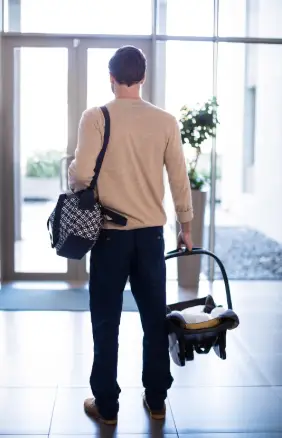 1) Must haves
Drinks and snacks: partners also get thirsty and hungry.
Pillow and blanket: this is a good one to have if they end up staying with you in hospital overnight!
2) If you are Planning on having a Water Birth
Hospital Bag Checklist Printable
Here's the free hospital bag checklist pdf for your to download.
Hospital Bag Checklist: Final Thoughts
Here it is mom-to-be – my ultimate hospital bag checklist with everything you need to pack in your hospital bag, including the printable. I really hope you've found all this information useful and you are ready to get packing!
Here's two more checklists of things that you will need for baby's arrival: The Ultimate Newborn Baby Checklist and The Ultimate Baby Toiletries List. They include a list of FREE baby products for mom / baby that you can get by using the promo code MUMINTHEWOODS. Things such as hooded towels, belly band, baby wrap, etc.
I also have a checklist with everything you need for postpartum recovery: The Ultimate Postpartum Care Kit.
And, if you are on a bit of a tight budget and struggling to put money aside for baby's arrival or for maternity leave, check out these awesome tips on How to have a Baby on a Budget!
---
Do you have questions about any of the above? Is there anything I missed in my hospital bag checklist printable, that you think would be valuable to add for other moms-to-be? What did you love having in your hospital bag for labor and delivery? Or what were the things you packed but didn't use?
Please let me know in the comments below – I'd love to hear from you!
If you are looking for more tips or information on how to prepare for birth and postpartum, also have a look at the following related articles:
For tips and information on how to survive pregnancy:
Did you find this useful? Pin It!