Pregnancy can be such an amazing experience for a first-time (or more?) mom, but it can also be so overwhelming at the same time! There's so much that you need to think about in preparation for your little one's arrival that a good pregnancy planner or journal can really help you manage and record all the events and appointments that you need to remember as you get ready for birth.
I remember when I was expecting our first daughter I was creating so many checklists and was so worried that we were going to miss something. I was frantically trying to do and remember everything by myself, when it could have been so much easier if I had had something with all that information ready for me already.
That's why a pregnancy planner can be extremely helpful for when you are expecting. It usually covers everything that you need throughout pregnancy, for birth / postpartum and for a newborn. It contains medical information and reminders for your doctor appointments and scans, tools to help you organize the baby shower or to help you choose baby's name, and so on.
However, no planner for pregnancy is the same! There's lots of choice out there: from pregnancy planner books, printable pregnancy planners (usually as PDFs) and even some free planners if you don't want to spend money buying one. So, to help you choose, I have gathered here a list of the best pregnancy planners out there – enjoy!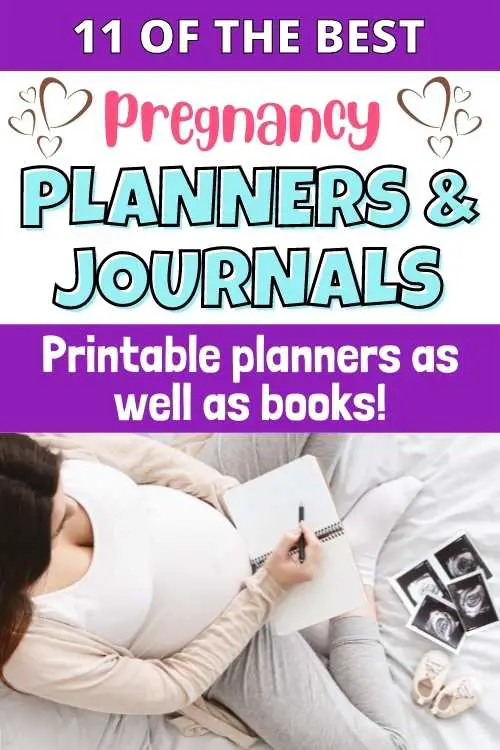 What is a Pregnancy Planner?
First thing first, what is exactly a planner for pregnancy? There's a bit of confusion out there as to what a pregnancy planner should contain, and whether there's a difference between a pregnancy planner and pregnancy journal or if they are the same thing.
Well, let me start by saying that a pregnancy planner and pregnancy journal are not the same thing. However, while it's true that most pregnancy planners also include a pregnancy journal, the opposite is not always true: you can have a pregnancy journal that doesn't include a planner.
I will go through the exact difference between the two in a minute but, for now, let me just concentrate on the pregnancy planner! Like I mentioned above, it is an organization tool that is heavily focused on planning and preparing for pregnancy and postpartum.
It is packed with to-do and shopping lists to make sure that you can be on top of everything that needs to be done for your pregnancy or for when you are at home with your newborn. And, for this reason, it can be a life saver for first-time moms that are carrying for the first time and don't quite know what to expect or are feeling overwhelmed by the whole thing.
Here's everything that should and might be included in a planner for pregnancy. However, know that not all planners are this inclusive, so make sure to check what's in one before you buy it!
Weekly Countdown: to keep track of how far along you are and how long till baby arrives.
Pregnancy Announcements: to plan all the different announcements, such as to your family, to friends and on social media.
Nursery Planner: to help you design your nursery and make sure you've bought everything you need. Your can write down some of your best nursery ideas in here.
Baby Names: where you can write down baby names ideas.
Checklist Planner:
Medical Pregnancy Planner:
Medical Information: information about your health insurance and contact details for your doctor / midwife, as well as your current allergies or medications you are on, so you don't forget to tell your doctor.
Weight Tracker: a tool to keep track of your weight throughout pregnancy, to make sure you are putting on 'healthy' weight.
Prenatal Appointments: reminders for all your prenatal appointments, including space for any question that you wish to ask your doctor.
Baby Shower Planner:
Guest List: to keep track of everyone that you want to invite.
Gift Registry: to keep track of all the gifts you've received and what you still need to buy yourself.
Birth:
Birth Plan: a template for your birth plan, with all your birth preferences.
Related: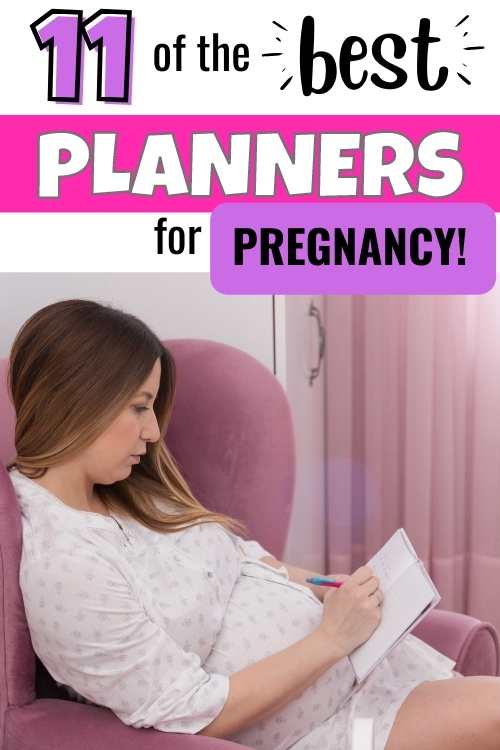 Pregnancy Planner or a Pregnancy Journal?
If what I have written above is what's usually included in a pregnancy planner, then what goes into a Pregnancy Journal? Well, a pregnancy journal is not a tool that helps you stay organized during pregnancy. Instead, as the name implies, it's a sort of diary of your pregnancy journey.
It's something where you can write down all your thoughts and experiences throughout your pregnancy: what you felt when you reached certain milestones (such as baby's first kick or when you found out baby's sex) for example, if you had any signs of a girl pregnancy or of a boy pregnancy, or what happened when you gave birth. A pregnancy journal is a collection of memories that lots of moms like to have, so they can cherish them for a lifetime.
Like I mentioned above, lots of journals also include a 'planner section' and are a hybrid of a pregnancy journal and pregnancy planner. However, you can also easily find pregnancy journals that are just that.
Related:
The Different Types of Pregnancy Planner
Pregnancy planners can come in 2 different formats: books or printables.
If you buy a pregnancy planner book you are purchasing the finished, already-printed products. Some are like proper books, with a hardcover, whereas some are more like notebooks, with spiral binding and either a hard or softcover. The quality, and therefore the price, can vary a lot, but these are usually more expensive compared to printables. They are also often more comprehensive compared to printables, including tips and guides as well as everything else.
Printables, on the other hand, are digital products that you buy and print yourself. Some are editable and can be personalized before your print them, whilst others are pdf files that can only be printed as is. Because in this case you are only buying a digital product and not a finished product, the price for printable pregnancy planners is usually much lower compared to books.
I personally prefer printables compared to a finish product, so I can print it myself and save some money. I also like the fact that I can discard some pages if I don't like them: I don't have to print the whole thing. However, I understand that books can be much prettier and be a better keepsake for year to comes, particularly if you want the planner to include a journal as well.
The list below includes the best of both different types, so you can choose the one for you depending on what you are looking for and your budget.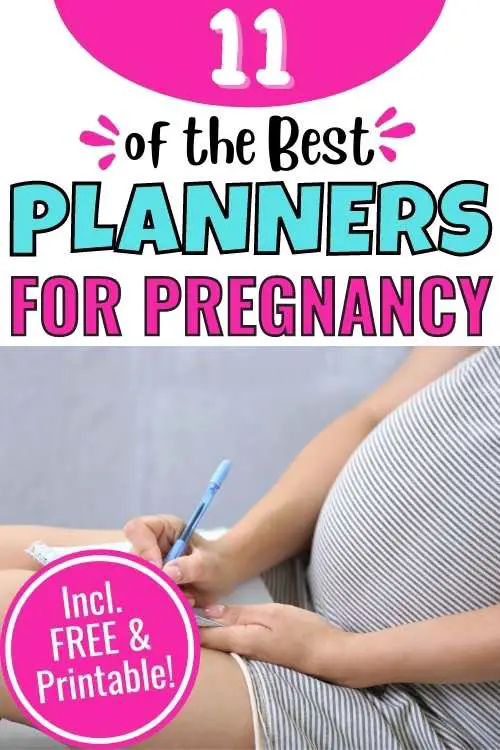 The Best Pregnancy Journals and Planners
Without further ado, here's the list of the best pregnancy planners I have found: some of them are just planners, whereas some also include a journal component. I have also split them into the different categories: books and printables (including free pregnancy planners), so it's easier for you to find what you are looking for.
Price ranges:
$ – 5-10 USD
$$ – 11-25 USD
$$$ – 26-50 USD
$$$$ – 51+ USD
* Note: for the pregnancy planner books you also need to consider the separate cost for shipping!
Pregnancy Planner and Journal
1) Bloom Daily Planner & Keepsake Journal with Stickers
The Bloom Daily Planner & Keepsake Journal is one of the most comprehensive planners out there, including a journal and lots of stickers for you to use. It is the perfect choice if you are looking for a journal component as well and if you like scrapbooks.
The book also contains helpful tips and advice from new moms and is extremely well organized, with almost 200 pages divided into 8 different tabbed sections:
(1) We're Pregnant!: this section includes a family tree, pregnancy tips, meal plans, birth plans, nursery planning, registry planning and much more.
(2) Medical Log: this sections includes your medical/insurance information, questions to ask your doctors, medical records for all of your appointments (prenatal through year one), etc.
(3-5) First, Second & Third Trimester: each trimester has its own section that breaks down what to expect and provides space to track daily to do's, appointments and events, baby's size, measurements, cravings and aversions, vitamin and water intake, feelings and milestones.
(6) Baby's First Year: this section helps you record memories of the big day, save birth announcements, document milestones, etc.
(7) Monthly Views: this section contains 12 undated monthly view spreads that are ideal for tracking appointments, memories, milestones and more for each month of your baby's first year.
(8) Weekly Views: this section contains 52 weekly planning pages (one page per week for your baby's first year), each with a piece of advice, space to track to-dos, appointments and events, record how you're feeling, notes and milestones, plus daily water and vitamin tracking.
Related: Printable Natural Birth Plan Template (FREE Word + PDF)
It is quite an expensive book but the price reflects the good quality and the amount of information that's in there.
Size:  9 x 10 inches (22.86 x 25.4 cm)
Number of Pages: 196
Price: $$$
2) The Bump Book of Lists for Pregnancy and Baby
The Bump Book of Lists for Pregnancy and Baby is another great resource for moms-to-be, with lots of checklists, questions to ask your doctor and lots of tips to prepare for baby's arrival. It also includes information on how to set up the nursery, how to write a birth plan, lots of space for notes (which can be helpful during doctors appointments) and more.
The greatest thing about it is its size: it's small and portable, meaning you can take it anywhere with you. It's also very affordable, particularly compared to the planner above.
The Bump also sells a book that includes both a planner and journal here: it's double the price compared to just the planner, but worth checking it out if you also want a pregnancy journal.
Size:  5.47 x 8.21 inches (13.9 x 20.8 cm)
Number of Pages: 192
Price: $$
3) Pregnant & Badass Pregnancy Planner
Pregnant & Badass is the best pregnancy planner book when considering what it offers inside and its price! It's honestly super cheap, even cheaper than some printable pregnancy planners, but it's an actual book with lots of great stuff to help you stay organized and on top of things when expecting.
While it is mainly a planner, it does also have a journal components to it. This is exactly what's included:
A page to record memories of how you fond out that you are expecting
A p

regnancy tracker

Prenatal visit trackers
Weight tracker
Ideas of healthy foods to help you eat healthy during your pregnancy
First, second, and third trimester memory pages
First, second and third trimester baby bump photo pages
Weekly pregnancy journal pages (weeks 4-40)
Weekly pregnancy journaling pages to write letters to your baby (weeks 4-40)
Baby name ideas page
Baby shower planning page
Baby shower gift tracker
Baby shopping list
Nursery planner
Fetal movement trackers
Weekly meal planning pages (weeks 4-40)
Ultrasound tracking sheets (at week 12 and week 20)
Related:
An extra bonus of this planner is the very cute design. Even though it's not printed in color and it's black an white, I personally really like it. There's other similar planners on Amazon with pretty much the same design inside, but this one was the most comprehensive one from a planner perspective I thought.
The main con is the quality of the pages, made of very thin paper.
Size:  8 x 10 inches (20.3 x 25.4 cm)
Number of Pages: 140
Price: $
4) Purple Trail Pregnancy Planners
The Purple Trail Pregnancy Planners I think are one of the best pregnancy planners for their design, as well as their content. Not to mention the incredible choice of different covers, the fact that you can personalize the cover with baby's name, and you can choose at what month your calendar is going to start.
Each pregnancy planner also includes a journal component and it covers every aspect of pregnancy in 12 separate sections:
12 months monthly calendar
The early stages planning
Baby shower planning
Preparing for the baby
Appointments tracking
Health tracking
The big day
Baby's first year
Scrapbook
The pregnancy planners are also of great quality, made of of thick paper. So, because of all of this, the price can be quite steep. However, you have the choice of 2 different sizes and different covers, particularly if you buy straight from Purple Trail: the smaller size with a synthetic or laminated cover is way cheaper than the bigger size with a hard cover.
Size:  6 x 8 inches (15.2 x 20.3 cm) or 8 x 11 inches (20.3 x 25.4 cm)
Number of Pages: 200+
Price: $$$ – $$$$
5) One by One to My Little One
One by One to My Little One is another very cute pregnancy planner with a lot of stuff in it to keep track of everything during your pregnancy. Possibly too much!
It's one of the biggest planners (and journal) in here with 228 pages and, personally, I would never have the time to fill everything out that's in here. Like the food logs for each day for example … But, if you are one of those people that likes to record everything, particularly if you are having a high-risk pregnancy, this might be for you.
This planner is divided into 5 separate sections:
(1) The Joyful Journey Begins: this section includes everything you need to organize before baby's arrival, including all the checklists, suggestions for books to read and nursery ideas. You can also find memory building parts such as my first thoughts, reactions and feelings.
(2-4) The Trimesters: the first trimester starts with Week 5 and The last Trimester ends with week 40. Each trimester has both monthly and weekly views. The weekly views include the size of your baby, water logs, vitamins logs, cravings, body measurements and weight trackers. After each weekly view there is a also a food log to help you keep track of your diet. In each trimester there are doctor visit logs, where you can take notes during the visit, put your ultrasound photo and write down your questions and answers.
(5) The Big Arrival: this part consists more in a journal and is especially designed for you to start your first memories, and enjoy every moment of your little one.
Related: 20+ Best Books to Read to Baby in Womb (incl. FREE Books)
One of the biggest cons that seems to be a common thread amongst the comments is the biding, which is way too tight for the amount of pages, so it's hard to turn the pages or fold the planner in half. Some people suggest removing the pages that you don't need but, to me, that defeats the purpose of buying such a big and comprehensive planner.
The book is also quite big (not just in thickness) – it's one of the biggest ones in the list. So, definitely not the best choice if you are looking for something more portable.
Size:  8.5 x 11 inches (21.6 x 27.9 cm)
Number of Pages: 228
Price: $$
6) My Twin Pregnancy Week by Week
If you are expecting twins, a normal or traditional pregnancy planner won't really help you, as those are designed with one baby in mind. With two kids you have more to think about from additional prenatal tests to your need for more calories and protein. And what about after your twins come home? It can be confusing during that first chaotic month to remember who pooped or ate last!
But don't worry, the My Twin Pregnancy Week by Week is here just for you! Here's everything that's included in this pregnancy planner:
A weekly weight gain tracker
Your prenatal test results (and whether a follow-up test is needed)
Questions for your health-care provider
A master to-do list with everything you'll need to accomplish before the babies arrive
Baby budget and design plans for decorating your twin nursery
Possible baby name combinations
Your twin layette
Your thoughts and feelings about your ever-changing body and emotions
Related: Baby on a Budget – Top Tips on How to Save Money with a New Baby
Size:  8.5 x 8.5 inches (21.6 x 21.6 cm)
Number of Pages: 120
Price: $$
Printable Pregnancy Planners
7) Kiwi Mom Pregnancy Planner
This is a printable pregnancy planner that I have personally designed and that's available on Etsy. I never really liked the idea of a big book for a pregnancy planner/journal for myself: too much to fill out! So, this is not as big or long as other planners on this list, but it's got all the checklists and trackers you need to stay organized during pregnancy and get ready for baby.
It's also available both in word (.docx) and pdf format, so you can personalize it however you want. The thing that bothered me the most about other planners was the fact that the checklists were already filled out for you and, even though you could add some lines, so many things were not really applicable to my situation and I had to cross them off. This way you can make sure that when you print the planner, the checklists have only and exactly what you need.
There is also a journal component, but it's very limited: the main focus is the planner. Here's everything that's included:
Weekly Countdown
Pregnancy Milestones
Pregnancy Announcements
Gender Predictions
Nursery Planner
Letter to Baby
Checklists:
1st Trimester Checklist
2nd Trimester Checklist
3rd Trimester Checklist
Medical:
Medical Information
Weight Tracker
Prenatal Appointments
Baby Shower:
Baby Shower Guest List
Baby Shower Gift Registry
Birth:
Weekly Journal:
Size:  A4 8.3 x 11.7 inches (21.0 x 29.7 cm)
Number of Pages: 63
Price: $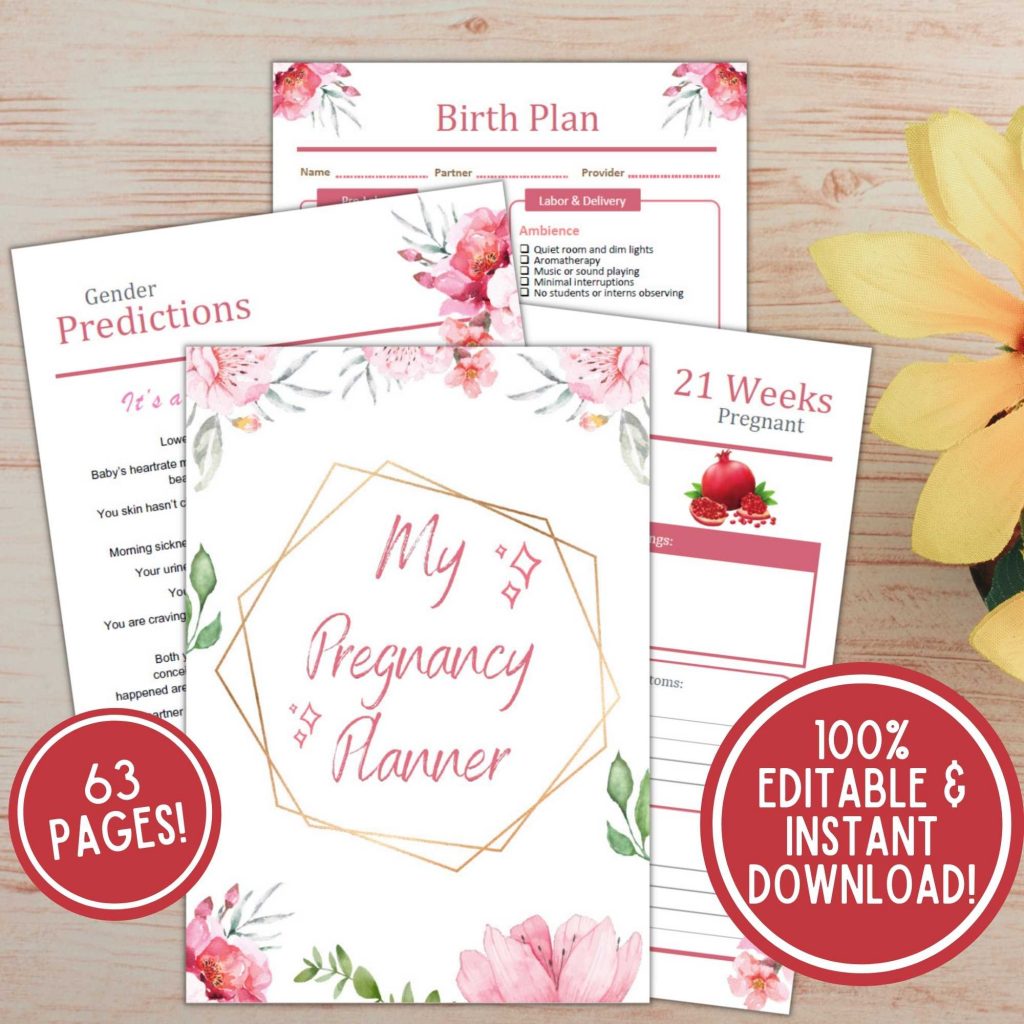 8) The Ultimate To-Do Guide & Pregnancy Planner
This is an interesting product from The Organized Mom Life: it includes both an ebook and a printable planner.
The ebook is a guide to pregnancy, full of tips and tools to tackle your pregnancy to-dos. It includes a lot of stuff that should be on a pregnancy planner, but it goes into detail explaining why it should or should not be there.
The planner, on the other hand, includes all the checklists, brainstorming pages and planning sheets for you to fill out. It is designed to be printed and used alongside the e-book.
Here's everything that's included in the printable planner:
Printer friendly to-do lists for each trimester
Pregnancy snack list
Shopping list
Maternity clothes checklist
Gender reveal planning sheet
Monthly budget overview
Monthly spending pages
Childcare planner
Baby registry checklist
Baby name list
Hospital tour question sheet
Paperwork organizer
Thank you note checklist
Meal planner
Easy meal ideas
Breastfeeding checklist
Diaper changing checklist
Weekly to-do list
Size:  A4 8.3 x 11.7 inches (21.0 x 29.7 cm)
Number of Pages: 99 page e-book and 26 page printable planner
Price: $$
9) Rainbow Pregnancy Planner
This other rainbow printable pregnancy planner is from Etsy as well, and the same shop has actually got different designs available (though this one was my favorite). The content is pretty similar to mine, though the pages like the letter to baby or baby's birth stories have prompts instead of being blank pages, so this would suit someone who wants an already pre-formatted template where you just need to add a few words here and there about your experience.
Here's everything that's included in the planner:
Weekly journal: weeks 4-41
Weekly countdown
Pregnancy milestones
Finding out I'm pregnant
Pregnancy announcement
First trimester checklist
Second trimester checklist
Third trimester checklist
Postpartum prep
Gender predictions
Baby names girl/boy
Nursery planner
Gifts and thank yous
Letter to baby (with or without prompts)
Weight tracker (lbs + kg versions)
Appointments
Questions for doctor
Baby's birth story (with or without prompts)
Mom-to-be's lists
Notes – lined
Notes – dot grid
Size:  A4 8.3 x 11.7 inches (21.0 x 29.7 cm)
Number of Pages: 75
Price: $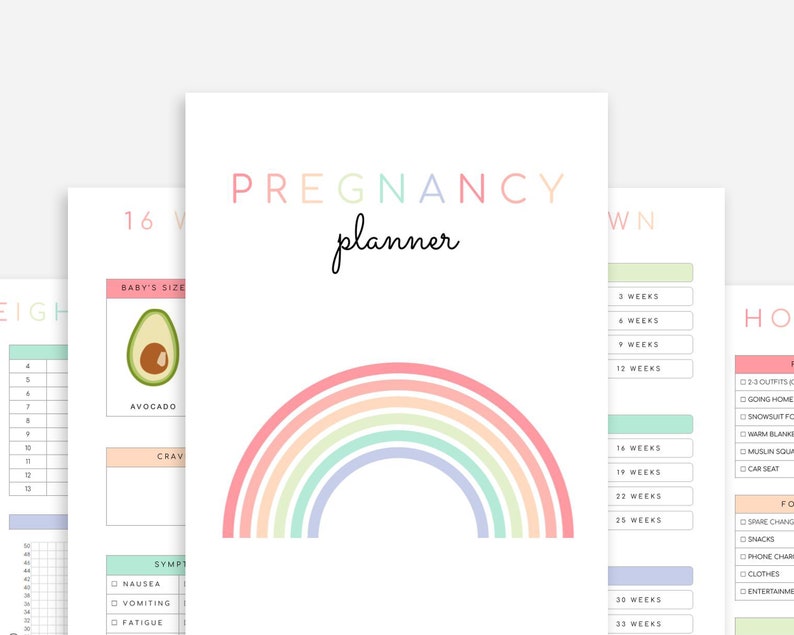 Free Pregnancy Planners
10) Mimosa & Motherhood
This free printable pregnancy planner and journal is great if you don't want to spend any money in buying one! The design is very bland (black and white with only text and boxes), but there's some good pages in there.
Here's everything that's included in the pdf:
First trimester ultrasound photo
Space for a picture of your positive pregnancy test and first baby bump
Pregnancy milestones
Weekly journal
Monthly planner
Medical Information
Prenatal Appointments
Baby Name Ideas
Nursery Ideas
Baby registry checklist
Baby shower checklist
My birth story
Hospital visitors log
Letters to baby
Notes
Size:  A4 8.3 x 11.7 inches (21.0 x 29.7 cm)
Number of Pages: 21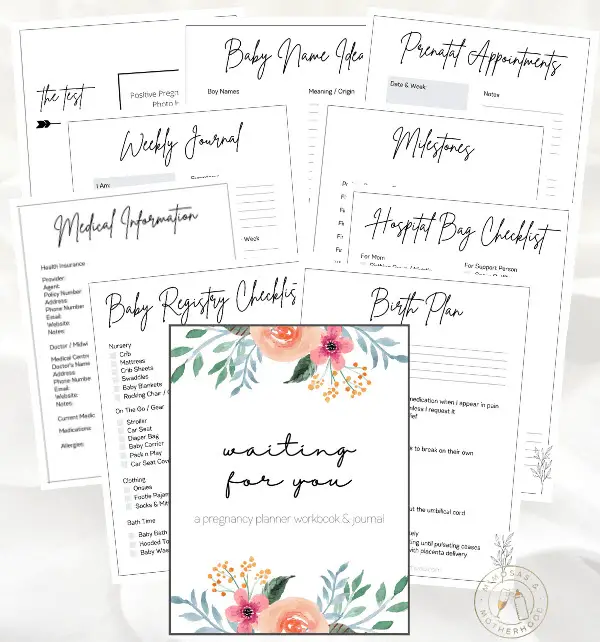 11) Nursery Design Studio
Last but not least, here's another free pdf pregnancy planner/journal from the Nursery Design Studio. I quite like the design of this one: I find it very pretty.
The main con about this planner is the cover! It says "2019 Planner", so obviously hasn't been updated since. If you want to use it, you have to forget about the cover.
Also, it's not strictly a pregnancy planner: there's also some pages that don't have much to do with pregnancy, like the password tracker or the bill tracker. That said, there's still some good pages in there and, if you think they could be enough for you, you can still pick and choose which ones you want to print.
Here's everything that's included in the printable planner:
Daily planner
Monthly calendar
Weekly planner
Meal planner
Password tracker
Pet information sheet
Contacts
Bill tracker
Daily Journal
Weekly Journal
Baby registry checklist
Appointment log
Kick count log
Nursery ideas
Nursery budget
Baby names
Size:  A4 8.3 x 11.7 inches (21.0 x 29.7 cm)
Number of Pages: 29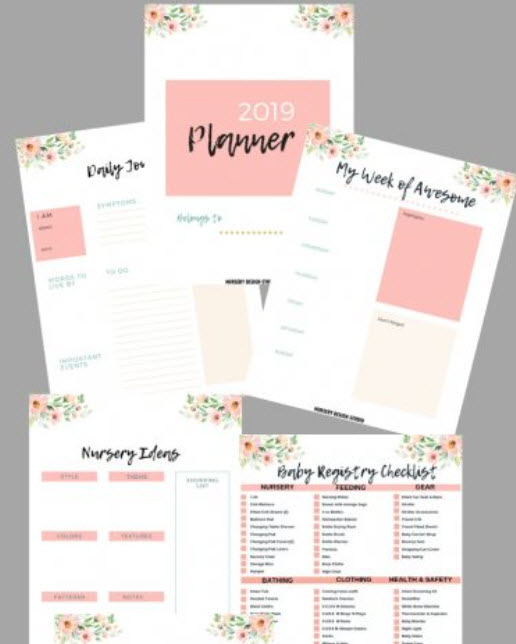 Should I Keep a Pregnancy Diary?
Are pregnancy journals worth it? Or should you just stick to a pregnancy planner?
Well, that really depends on you and what you want for your pregnancy. Like I mentioned before, a planner helps you keep organized and is a good place to brainstorm different ideas, like for baby's name or the nursery. Whereas a journal is there for you to write down your memories, feelings and sensations through pregnancy.
While the main purpose of a pregnancy journal is for your to create a keepsake that will last a lifetime, it can also be a good way for you to work your way through your feelings and possibly get rid of that anxiety that lots of first-time moms experience while expecting. Together with a planner, a journal can be one of the greatest tools to keep your sanity intact 🙂
Related: 8 Tips for Coping with Anxiety During Pregnancy
The Best Pregnancy Planners: Final Thoughts
Here it is mom-to-be! My list of the best pregnancy planners (& journals) for you to choose from while waiting for baby's arrival.
As you can see, there's a good range of price in here, and a good choice between pregnancy planner books or printable pregnancy planners, including 2 free ones if you don't want to spend any money on it. I personally really prefer a printable planner, but I know lots of people prefer to have a nice and already-printed book, so the choice is yours.
For tips and information on how to survive pregnancy, also check out these related articles:
For tips and information on how to get ready for birth and postpartum:
---
Are you a mom-to-be looking for a pregnancy planner and have some more questions that haven't been answered here? Or have you used another awesome pregnancy planner that you think should be added to the list? Then please let me know in the comments below – I'd love to hear from you!
Did you find it useful? Pin It!