Reading books to your unborn baby in womb is a great way for them to get familiar with your voice and strengthen the bonding between the two of you. Plus it's also a great way to help you relax and release any stress, which can only be good for an expectant parent.
I loved reading books to my two daughters before they were even born, particularly when I was expecting the second one: it was so special to sit down with my oldest and together read stories to my unborn baby still in my belly.
For this mega-guide I've read what felt like a library of books and narrowed it down to over 20 titles in total with 15 printed books, three free PDFs together together with a list of books specifically written for dads.
Reading A Story for Baby in Womb
While many parents like to sing and talk to their baby in utero, they don't always realize that reading is also a perfect alternative for baby to get familiar with their voices. My partner, for example, loved to sing and play the piano when we were expecting our daughters – reading was more my thing.
And mom doesn't have to be the only one reading to baby: dad or other relatives can join in too! This will allow for other people who will be important in your child's life to connect with him/her too, and baby will start to recognize their voices as well.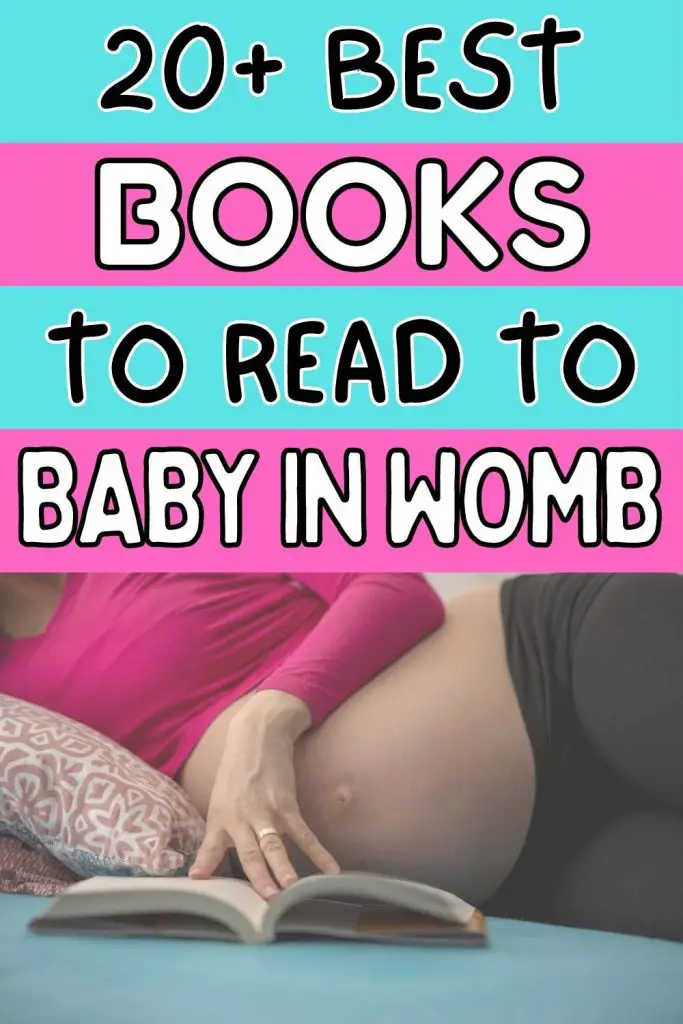 When to start reading books to your baby in utero?
If you are wondering when it's a good time to start reading to your unborn baby, know that by 18 weeks of pregnancy your child will already be able to start hearing some first sounds and they'll soon be able to recognize voices!
By week 25/26 they will start responding to voices and noises in the womb, and by the beginning of the third trimester of your pregnancy, babies will even to respond to the mother's voice with an increased heart rate that suggests they are more alert when mom is speaking.
So, anytime after the start of the second trimester is a good time to start!
Does reading to your baby in the womb make them smarter?
There are some studies that have shown that reading stories to your baby in the womb promotes brain activity and can support early language development. It can also compensate for difficulties of genetic nature, such as language impairment or dyslexia.
That said, I wouldn't say reading to your unborn baby will necessarily make them smart(er). Or, at least, don't let that thought be the only reason why you read to your baby.
I would do it more so I can deepen my connection with them, and have an enjoyable time sitting down while I do it. Plus it might be a good stepping stone for them to build a life long love of reading.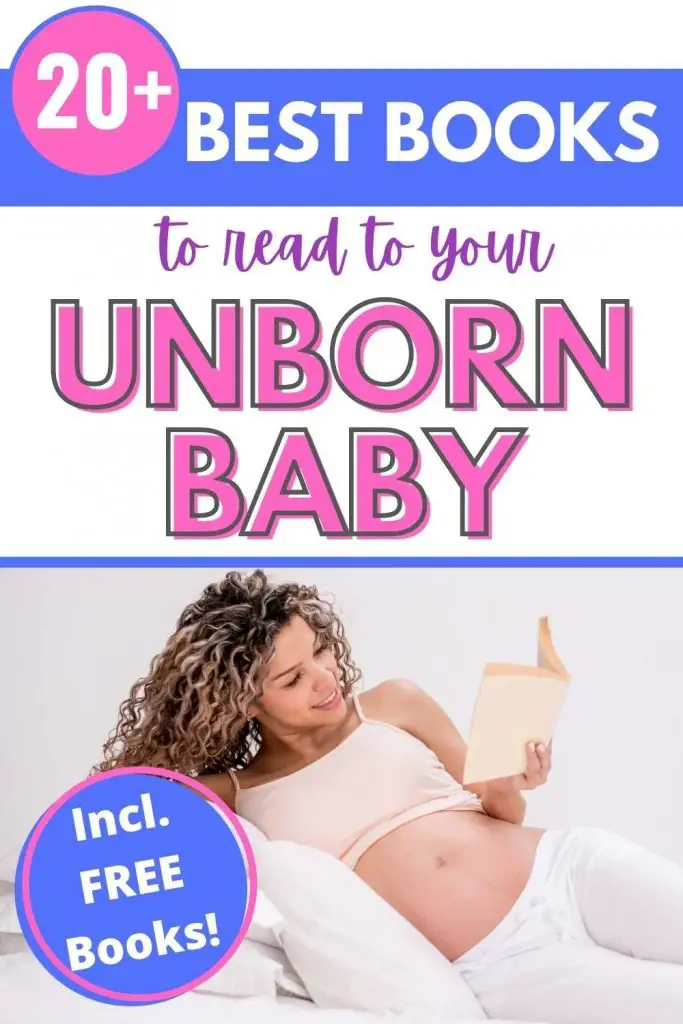 Best Books to Read to Baby in Womb
Here's my list of the 15 best books to read to your unborn baby. I'm sure you'll find at least one that resonates with you and that you can enjoy reading while pregnant.
I Wish For You
Can't Wait To Show You
The Wonderful Things You Will Be
Ma! There's Nothing To Do Here!
Mama Loves You So
Oh, Baby, The Places You'll Go
Love You Forever
I Prayed For You
I'll Always Love You
Little You
When I Carried You In My Belly
Read To Your Baby Everyday
365 Bedtime Stories & Rhymes
The Going To Bed Book
God Gave Us You
Let's get on to a summary of each – and whichever you choose, enjoy reading!
#1. I Wish For You
I Wish for you, by David Wax and Brett Brumenthal, is definitely my number one book to ready to baby while expecting.
The book explores the characteristics and values we hope our children will adopt, and how they can be learned from the wondrous creatures on this planet. From the courage of a lion to the strength of a bear to the kindness of a panda, the natural world has so much to show and teach us.
It is a very heartfelt and well written, not to forget with beautiful illustrations, book. This is what one of my favorite pages say: "I wish, always, to be as one, our family ties can't be undone. No matter which path you take, our support will never break. Although one day you may go roaming, our love is always your true home".
Extra bonus: it is printed on recycled materials and a portion of the proceeds is donated to wildlife conservation.
#2. Can't Wait To Show You
Can't Wait to Show You: A Celebration for Mothers-to-Be, by Jacqueline Boyle and Susan Lupone Stonis, is a book especially written for expectant moms to read to their baby in the womb – it's even shaped to fit on your growing belly!
It consist of a very rhythmic poem, in which parents can't wait to show their child many wonderful things in life, such as the light of the sun through the rainbows, suncatchers or even love. The concept is actually incredibly sweet and the pictures are very cute.
According to the authors, because of the rhythmic nature of the book, reading or singing it aloud will help your child relax and find a happy mood, as babies can recognize repeated songs.
#3. The Wonderful Things You Will Be
The wonderful things you will be by Emily Winfield Martin is a New York Times bestseller (for good reasons!) that celebrates the dreams, acceptance, and love that parents have for their children.
It consists of a rhythmic rhyme delivering a very powerful message: not only it states the (almost) obvious fact that parents will love their child whoever they grow up to be, but it also puts a great deal of excitement on all of the possible ways they can become their very own person. It encourages adventure, taking care of others and creativity, and for the child to go be everything they were created to be.
An absolute must-have for new parents with young kids as well as expecting moms.
#4. Ma! There's Nothing To Do Here!
Ma! There's Nothing to Do Here! by Barbara Park is definitely one of the best stories to read to baby in the womb!
I love how it is set entirely in the belly and told from the perspective of the growing baby inside. It is so cute and funny at the same time, which is a bit rare for babies' books. Sure to make you laugh and a perfect book to read with and older sibling as well, so they can imagine their little sister or brother growing inside mom.
One of the verse goes: "I'm all in a heap here, my feet are asleep here, I'm totally bored with this dumb bungee cord. I am not kidding you, Ma! There's nothing to do!"
#5. Mama Loves You So
Mama loves you so by Terry Pierce is a beautiful story with such sincere, poetic and sweet lines about how much a mother loves her baby. If you are still pregnant while reading it, I could almost guarantee you will have a little tear on your cheek by the time you reach the last page (blame it on the hormones!).
Definitely one of my favorite stories for babies in the womb. The illustrations are also absolutely stunning and the pages are nice and thick, so you can keep reading it even when baby becomes a toddler and starts ripping all the pages.
Check Latest Prices on Amazon
#6. Oh, Baby, The Places You'll Go
Oh, Baby, the Places You'll Go! by Tish Rabe is possibly the number one book that's usually recommended to expectant parents to read to their baby in utero, so I could not leave it out! We were also gifted a copy while I was pregnant with our second daughter.
In simple rhymed verse, the author goes through the joys awaiting newborns when they meet the Cat in the Hat, Horton the Elephant, Yertle the Turtle, the Great Birthday Bird, the Grinch, and twenty-five other beloved Seuss characters. And the reason why it's not my number one choice is that I find it slightly hard to read all the different names and verses, as English is not my first language. And I don't particularly love the illustrations …
That said, if English is your first language, you are a Dr. Seuss fan and plan on introducing your little one to all of those beloved books, you will probably love this book too!
One verse that I do love: "You'll find that this world's a great place to begin, but it could use some help – which is where you come in". Followed shortly by: "It's a scrumptulous world and it's ready to greet you. And as for myself … well … I can't wait to meet you!".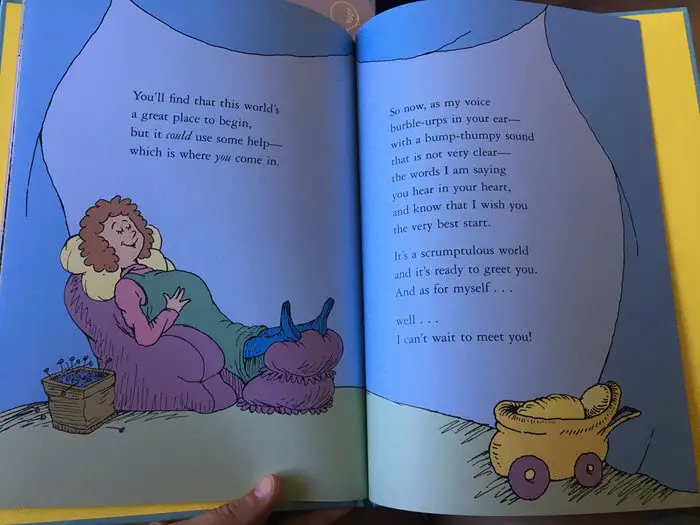 #7. Love You Forever
Love you forever by Robert Munsh is another bestseller and ultimate favorite for a lot of moms, so I couldn't leave it out either.
The story is a gentle affirmation of the love a parent feels for their child, forever, and how that love transcends to the next generation. It goes through some of the "crazy" things a mom would do for their children, and how the love will always be there, though the good times and the you-are-driving-me-crazy times.
It even touches on death and I wouldn't recommend reading it if you've recently lost a parent yourself. So many readers find themselves in tears while reading this book!
Some people, on the other hand, find it too weird and don't like reading it to their children. I personally agree some parts are a bit weird, but I still think the message is absolutely beautiful and would totally recommend it to a pregnant woman. I have just stopped reading it to my almost 4 years old daughter who's going through the "why" phase at the moment – I couldn't bear answer all the questions about why the mom in the book is doing all that stuff.
#8. I Prayed For You
I Prayed for You by Jean Fisher is a book about love and family, and how deep a mother's love for her child can go.
It's the story of a mamma bear who tells her baby bear about all the times she's prayed for him as he grows up. When he was born, the first time he achieved something independently, the first time he got hurt, the day he went off to school… she lets him know that she's always been praying for him and always will pray for him. And  each page has a short prayer at the bottom that mamma bear says for her baby.
I am not religious, personally, but I still found this story to be incredibly cute, including the illustrations. It is perfect for parents who dreamed of having children, who struggled with infertility, or who became parents through surrogacy, IVF, adoption, fostering, or other means. And that's probably why I can still connect with the story 🙂
#9. I'll Always Love You
I'll always love you by Paeoni Lewis is a sweet and gentle story about the unconditional love between a parent and child.
In the book Alex, the little bear, breaks his mom's favorite honey bowl but, before telling his mum, he runs through all sorts of scenarios of being naughty to check if she will still love him, which she assures him she will. 
This will actually be perfect for when your baby grows up to become a toddler as well, as it will reassure him that mom or dad will always love him no matter what.
#10. Little You
Little you by Richard Van Camp is another great choice for a book to read to your baby in womb. It consists of a beautiful poem that describes the feelings of parenthood, and it can either be read of sang softly to your child.
What I also love is the fact that the illustrations show a family of people with darker skin (the author and illustrator are Canadian aboriginals) which is quite unusual for a baby's book!
One of the verses goes: "You are life and breath adored, You are us and so much more, Little ember with growing light, Feel our love as we hold you tight."
#11. When I Carried You In My Belly
When I carried you in my belly by Thrity Umrigar is a beautiful book that would be perfect for a pregnant mom to read to her baby girl in the belly. The story specifically represents the love between a mom and her daughter, so you might not relate that much if you are expecting a boy.
In the book, the mother shares many wonderful experiences from her pregnancy that seem to be reflected in her daughter now, implying that the special bond between a mother and her child begins well before the baby is born. And even though the book doesn't leave much room for nature to shape a child's personality (which I don't totally agree with), it really feels like it captures so much of the magic of when I was pregnant and I fell in love with it.
At one point it goes: "When I carried you in my belly, we fed kittens out of saucers, baked bread for our neighbors, and hung bird feeders on the trees and that is why you have the biggest heart in the world."
I also really like the gender switch between the grandparents, with grandpa baking and grandma building the crib!
Related: 7 Baby Girl Symptoms during Early Pregnancy (from 1st Trimester!)
#12. Read To Your Baby Everyday
Read to your baby every day by Rachel Williams includes 30 classic nursery rhymes that you can read aloud to your baby in the womb. This could be perfect if you prefer rhymes to short stories.
The reason why I really liked this book is also the fact that English is not my first language, and I never grew up with all these classic nursery rhymes. Reading this book to my babies when pregnant gave me a chance to learn them, so I could then join in when my wife or daycare teachers started teaching them to my daughters.
#13. 365 Bedtime Stories & Rhymes
365 Bedtime Stories and Rhymes is another great option if you are looking for either rhymes or stories, and if you are the type of person that gets bored reading the same story over and over again: it's got 365 of them!
The book is an absolute bargain – it just over $10 – and it contains hips of classic stories (Cinderella, the Little Mermaid, etc.) and rhymes (Twinkle Twinkle Little Star, Hickory Dickory Dock, etc.), as well as other little stories with animals, fairies, children and many more. 
#14. The Going To Bed Book
The going to bed book by Sandra Boynton is one of the cutest little books for children I have ever found. It's the story of a group of animals on a ship that are getting ready for bed, so it goes through all the things that need to be done before going to sleep, such as a bath, brushing teeth, etc,
I think this is a cute and funny short story that an expecting parent could love reading to their unborn baby, and will probably keep reading it for a long time after baby is born! In fact, this book will be very helpful in conditioning an older kid to stick to the bedtime routine!
Just a word of advice: the animals go and exercise after the bath and before going to bed! Now, I don't know whose kid routine is that, but definitely not mine!
#15. God Gave Us You
God gave us you by Lisa Tawn Bergren is a very cute and heartfelt story of a mama bear explaining to her little baby bear where she comes from, going from pregnancy to finally holding her in her arms. The illustrations are also beautiful.
Would totally recommend it if you believe in God (obviously!) and if you are looking for something that you can also read to your kid when they get older and start asking the question of where they come from!
Note that the little cub is female though, so you might not like it if you are expecting a boy.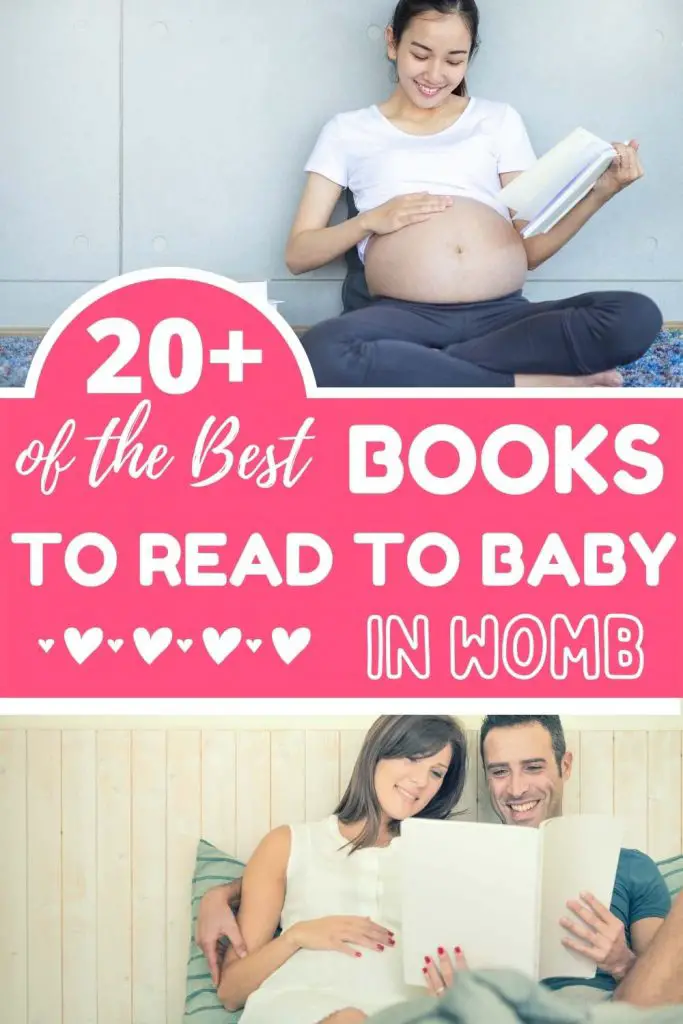 Free Online Books to Read to Baby in Womb PDF
If you can't afford to buy new books or prefer to read online books, Monkey Pen has an amazing choice of 50 free downloadable books as pdf. You can either read them online or print them out if you prefer.
These are not specific stories for babies that are still in mama's belly, but they are beautiful free short stories nonetheless. Here's some of my favorites:
Hey Mom! What is diversity?: a book to introduce your kid to diversity and how we are all different but beautiful at the same time.
Terrance turtle' new home: a story of friendship between two swans and a turtle.
Buzz the buzzard: a book about the importance of family, as Buzz the buzzard tells his story of how he flew away from home, but soon realized what he was missing.
Books for Dad to Read to Baby in Womb
Dads should also spend time talking and connecting to their babies in mom's belly: most research indicates that babies can recognize their father's voice from 32 weeks gestation already!
So, this section is just for dads that are looking for some books especially for them to read to their baby in womb. I know it must be so hard for dads to find stories that they can also relate to, as most books have only moms in them!
#1. I Love You, Daddy
I love you, daddy by Jilliam Harker is a really cute story about daddy bear spending time with his little bear, letting the little one have more responsibility and encouraging him on the life journey. As they do activities together, daddy bear helps him be stronger, bigger and braver.
#2. My Dad Loves Me
My dad loves me by Marianne Richmond illustrates all the ways dad shows his love to his children (kissing, tickling, etc.). This book will actually be perfect for when baby gets older as well, and will probably become a favorite for story time with dad!
The only downside is that it's quite short – it's only got a sentence per page, so not ideal if you are looking for a story that lasts a while.
Books for Older Siblings to Read to Baby in Womb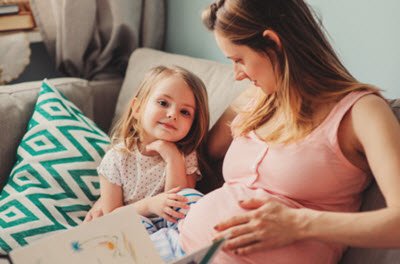 If you are expecting a second (or third, etc!) child, then it could be a great idea to read a book with your older baby to the other baby in the belly! I absolutely loved doing this with my first daughter – it was such a perfect bonding experience as a soon-to-be family of four and I believe it really helped my older daughter connect with her little sister before she was even born.
One of our favorite books to read together was a book that we were gifted about a baby becoming a big sister, and all the things that older siblings need to learn about a little baby joining the family, such as crying, filling nappies or taking a lot of the parents' attention. The book also did a good job at reassuring the older sister that mom and dad still love her so much, even when they are busy with the new little one. And made sure to go through some activities that the big sister can help with while caring for and playing with the new sibling.
So, here's two books I would highly recommend if your older child was to become a big brother or sister! These are probably best if your older sibling is between 2 and 4/5 years old.
#1. I Am A Big Brother
I am a big brother by Joanna Cole is told through the eyes of a new older brother. It's a cute simple story that lays out all the good things about being an older sibling, and just how exciting welcoming a new member to the family can be.
#2. I Am A Big Sister
I am a big sister by Caroline Jayne Church is similar to the one above, but through the eyes of a new older sister. And I absolutely adore the illustrations!
Summary
That's it! I really hope you enjoyed this round up of best books to read to baby in womb and found at least one that inspires you!
All these books will be great to bond with your unborn baby and will continue to be a perfect addition to your baby's library as your baby grows older. I find my older one loves to cycle through books and often goes back to those books I used to read to her when she was in my wife's belly!
It could also be a good idea to add some of these books to your Pregnancy Survival Kit for when you are feeling a bit down: they will definitely help you reconnet with baby and remind you that you are carrying a little miracle inside of you 🙂
For more related articles on how to survive pregnancy and prepare for birth:
---
Did you find this list useful? Have you been reading any of these books to your unborn baby and do you have any feedback? Or are there other books that are not here but you think would be a great addition? Then please let me know in the comments below – I'd love to hear from you!
Did you find this useful? Pin It!