Congratulations mama on having a new baby! I know it's exciting times holding a newborn in your arms finally, but it also means you've just entered the (not so pleasant) postpartum recovery phase.
Your body is probably sore and swollen, you might be experiencing some postpartum anxiety and sleep deprivation has just got real… plus I bet the last thing you want to do is wear some jeans that are too tight on your belly or other pants that are uncomfortable over your C-section scar if you had a caesarean.
So, what better time than now to look at some postpartum compression shorts? These are incredibly comfortable and, most of all, have a lot of built in support features that will help with your recovery and getting back "into shape".
I have rounded up here the best and most comfy postpartum recovery shorts, perfect to add to your hospital bag checklist or postpartum care kit checklist! If you are interested – keep on reading!
Related: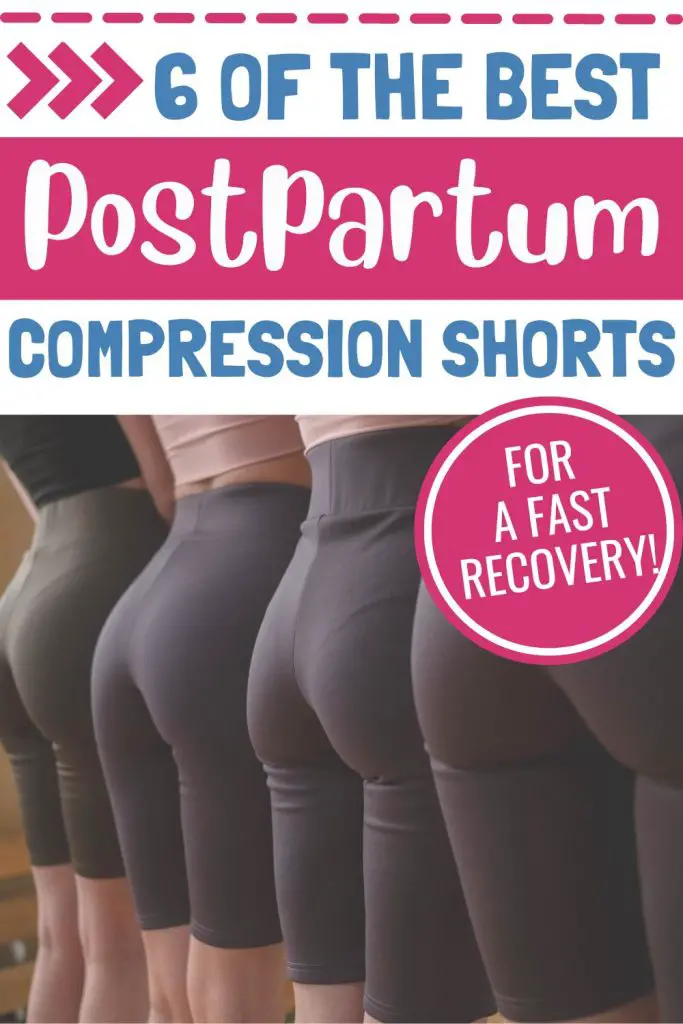 Is Compression Good for Postpartum?
First thing first, if you are wondering if compression on your belly and legs is good for postpartum, the answer is yes. Imagine your abdomen that had to stretch to make space for a baby for 9 months and now needs to get back into place with all it's muscles and organs – it's a lot of work and it could do with some help!
Postnatal recovery shorts or leggings are designed with compression fabric that help bring your abdominal muscles back together and can also prevent what's called diastasis recti or abdominal separation, which happens when stomach muscles weaken and separate during and after pregnancy.
Without postpartum compression, your abdominal muscles will still fall back into place eventually, but it will take much longer. So, if you want to get back into shape as soon as possible, compression garments are the answer.
Postnatal compression short or leggings can also help with:
C-section recovery as the compression helps relieve the pressure and pain associated with the incision
Getting rid of the extra fluid in your uterus so it can get to it's original size quicker
Reducing swelling
How Long should you Wear Compression Postpartum?
There's a bit of different opinions with regards to how long you should be wearing a compression garment postpartum. Some say for up to 4 to 6 months, other medical resources do not recommend more that 12 weeks because it can make your muscles weaker when worn for too long.
In general, most brands say that their products can be used from one week to four months postpartum, so I would use this as a general guideline. But also make sure to check what the description of the product says.
Postpartum Recovery Shorts vs Full Length Leggings
While there's a few articles and lots of information on the best postpartum compression leggings, there's not much information on short! Are leggings better than shorts or not really?
Well, each length has its pros and cons and, ultimately, it comes down to your personal preference. But let's dig a bit deeper into the differences between the two:
Full length postpartum compression leggings: these provide the best venous return (blood flow) and can be worn like any other pair of leggings. The downside is that they can be harder to put on compared to shorts and may be too hot for women that live in warmer climates.
Postpartum Compression Shorts: the main advantage about these is that they can be either worn as shorts or as underwear (helping keeping those postpartum pads into place). They are also easier to put on compared to full-length leggings and great for warmer weathers. That said, they are not as effective at helping with venous return.
Related: Best Postpartum Pads (for Bleeding & a Quick Recovery!)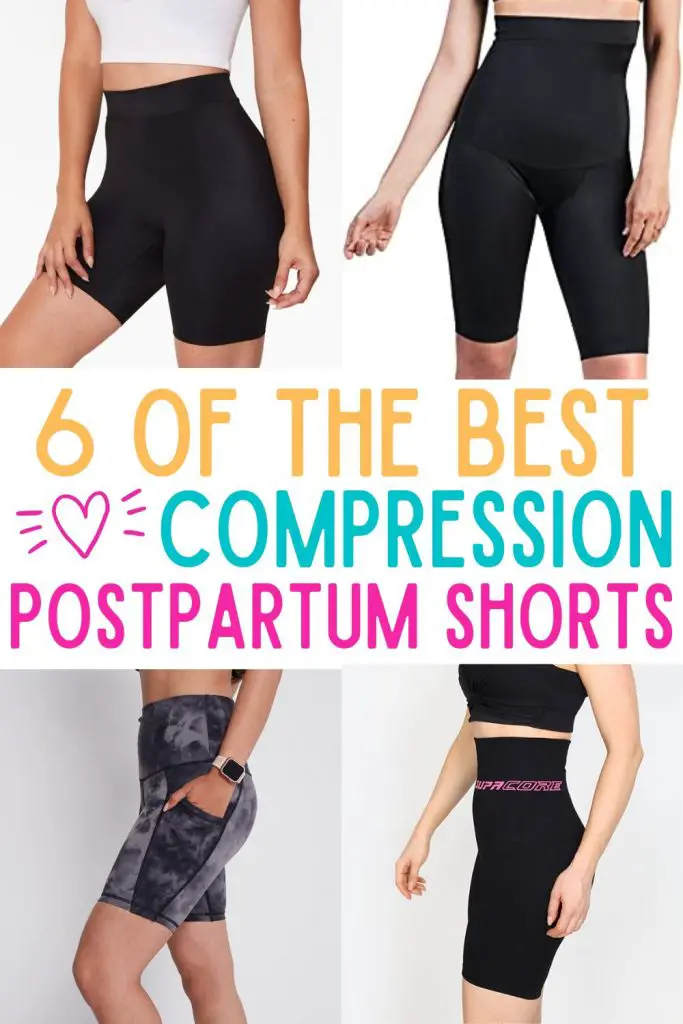 What to Look for in the Best Postpartum Compression Shorts
When searching for postpartum compression shorts, there are a few things to keep in mind:
Height on your waist: you definitely want short that cover your belly to give support to the abdominal area and to cover your C-section incision if you had a caesarean.
Fabric: you want some stretchy and comfortable material, but also something breathable that doesn't make you sweat. All short listed below are made of mostly Nylon, which is breathable and wicks away moisture.
Level of compression: figure out if you want something with strong compression to support your belly and pelvic floor muscles, or something more loose and comfortable before you buy postpartum shorts, as they all come with different level of compressions.
Best Postpartum Compression Shorts
Without further ado, here's a list of the best postnatal compression shorts to recover after giving birth, that be a natural birth or a C-section. In compiling this list, I have looked at all of the features listed above and price for affordability.
Related: 24 Tips for a Birth without Epidural (Yes, you can do it!)
1) SRC Recovery Shorts
These postpartum compression shorts are one of a kind. They are made of Patented Anatomical Support Panels (ASP) where each layer within the panel is cut on a different plane to deliver constant compression, activating muscles and encouraging core stability, as well as reducing swelling.
They are made of 25% Elastane and 75% Nylon and their quality is very good, maintaining their compression properties after multiple washes and, possibly, after multiple babies.
The reviews about this product are short of amazing with most women bragging about them. Most women report how the shorts have particularly helped with back pain and discomfort in general that can be experienced during the postpartum period.
The main con about these compression shorts is the fact that they are very expensive. If you can buy them from Amazon, definitely do it as they are much cheaper there compared to the SRC website!
Sizes: XXXS to XXXL (0 to 16 US size)
Pros
Cons
✅Very durable
✅Made of patented support panels that provide constant compression
✅Very effective for back pain
❌Very expensive
2) Belly Bandit Mother Tucker Postpartum Smoothing Shorts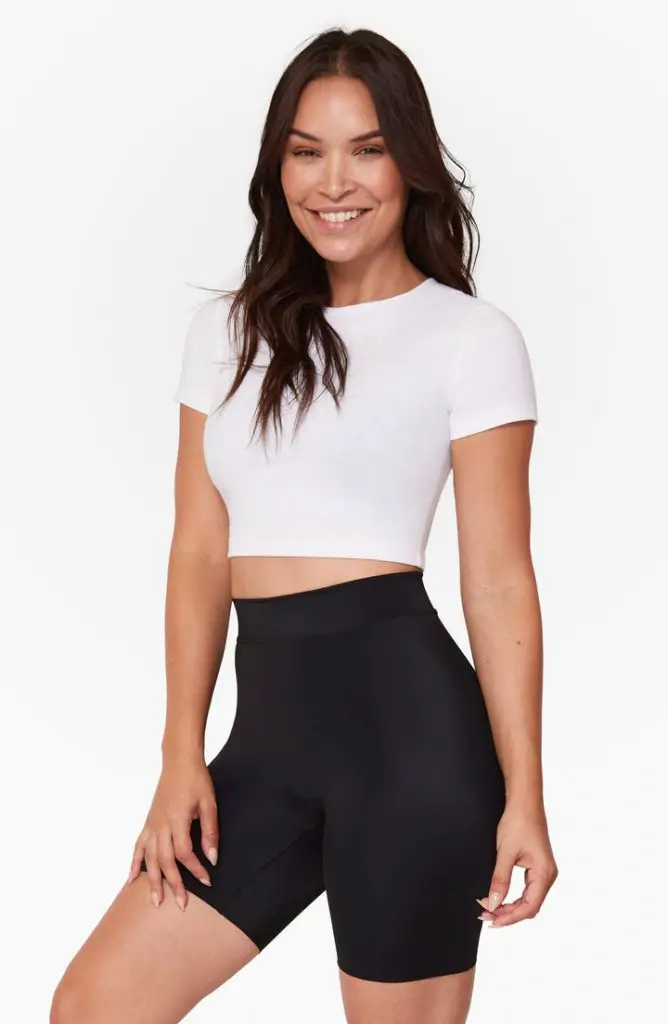 The Belly Bandit Mother Tucker compression shorts are also very good quality and provide good support for after giving birth. Plus, Belly Bandit has created a product combining the compression technology with the smoothing benefits of shapewear to help with your figure postpartum.
As the website states, but also quite a few of the reviews, the compression they provide is of a medium level. This means that if you are looking for high compression, these might not be the right choice for you.
They are probably more suited for someone who's looking for a bit of support, but also for something nice that can help with their figure and that they can wear under a nice summer dresss.
These compression shorts are relatively cheap. You can buy them either from the Belly Bandit website, or from Target ($15 cheaper).
They come in two color (black or almond) and are made of 90% Nylon and 10% Spandex. Plus, note that they only come up to size L (12-14), so not suitable for larger sizes.
If you had or are having a C-section, Belly Bandit also offers some shorts specific for post-surgery, offering targeted compression (more gentle compression around the incision) to help reduce swelling and specific fibers that can help minimize bacteria and odor.
Sizes: XS to L (0 to 14 US size)
Pros
Cons
✅Good quality
✅Good as shapewear as well
✅2 colors available
❌Moderate compression compared to others
3) iLoveSIA High Waist Postpartum Recovery Shorts
These shorts have a great price tag: you can buy three for just under $40 and the product is still of good quality according to most reviews. Most people report them to be comfortable and to help with support postpartum.
One thing to be aware is that they have some metal tabs within the fabric that can be quite uncomfortable, particularly when bending or sitting down. These can be taken off without affecting the support, but be mindful. Also, they don't have the smallest or largest sizes available, which is a bummer for petite or larger women.
Obviously by buying this product you can't expect the quality of the SRC recovery shorts for example, that will last a long time. But, if you are looking for something more affordable and that will still last you a few weeks postpartum, this could be a good solution.
They are made of a Nylon blend.
Sizes: S to XL
Pros
Cons
✅Very affordable
✅Good support postpartum
❌Uncomfortable metal tabs in the fabric
4) BaoBei Postpartum Recovery Shorts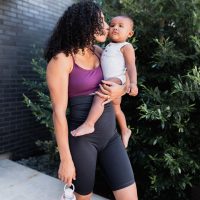 These postpartum compression shorts are a bit more expensive, closer to the SRC postpartum recovery shorts, but what I like about them (other than the good quality) is that they offer more support (moderate to maximum) compared to other shorts on this list.
The fabric gives abdominal support while preventing increase pressure on the pelvic floor: the support starts at the pelvis and lifts upwards. Plus they are built to help with your figure and to give a flattering coverage.
Another pro about these compression shorts is the fact that they are the only ones available up to size 20 (US)!
They are made of 82% Nylon 18% Spandex.
Sizes: S to XL (4 to 20 US size)
Pros
Cons
✅Very affordable
✅Good support postpartum
✅Available up to size 20 US
❌Uncomfortable metal tabs in the fabric
❌Expensive
5) Blair Postpartum Compression Biker Short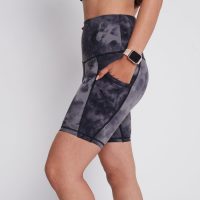 These postpartum shorts from Sweat and Milk made it to my list because I think they would be perfect if you are looking for something to both help with postpartum and get back into workouts after pregnancy.
While they still provide abdomen support, they are a bit lower compared to other postpartum compression pants, and the legs are shorter. It has a handy phone pocket and it comes in 3 different colors (camo, black cloud and black).
One main drawback is the size availability, as they only have up to size 14 US. The size guide on the website is actually a bit confusing as they say up to size 10, but I don't think it's US: once I compare hip lengths, it looks like it's 14 US.
They are made of 87% Nylon and 13% Spandex.
Sizes: S to XL (0 to 14 US)
Pros
Cons
✅Perfect to do exercise
✅Phone pocket
✅3 different colors
❌Only available up to size 14 US
6) Nina Coretech Postpartum Extra High Compression Shorts
Finally, these compression shorts from Supacore are one from the top of the range, similar to the SRC postpartum shorts. Their patented Coretech waistband technology has been registered and listed as a medical device, providing optimal compression (medium to high) to both the pelvis and core.
They are also very durable and supposed to last for a very long time. So, if you want to invest on a very good quality postnatal compression shorts, these might be one of the best option.
These shorts are available in sizes S to XL. However, it's hard to give an equivalent in US sizes. The website as a great size guide that helps you find your size based on your height and weight.
Pros
Cons
✅Very durable
✅Made of patented waistband technology
✅Very effective for back pain
❌Unsure about the size guide
❌Expensive
Best Postpartum Compression Shorts: Final Thoughts
Here it is mama or mom-to-be, my list of best postpartum compression shorts to help with postpartum recovery! Whether you want to use them as shorts to go out and about, as exercise shorts, or as something to help with your shape under a nice summer dress, I hope you found what you were looking for here.
Postpartum can be a real pain in the butt. We, as pregnant women, tend to prepare so much for birth and the new life with a little baby, but little do we know what we need to expect postpartum until we are actually in the thick of it! And when the pain or after birth contractions are there, together with all the anxieties of a first time mom, the sleepless nights, etc. all you'll want to do is wear something extra comfortable that can also possibly help with some of the pain … postpartum compression shorts or leggings here we come!
Please let me know your thoughts on the above, and feel free to let me know of other amazing postnatal recovery shorts that are not in the list.
For more tips and information on postpartum:
Did you find this useful? Pin It!