A new baby is life changing.  Welcoming your new baby is likely to be the most significant transition you'll ever experience. 
As you arrive home with your precious bundle in your arms, the last thing you want to be doing is cleaning and scrubbing the house, even if you've been house proud prior to baby's arrival. Yet, keeping on top of things at home and ensuring adequate levels of cleanliness and hygiene are also important for you and your baby's wellbeing. 
In this article, we look at practical and doable top tips for how you can stay on top of chores postpartum without stress.  Much of this is down to some sensible preparation and getting some sense of balance. 
The resourcefulness and resilience encouraged in this blog are skills that will stand you in good stead – not only in terms of keeping the house clean – but also continuing to thrive as a parent as your little one grows.
Related: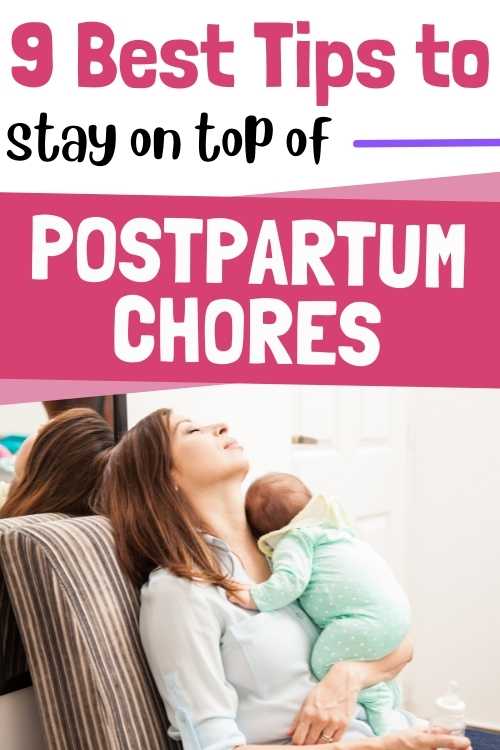 1) Prepare the Way for Postpartum Cleanliness
Like with so many things in life, when it comes to staying on top of the chores postpartum, preparation is key. With some well thought out preparation ahead of baby's arrival, you can be in a better place to manage the huge transition you are about to face. 
Mother nature has, thankfully, blessed us with advance notice of baby's arrival. Those nine months of pregnancy can be a chance to begin to adapt to the radical transformation that comes with the arrival of your newborn.
Prepare for those early days postpartum by getting things in place whilst pregnant so you are best placed to be able to devote your full attention to bonding and connecting with your newborn.  Practical preparations you can implement prior to birth include the following.
Sort and Declutter Spaces
Go through closets and cupboards, looking to clear out items you no longer need or use.  Donate items that are still usable to the thrift store. 
The beauty of a good old clear out is that it allows you to sort and organize what remains.  You will need to make space available for the storage of new baby related items, too.  Ensure you have a place to pack away strollers, car seats, a travel cot, and any other baby related equipment. 
Check out this article for more tips on how to store baby's clothes by size, so that you know exactly where everything is as baby grows out of little onesies and other small clothes.
Improve Storage through the Installation of Shelving and Clever Containers
Make the most efficient use of under stair cupboards by adding hooks and shelving. You can then place labeled baskets and boxes on shelves so you can easily sort, store and – importantly – find items when you need them. 
The aim here is to have a home for everything, so everything can easily be returned to its home after use. 
Consider a Deep Clean of your Living Spaces
Once baby arrives you are going to need to prioritize and certainly won't have time or energy for those once or twice a year jobs. If you are able to, look to give the house or apartment a really thorough deep clean in those final couple of months of pregnancy. 
Many women report to experience the so called "nesting" in late pregnancy – that desire to clean and get the home in order, ready for baby's arrival. If you feel this task is too much, too tiring, or too physical for you – consider enlisting outside help via cleaning services or even willing family and friends.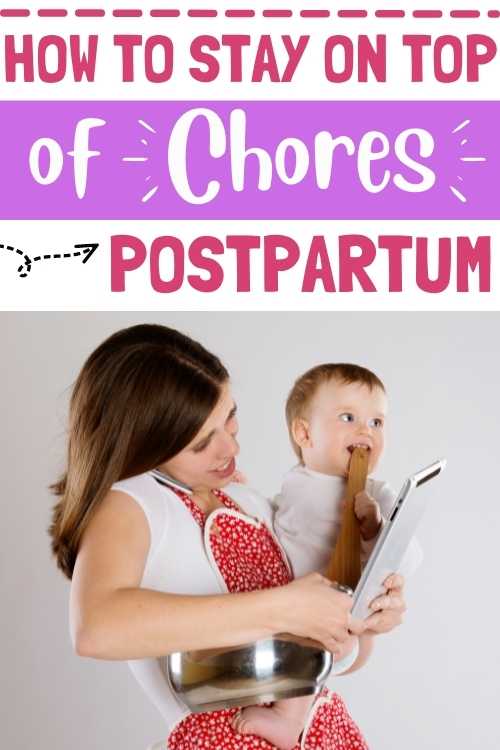 Batch Cook for Nutritious and Simple Meals
Food preparation is another key area where you can utilize some of your pregnancy time to get ahead.  All-in-one meals, such as casseroles and tray bakes can be made in advance and frozen, ready to be defrosted and reheated as a later date. You can look for some meals ideas here.
Include plenty of wholesome ingredients such as vegetables and wholegrains for some super nutrition. In those early weeks postpartum this can be a real help. 
Another benefit of frozen pre-prepared meals is that you won't have to face such a huge pile of dishes once baby is arrived. That pre-prepared lasagna can be cooked through in the oven – with just one serving dish and a plate or two to wash up after.  The various chopping boards, pots and pans that were once involved in the lasagna's creation have been washed up long ago when you first created this delicious meal. 
This way, you can preserve your precious time and energy to focus on caring for your newborn and caring for yourself in those postpartum weeks. 
Related: Postpartum Care Kit Checklist (with all Essentials!)
Gather a Bag of "Must-Have" Items
Those early days postpartum can involve a lot of sitting and feeding. You may find you have little time to be getting up, fetching, and carrying items around the house. If you've had a c-section birth you may be physically limited with moving easily around the home and limited in what you can lift and carry.  
It makes sense, then, to have a bag close by your feeding space with all the essentials you need. Packs of tissues, cleaning wipes, drinks and snacks are handy, as are muslin squares to clean up any spills from baby. 
It may also be worthwhile having contact numbers to hand in this bag – your local pharmacy, your midwife, local garage, cleaning firm and food delivery firms are all handy numbers to have available in those first couple of weeks. 
2) Grow Your "No"
Pregnancy is also a fantastic time to begin to develop the art of saying no to things that are not essential or of value to you and your family.  Once baby arrives, your time and energy levels will be limited, as you adjust to disrupted sleep – at least in those early weeks.  Saying yes to a new baby in your life will inevitably mean saying no to some other activities and demands upon your time.
If you are someone who finds it hard to say no, pregnancy is a chance to develop your ability to politely decline offers. If you're spread too thinly, volunteering or helping out a range of causes, then you can begin to pull back a bit and decide where your time and energies are best placed with your changing lifestyle. 
Saying no to some things will allow you to create the time and space you may well need to stay on top of caring for your baby, yourself and your home in those postpartum weeks. 
Saying no can also take the form of saying no to jobs around the home you previously said yes to.  For example, if you have been a serial ironer, who faithfully irons socks, undergarments, and tea-towels – you may want to rethink and consider if it is time to start saying no to these chores. 
Perhaps, too, you want to say no to certain chemical-based or high VOC (volatile organic compound) toxic cleaning products you have previously used.  For example, many parents-to-be decide to find alternatives to bleach, preferring to opt for more natural based household cleaners.
Learning to say no will stand you in good stead when baby arrives so that you are better placed to identify the things you do want to say yes to.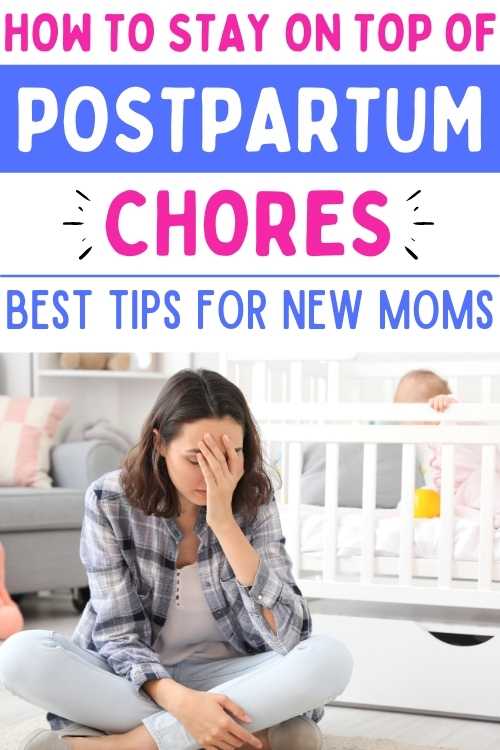 3) Embrace the Art of Gracious Acceptance
As you journey through those final weeks of pregnancy, and when baby arrives, you may well find yourself blessed with offers of assistance from family and friends.  From practical help around the house, the offer of a cooked meals, assistance with childcare for older siblings or the offer of hand-me-down clothing, baby equipment or toys; many people find friends and family to be generous when a new baby arrives.  Whilst the more independent among us may find it difficult to say yes to such offers, it can be a huge help to graciously accept offers of support that do come your way. 
Bear in mind that pregnancy, childbirth, and child rearing are huge undertakings.  It's okay to ask for help and it's okay to accept help when you need it.  So, if you have the support of willing friends and family around you, accepting offers of assistance may help you stay on top of things postpartum.
4) Prioritize Like a Pro
Once baby has arrived, being able to prioritize becomes an essential skill.  You are likely to be sleep deprived for at least a few weeks as you attend to nighttime feeds with your newborn, and even feel like you are doubting your motherhood abelites.  As such, it's going to be impossible to do everything around the home.  Your priority is your baby's well-being and your own health. 
There are some cleaning tasks which are essential.  If you are bottle feeding, or pumping breastmilk, then correct cleaning and sterilization of feeding and mile storage equipment is essential. You will also need to prioritize attending to wound care if you have had a caesarean birth or any stitches during childbirth.  These tasks are priority. 
Dusting ornaments and washing drapes and curtains are not your priority in these early weeks.  Develop a system for deciding what is important, and what is urgent.  Then give yourself permission to let go of those chores that don't need your precious time and attention for now.
The list below offers some suggestions for what many parents may consider priority in terms of household cleaning in the first couple of months.  Be kind to yourself and if it's not on this list (or a similar list of your own making), then leave the task for now.  The dust will still be there once you and baby have found some semblance of sleep pattern and routine.
So, a suggested list of priority chores in the first few weeks:
Sterilizing any feeding equipment
Cleaning down baby change stations to disinfect
Washing pots and plates
Keeping the laundry pile manageable
Taking regular showers and bathing baby
Keeping floors clear of clutter to avoid any trip hazards
Related:
5) The 10-Minute Clean
Once baby has arrived, it can be tempting to use the time when your little one is napping during the day to get on top of household chores.  However, you also need to ensure you're getting adequate rest.  Many midwives advise parents taking chance to nap themselves during the day when baby is sleeping to manage the tiredness that comes from night feeds in those early days.    
One way to balance the conflicting demands of chores and sleep is to dedicate a simple 10-minute timeframe to a quick essential clean. 
There's some evidence to suggest that background white noise can help baby drop to sleep (and this is often one of my top tips if your baby keeps waking up at night).  So, once you lay baby to rest after a feed, you can use your 10-minute clean up window to run the vacuum across the floor.  The noise of the vacuum may help baby to settle. Other tasks you can consider in your 10-minute clean time include:
A quick tidy of items
Place clutter in baskets out of sight
Put a load of laundry on
Place dirty dishes in the dishwasher 
Remember, it's important you show yourself kindness and compassion by putting some limits around how long you clean for.  When the 10-minutes are up, it's time for you to settle and rest.  If you want to sustain your energy, and your ability to manage in these early weeks postpartum, it really is important that you pace yourself and rest when you can.
How to Stay on Top of Chores Postpartum: Final Thoughts
Here it is mom-to-be, my best tips on how to get ready for postpartum while still pregnant and be prepared for when baby comes, so you don't feel overwhelmed or too exhausted when the time comes.
As you can see, with some planning and preparation and plenty of prioritization, it is possible to stay on top of the chores with a baby in that postpartum period. No need to be super mom – but definitely a need to be kind and realistic with yourself.
For more tips and information on how to survive the postpartum period:
Did you find it useful? Pin it!