Are you looking for a baby toiletries box to store all of baby's toiletries? Then look no further, you've come to the right place! I remember how overwhelming it was when I was still pregnant to think of everything that we needed to buy for baby, and where to store it. Because, let's face it, babies come with a lot of stuff, including toiletries.
However, toiletries can be a bit different to the rest of baby's stuff, because they include both items that can get wet, and that you'll probably store in the bathroom, and other items that you'll mostly want in the nursery to change baby's diapers. So, even though a box can be perfect in both cases, you might want to have different storage solutions for different items.
I personally store all the toiletries to change diapers, including diaper cream and wipes, in a box in the nursery, and all the bath related items in another box in the bathroom.
Related:
– 70+ Items Newborn Baby Checklist (with FREE Printable)
– The Ultimate Baby Toiletries List (all Essentials you Need!)
– The guide to the 10 best free baby samples and gift boxes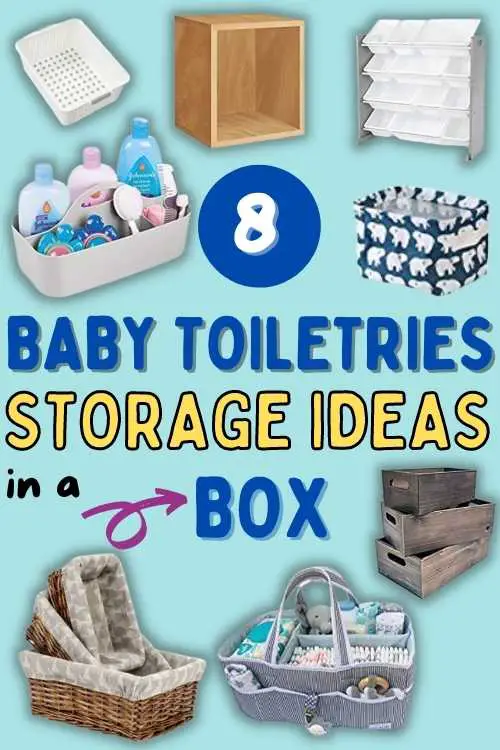 What are Baby Toiletries?
Let me start by going through what "baby toiletries" are exactly, as there seems to be a bit of confusion amongst parents as to what exactly the word means.
In general, toiletries are defined as personal care items used for hygiene or grooming. It can include anything from oral care items such as toothbrush or toothpaste, hair products like shampoo or conditioner, or bathroom items like toilet paper, clippers and more.
The Cambridge Dictionary describes toiletries as "soaps, shampoos, toothpaste, and other items used to keep yourself clean".
However, for babies, they are usually considered to be all items needed for cleaning and bathing your baby, as well as caring for their skin, hair or nails. This means that they also includes things such as diapers and diaper creams, wet wipes, etc.
Why you need a Baby Toiletries Box
Having a newborn comes with many challenges, one of which is the ability to do a lot of things with one hand while you hold baby with the other. So, whether you are cooking, bathing baby or changing their diaper, your free hand needs to be able to have quick access to anything you need.
That's why a storage box for baby toiletries is a great solution. You can quickly put all the baby toiletries in there, and they'll be readily available for you whenever you need access, without the need to open drawers or zipped bags.
Make sure it's an open box, so you don't need to worry about trying to open it with one hand while you are changing a diaper after a baby blowout, or while holding your newborn in the water at bath time.
What Material should the Baby Toiletries Box be?
Paying attention to the material of a baby box for toiletries is quite important, particularly when storing all the items that can get wet and soapy, such as the baby soap or shampoo, or the toothbrush. For these items, I would highly recommend you use a box made of plastic, so that you clean it very easily.
For all other toiletries, other materials such as wood or fabric will also work. And it doesn't really matter which one you choose: as long as you like the look of it 🙂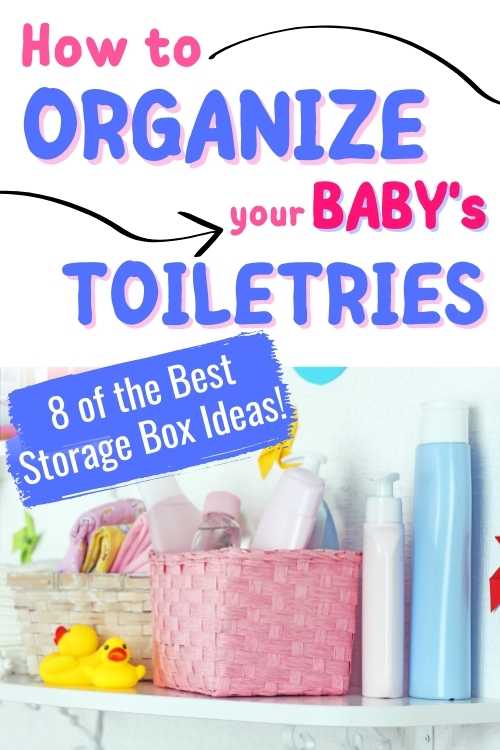 The Best Baby Toiletries Box Ideas
Without further ado, here's the list of 8 different ideas for you to choose from when looking at buying your baby toiletry box.
Note: if you use cloth diapers, then you can have a look at these awesome cloth diaper storage ideas, as reusable diapers tend to take up quite a lot of space, and these boxes below won't be enough.
1) Plastic Storage Organizer
A Plastic Storage Organizer is hands-down the best storage solution for your baby's toiletries for the bathroom, and you can choose amongst different styles online on Amazon.
It has multiple little compartments inside, so that you separate all of your items. Plus it comes with a handle, so that you can carry it around the house, from one room to another, as needed.
I have a little one by the bath where I keep the baby soap and shampoo, some baby toys and a wash cloth.
2) Plastic Storage Box
A simple plastic storage box will also do and it's perfect for the bathroom baby stuff. This one from madesmart has got non-slip rubber feet to keep your items in place and little holes on the side so that water doesn't build up at the bottom.
3) Wooden Crates
Wooden crates are a great and fashionable storage solution, particularly for the nursery where you store non-wet toiletries, such as diapers, wipes, daiper cream, etc. You can either buy them all nice and ready, or you can do them yourselves by using a couple of old crates and decorate them with baby-safe paint.
If you want to get a bit creative, you could even hang them on the wall and use them as storage shelves. This is actually one of my favorite ways on how to store cloth diapers.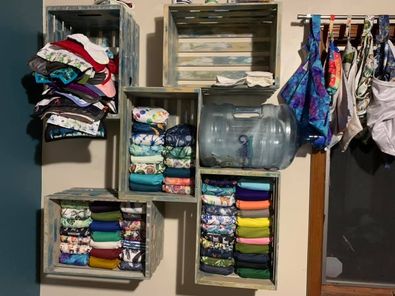 Related: 17 Genius Cloth Diapers Storage Ideas
4) Fabric / Canvas Boxes
Fabric boxes are also perfect baby toiletries box ideas for the nursery. I have a few under the changing table and just throw everything in there.
They can come in different sizes to suit your needs, and most of them are collapsible, so that you can easily store them away. These ones from Rainbow-Lee are super cute and even waterproof. Or these ones here even come with a lid.
5) Diaper Caddy
Diaper caddies are similar to the plastic storage organizers, but are made of fabric material instead of plastic. They are great if you want one container with different compartments inside to keep all toiletries separate.
They also all come with handles, so that you can easily take them around the house with you, or even outside. Lots of people keep one in the car for example.
6) Wicker Storage Baskets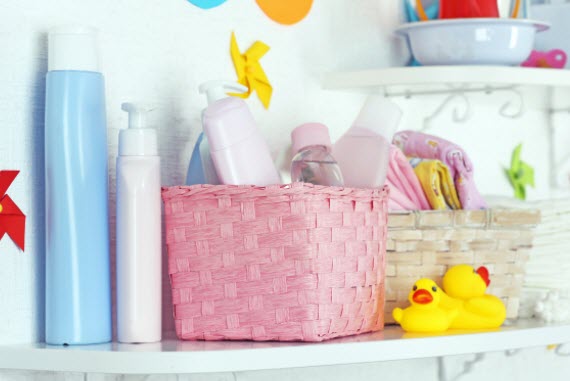 Storage boxes or baskets made of wicker are another good option as baby toiletries boxes, and my favorite baby toiletries set from Aveeno actually comes with one (see below!).
Wicker is traditionally made of materials of plant origin, such as willow, rattan, reed or bamboo, so they handle water quite well. If you want to use them in the bathroom, they won't get damaged easily. Plus the material is light yet sturdy, so wicker boxes are very hard to break.
These ones below even come with a lid if you prefer something that closes.
7) Toy Storage Units
If you want to get a bit creative, I think the idea of using toy storage units to store baby's things (other than toys, and including baby toiletries) is brilliant. I first saw this as a storage idea for cloth diapers and really liked it.
This will probably only work if you want quite a few boxes to store baby's toiletries and other stuff. But you could also use the top plastic containers for toiletries (out of baby's reach), and leave the ones below for baby's books or toys.
8) Wooden Boxes
Finally, wooden boxes are also a smart way to store baby's toiletries. If you want to get a bit creative, you could buy the single cubicles, paint them if needed, and hang them on the wall.
I love this creation below from a mom that uses cloth diapers, where she's storing diapers together with liners and wipes on the wall.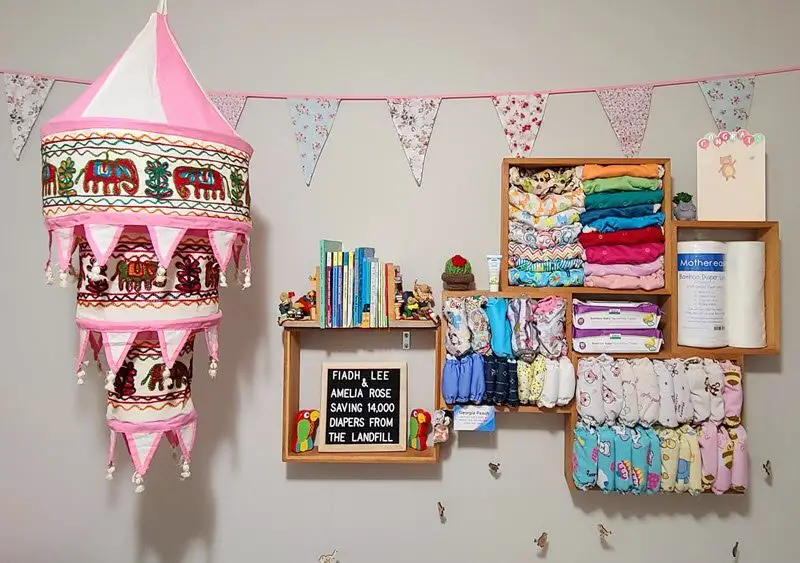 If you like this storage idea for baby toiletries, then check out these Way Basics Cubes from Amazon: they are made with durable recycled paperboard, they are eco-friendly, non-toxic and free of formaldehyde and VOC.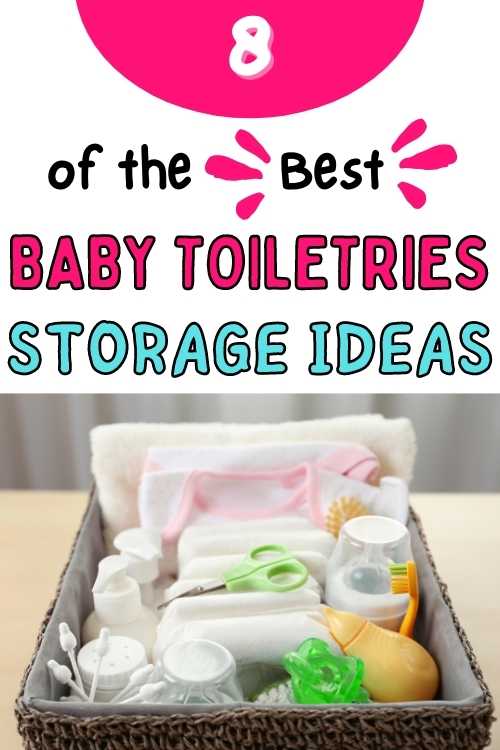 Baby Toiletries Sets that come with a Box
The following baby toiletries sets also come with a box, so could be a good investment if you are looking at buying for yourself, or could be perfect ideas to add to your baby registry. In fact, these are great baby toiletries gift sets for moms-to-be!
1) Aveeno Baby Essential Daily Care Baby & Mommy Gift Set
The Aveeno gift set is one of my favorites because I absolutely love their products, and I highly recommend new parents to add them to their baby toiletries list. The set contains their baby body wash and shampoo, body lotion, their soothing hydration creamy wash and soothing relief moisturizing cream. It also includes a daily moisturizer and moisturizing lotion for mom, and a nice 100% natural canvas box that you can keep to store baby's toiletries in.
2) Aquaphor Baby Welcome Baby Gift Set
The Aquaphor Baby Welcome Baby Gift Set comes with their following products: baby healing ointment, diaper rash cream, baby wash and shampoo, water wipes, as well as a reusable canvas basket with handles.
3) Johnson's Bath Discovery Gift Set
The Johnson's Bath Discovery Gift Set contains 7 hypoallergenic baby skin care essentials, including baby wash and shampoo, lotion, wipes and diaper cream, all tucked neatly in a reusable tin box with a handle.
4) Johnson's Touchably Soft Newborn Baby Gift Set
The Johnson's Touchably Soft Newborn Baby Gift Set contains 2 full size bottles and 2 travel size bottles of baby wash and shampoo, as well as baby lotion, for use at home or on-the-go. Plus it comes with a 100% cotton nursery box perfect to store some baby toiletries.
5) Huggies Newborn Gift Box
The Huggies Newborn Gif Box includes 24 newborn diapers, 32 Size 1 diapers, 96 wipes, plus the Johnson's Shampoo & Baby Lotion. All of this comes in a cute carboard box that you could recycle as a baby toiletries box. Take a look at our guide to Huggies vs Pampers diapers.
Best Baby Toiletries Box Ideas: Final Thoughts
Here it is mama (to be)! My complete list of the best baby toiletries box ideas to store all of baby's toiletries, including gift sets if you wish to buy one as present to a friend of yours, or if you want to add it to your baby registry.
I really hope you've found this article helpful in preparing for your little one's arrival. For a more comprehensive checklist of everything that you need to get for your newborn baby, including toiletries, also have a read at these articles here:
And if you are pregnant and planning on giving birth at the hospital or a birth center, start thinking about what you need to pack for your hospital bag and have a look at this Hospital Bag Checklist Printable here, which includes anything you need for mom, baby and partner.
Other useful links for pregnancy:
Other useful links for labor & delivery:
Other useful links to prepare for postpartum:
---
Are you an expectant mom and have some questions about the baby toiletries box ideas above? Or do you already have a baby and have more suggestions on where to store baby toiletries? Then please let me know in the comments below – I'd love to hear from you!
Did you find this helpful? Pin It!