I am part of a couple of different Facebook groups on cloth diapers and one of the most common questions that people ask is: "how do you store cloth diapers?". It was such a surprise as, when I joined, I was expecting lots of questions on how to clean cloth diapers, or how to stop them from leaking … instead, so many moms are looking for some inspiration on how to organize cloth diapers at home!
To be honest, let's face it, cloth diapers can take up quite a bit of space around the house! They are actually that one item in the baby toiletries list that takes up most of the space.
So you need to be smart about how you are going to store them. Plus, they are usually colorful and with beautiful patterns, so why not display all of that? People can get quite creative with all the colors and actually come up with some beautiful pieces of furniture.
And you don't need to invest lots of money to create a beautiful and handy set-up. Actually, most cloth diapers storage solutions are very cheap and / or the results of DIY projects.
So, to help all those moms that are using cloth diapers but are struggling to find ideas on how to organize and store them at home, I have put together here a list of 17 different genius cloth diaper storage solutions.
And if you need help understanding how to store cloth diapers long-term as well (in between babies for example), I also give you tips to cover that scenario.
I really hope you can enjoy this list and find some inspiration for your home!
Related: 16 Tips and Ideas for Storing Baby Clothe (& Be Organized!)

Tips on How to Store Cloth Diapers
Before I start going though the different ideas, here's some things to consider when storing cloth diapers at home:
1) Cloth diapers need to be accessible
Cloth diapers, same as disposable diapers, need to be close to your changing table or wherever you tend to change baby's diapers more often, possibly within arm's reach. You don't want to have to walk away from your baby every time you need to put a clean diaper on.
2) Keep them organized
Depending on the cloth diaper type(s) you are using, you might have to deal with different pieces (covers and inserts): you really want to keep these nice and separate so they are easy to find.
Or, if you are using pocket diapers, think whether you want to keep the inserts separate from the covers or you want to put them away pre-stuffed.
Related: The different types of Cloth Diapers – How do I choose the right one?
3) Don't forget all the accessories!
When thinking about your changing station and where or how to store cloth diapers, don't forget all the accessories as well, such as wipes, liners, wet bags, diaper rash creams and more. Take that into consideration too, or you are going to run out of space pretty fast.
For ore general tips on how to store baby toiletries, you can have a look here.
4) Display vs tucked away
Are you the "tidy, borderline OCD" type of mom, or are you the "I don't care, out of sight out of mind" type of mom? The answer to this question should determine what type of cloth diaper storage solution to go for!
There's plenty of ideas below of beautiful display shelves and cabinets for cloth diapers , but these could have never worked for me for example! I would never have the patience to store diapers away so neatly every time – I just like to chuck them in the drawers! If I had one of those open shelves in my baby's room, it would look horrible most of the time! 🙂
5) Where will you store your dirty diapers?
Have you decided if you are going to store dirty diapers in a diaper pail or wet bag? In fact, this may affect how you design your cloth diaper storage, as some ideas include options to hang wet bags as well.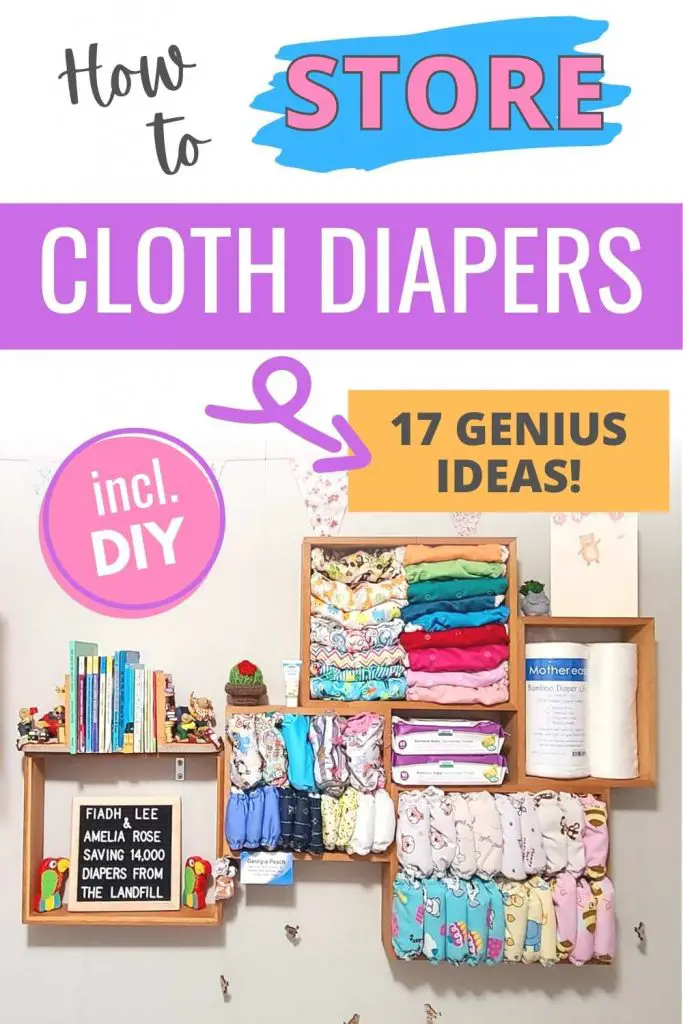 17 Genius Cloth Diapers Storage Ideas
With no further ado, here's a list of 17 cloth diapers storage ideas. From bought shelves, to DIY projects, to re-purposed boxes, and more. Have fun going through them and be inspired.
PS: thanks to all the mamas out there that contributed with their photos – couldn't have done it without you 🙂
1) PLASTIC STORAGE DRAWERS
This is one of the simplest and cheaper storage solutions for cloth diapers. All you need is a plastic drawer storage tower, such units from HOMZ.
The pro about this one compared to normal drawers is that you can see what's inside if you are looking for a specific print.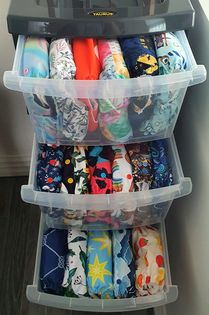 2) SHELVES / BOOKCASE
A bookcase or some random shelves are super versatile around the house and can easily become a perfect storage solution for cloth diapers. Once your baby grows out of diapers, you can still re-purpose the shelves for something else.
This type of bookcase with the shape of a house seems to be a favorite for so many moms! The photo below is from a bookcase from IKEA, but you can find many other options, including dollhouses that can be re-purposed into storage units!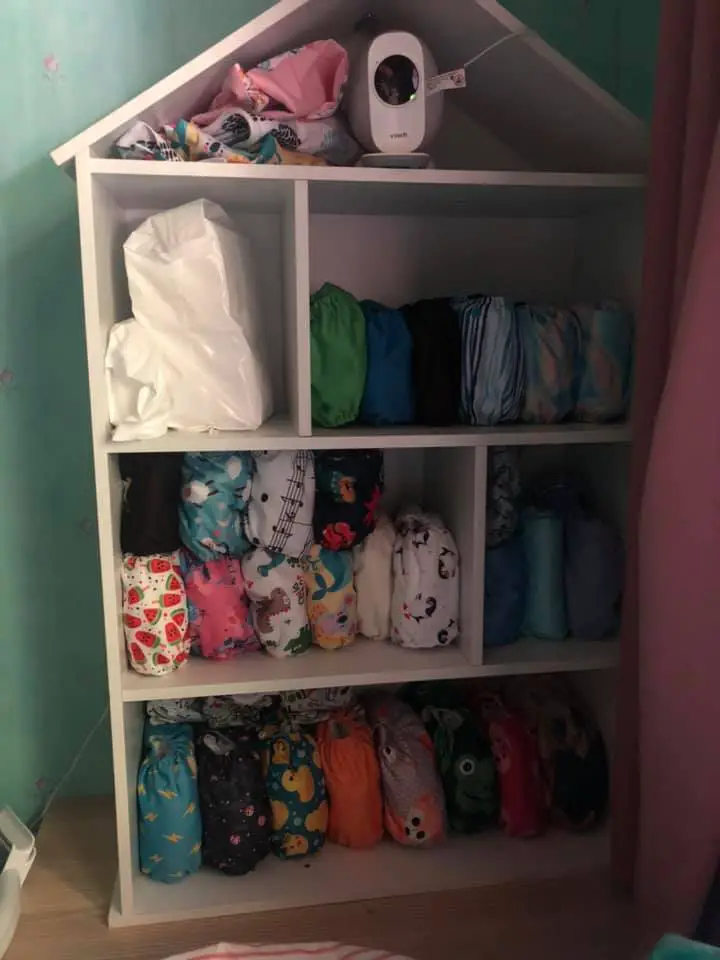 If you are into DIY projects, you can even re-purpose an old bookshelf, sand it down and re-paint it however you want. I had to share this beautiful piece of art from one of the moms in the Facebook group!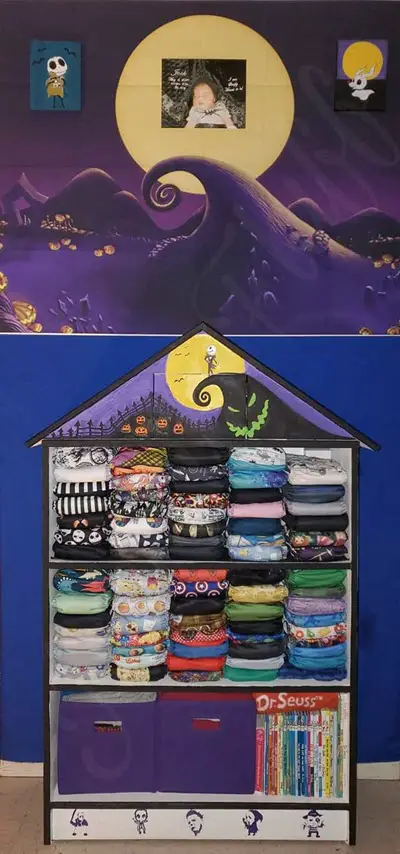 And I also had to share this photo … not so much because it's how I would store my diapers, but because it represents on of my life goals: have this many cloth diapers for my baby! 🙂
3) DIY ARROW ORGANIZER
Here's another favorite! I have seen so many families building this DIY organizer for their child's nursery, and you can download a free pattern here.
Some people like it vertical pointing up, some prefer it vertical but pointing down, and others prefer it horizontal: you can hang it however you like. An extra advantage of having it horizontal is that you can have hooks at the bottom to hang extra stuff, such as wet bags.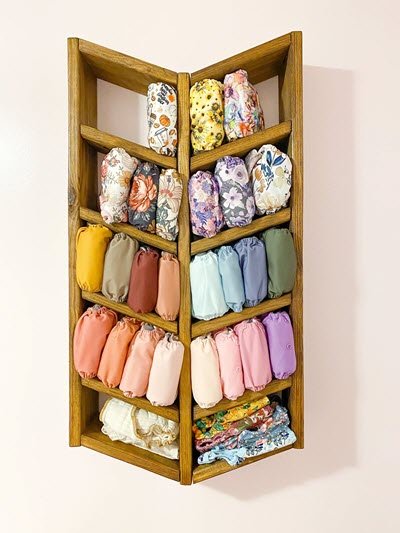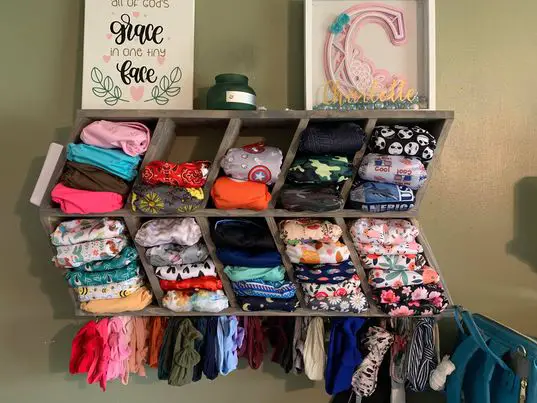 4) WALL / FLOATING SHELVES
More traditional floating shelves are another excellent idea if you like to display your cloth diapers on the wall 🙂
I have to admire the mom that sent me the photo below – I could never be THAT organized! She has all her diapers sorted by type and material, it looks amazing.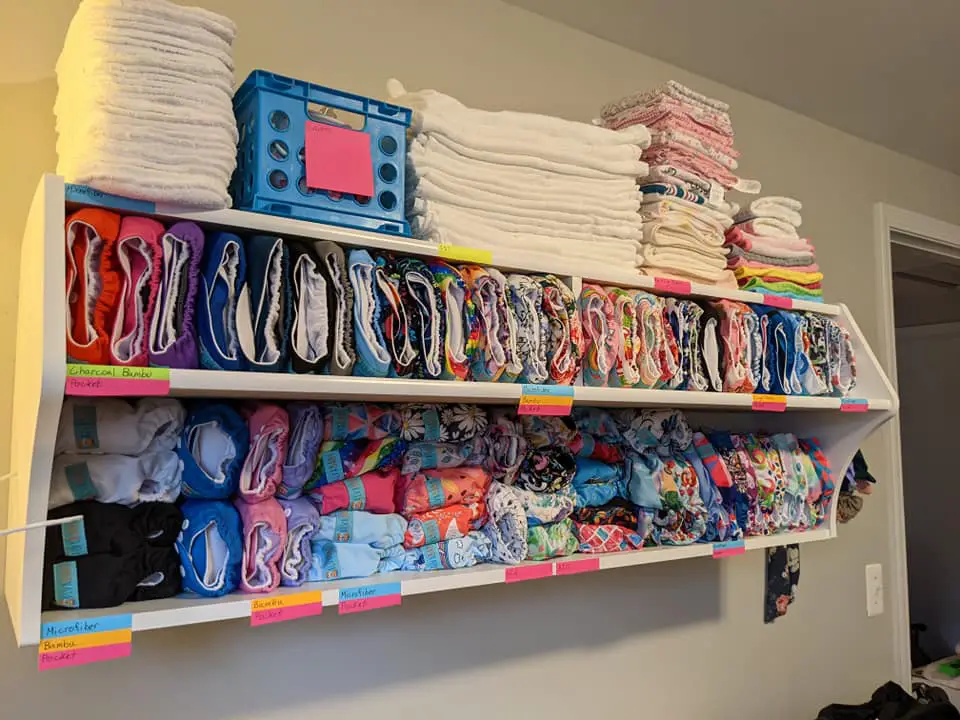 Here's another couple of very cute storage ideas with wall hung shelves.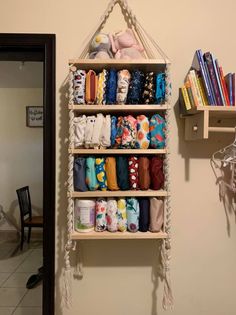 https://www.pinterest.nz/pin/254946028896398607/
5) CRATES
Here's another one for the DIYers! Why not re-purpose some wooden creates and transform them into wall storage units? The beauty of it is that you can create any combination on the wall that you want!
If you want the look, but can't be bothered with the DIY, you'll find Rustic Wood Nesting Crates from online stores.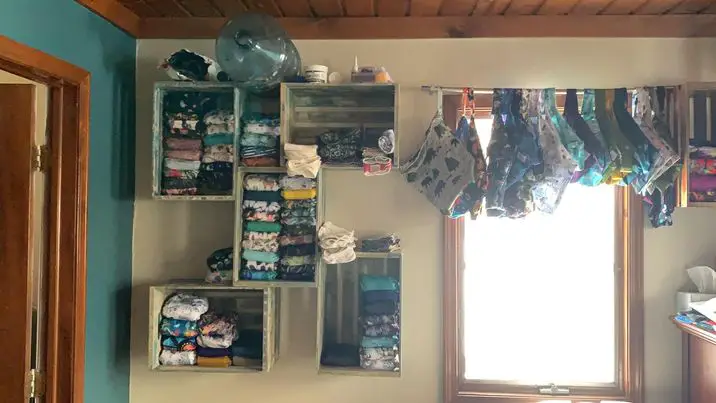 6) TOY STORAGE UNIT
Some moms even came up with the idea of re-purposing toy storage units – how genius is that? This actually makes it so easy to sort your diapers in different boxes, and the units are not expensive at all.
You can even use different cubbies to store cloth diapers as well as other toiletries, such as cloth wipes, inserts, or diaper creams. In fact, it's one of my favorite toiletries storage solutions.
You can either have them in display, or tuck them away inside a cupboard if you prefer. And when your baby grows, it will be so easy to turn the unit back to a toy storage unit!
Humble Crew, for example, has very affordable toy storage units, either with white boxes or colorful ones.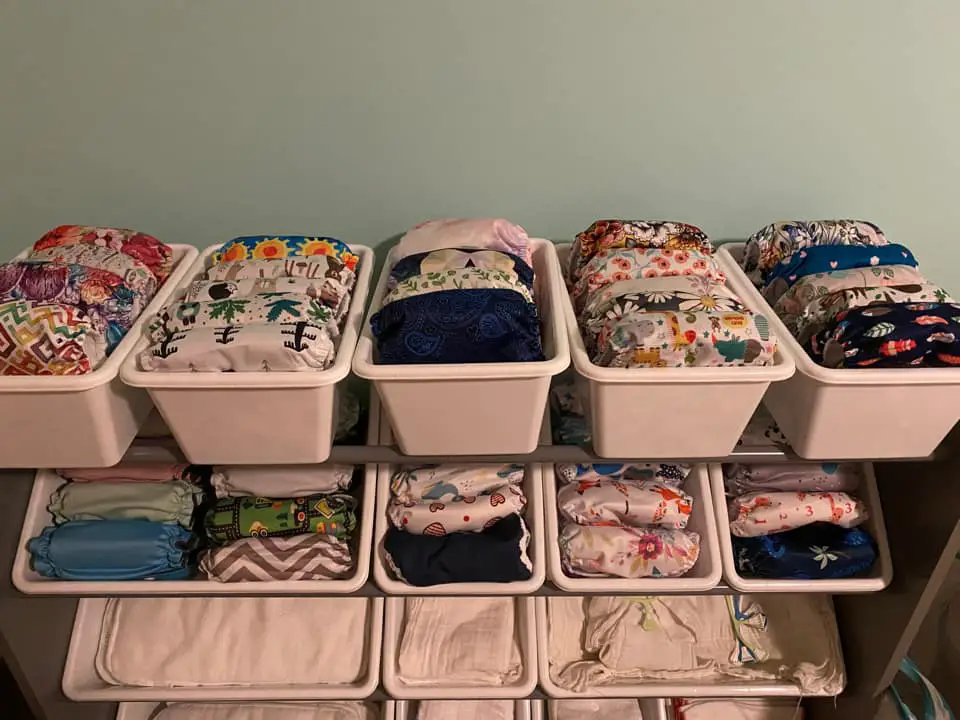 https://www.pinterest.nz/pin/137570963592090021/
7) HANGING ORGANIZER
If you are really struggling with space, then this idea might suit you better: a hanging organizer! These can be fitted either on the back of a door or on a rod inside your closet. You can also put one on each door of your closet to double up in space.
Such an inexpensive and simple way to store your cloth diapers away!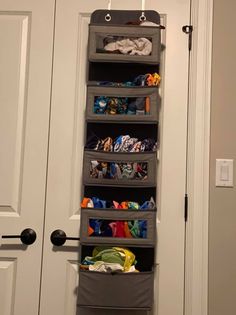 https://www.pinterest.nz/pin/440015826099898305/
8) SHOE ORGANIZER
Another vertical solution that can be hidden away is a hanging shoe organizer. Again, this is an inexpensive and simple way to store your cloth diapers away, and I particularly love the idea of shoe organizers with clear pockets, so that you can see exactly what diapers are in there.
I use a clear hanging shoe organizer with 24 pockets: because you can fit 2 diapers per pocket, you can actually use it to store away up to 48 cloth diapers!
https://www.pinterest.nz/pin/20547742040635476/
9) WOODEN BOXES
Going back to storage solutions where cloth diapers become part of the home decor, wooden boxes are another very clever and versatile idea. Similarly to the crates, you can stack them up however you like on the wall, or even on the floor. You can buy or build them of the same size or different size, and paint them of the best color to suit your room.
Check out Way Basics Cubes from online stores: they are made with durable recycled paperboard, they are eco-friendly, non-toxic and free of formaldehyde and VOC.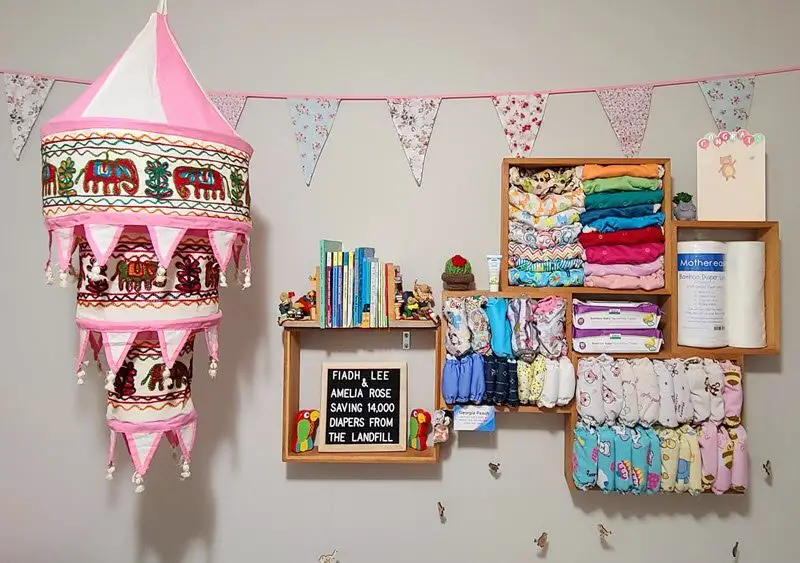 10) CARDBOARD BOXES
If you are on a budget and really looking for the cheapest of the cheap options, than look no further! Cardboard boxes can be a perfect storage idea for cloth diapers too! And they have the great pro that can be stored anywhere.
This mama from the photo below wrapped her cardboard boxes in wrapping paper to make them look nicer, but if you enjoy craft and DIY projects, also check out this tutorial on how transform a simple and ordinary cardboard box into a classy storage box.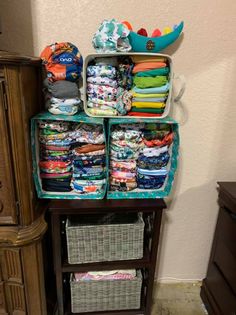 Related: Baby on a Budget – Top Tips on How to Save Money with a New Baby
11) FABRIC BOXES & BASKETS
A step up from cardboard boxes is the use of fabric storage cubes/boxes, or baskets. These can also be stored anywhere, or even hung on the wall if that's something you prefer.
I use to have 4 collapsible fabric cubes under my first daughter's changing table where I could store all her cloth diapers. From under the changing table they then got moved on a bookcase, and eventually got re-purposed to store toys 🙂
Again, if you enjoy craft and DIY projects, get inspired with this tutorial on how to make storage cubes out of canvas fabric yourself.
https://www.pinterest.nz/pin/1125968631178423/
https://www.pinterest.nz/pin/200832464608447509/
https://www.pinterest.nz/pin/393642823676395454/
12) LADDER
The ladder idea is not personally one that I would ever use (too unstable, I would knock it off every two seconds), but many moms like it.
One think to consider with this storage solution is how big your cloth diapers stash is and how many of them you actually want to put on the ladder. If your stash is quite big and you want to hang them all, it has the potential to be quite a long ladder. And, not sure how tall you are, but from my 5.2 feet perspective, I might struggle to reach the top!
https://www.pinterest.nz/pin/292171094547723495/
13) CART
A cart is another favorite for many moms. I guess the genius thing about it is that it has wheels, so you can move it around the house and take it with you wherever is needed. This could work very well if you are one of those moms that likes to constantly change the location of where you are changing your baby's diapers.
One of the most popular ones seems to be the IKEA RÅSKOG Utility Cart, but there's also other options online, such as this SimpleHouseware Heavy Duty 3-Tier Metal Utility Rolling Cart.
https://www.pinterest.nz/pin/11329436552862076/
14) CABINET
Having a cabinet where you can store cloth diapers is another great storage solution. Lots of moms that like to store their diapers in the bathroom would recommend this option.
https://www.pinterest.nz/pin/520939881898445870/
15) DRESSER / DRAWERS
If not in a cabinet, you could also store your cloth diapers in some simple drawers. Without having to buy a new dresser, check if you can make some space in a couple of existing drawers in the house!
We stored my second daughter's cloth diapers in two drawers of the dresser in our main bedroom. We had to reshuffle some of our clothes, but it turned out to be the best move. We actually got rid of the changing table from my first daughter and started changing my second one on our bed. Getting rid of the changing table saved us so much space!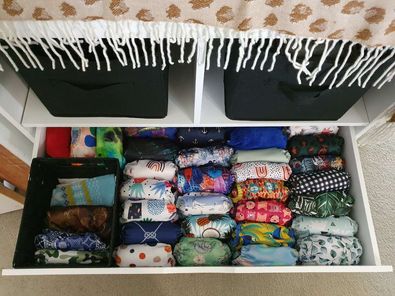 You could even fit a changing mat on top of your dresser to make your own changing table 🙂 We tried this with our second daughter, but soon realised that our dresser was a bit too tall and that the bed was going to be much much easier.
16) CD RACK
Now, here's one that none of you has probably seen before: a CD rack! I don't know how many people are still using CDs instead of listening to MP3s or music online, so it might be quite easy to find an old CD rack and re-purpose it for your cloth diapers!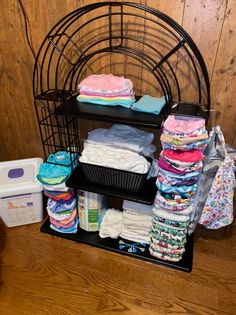 17) WIRE SHELF
Last but not least, for the "lazier" moms that can't be bothered with all the folding sometimes, then you should consider having a wire shelf! This way you can use the shelf to both hang your cloth diapers to dry and store them away. Yes, I know, absolute genius! 🙂
This storage idea could actually be very good for reusable swim diapers as well.
https://www.pinterest.nz/pin/10766486599543475/
How to Store Cloth Diapers Long-Term
If you are wondering how to store cloth diapers long-term, maybe because you are planning on having another baby and re-use all your stash, then here's some recommendations:
Make sure your cloth diapers had a deep clean before storing them a way. In fact, your diapers may have build up that can attract bacteria or bugs. You can follow these instructions on how to strip cloth diapers to make sure that you've removed any buildup!
Make sure they are 100% dry as well. If they still hold any moisture, they might get mold or bacteria growth, and you certainly want to avoid that.
Store them in a dry and breathable container, such as cardboard boxes or fabric bags, if you can. Avoid plastic sealed containers or vacuum sealed bags, as no air could cause yellow staining and damage the elastics.
I personally stored them for over a year in cardboard boxes in my daughter's room and didn't have any problem. Of course, make sure to give them another wash before you use them again on your next baby.
For more tips and information on how to store your old baby's cloth diapers as well as baby clothes for your next baby, you can also check out these ideas for storing baby clothes long term.
Cloth Diapers Storage Ideas: Final Thoughts
Cloth diapers are amazing in saving parents a lot of money and contribute to a more sustainable world, but they can take up a lot of space! I really hope that this article inspired you and helped you understand what storage solution would work best for you and your home.
If you are still expecting and getting all confused by all the different types of cloth diapers, or you are already using cloth and would like some tips on how to wash them, check out these articles from Conquering Motherhood:
Or enroll in my FREE course on Cloth Diapers for beginners!

---
Are you using any of the storage solutions above and would like to leave some feedback? Or have you come up with another creative way to store cloth diapers that's not listed above? Then please let me know in the comments below, I would love to hear from you!
Did you find it useful? Pin it!