Pocket Cloth Diapers also called Modern Cloth Diapers, are very popular reusable diapers. They have the convenience of the all-in-one diapers, as in they behave like a one piece diaper, with also the advantage of being able to take the insert out for faster drying.
I personally really like these and used them all the time with my first baby. I also use them overnight with my second daughter,
They comprise of a waterproof cover, which has a pocket for the absorbent insert to go in. The inner liner of the cover provides a stay-dry diaper as the urine passes through it and gets absorbed from the insert.
However, you can also use them by putting the insert outside the pocket, which is what I did with my first daughter! This way you can keep reusing the clean waterproof cover and just change the insert.
Nowadays, it's easy to find inserts made of multiple layers, so that the urine goes through the outer layer and gets absorbed by the inner layers, leaving the baby's bum nice and dry. Also, I have always found a bit awkward trying to stuff the insert inside the cover… takes me too much time, so I prefer to leave it outside. The only risk is that the insert is more likely to move and cause leaks and diaper blowouts.
Related:
In this article I am going to take you through what I think are the best pocket cloth diapers out there for your baby! The list has been put together taking into consideration many different factors, such as fit, sizes, price, absorbency or range of patterns and colors.
Enjoy and happy diapering!
Related: The different types of Cloth Diapers: How do I choose the right one?
If you are looking for an in-depth guide to cloth diapers, or if you are already using cloth diapers but struggling with leaky or smelly diapers and need help with some troubleshooting, then have a look at my eBook: The Ultimate Guide to Cloth Diapers – everything you need to know for a stress-free cloth diapering experience.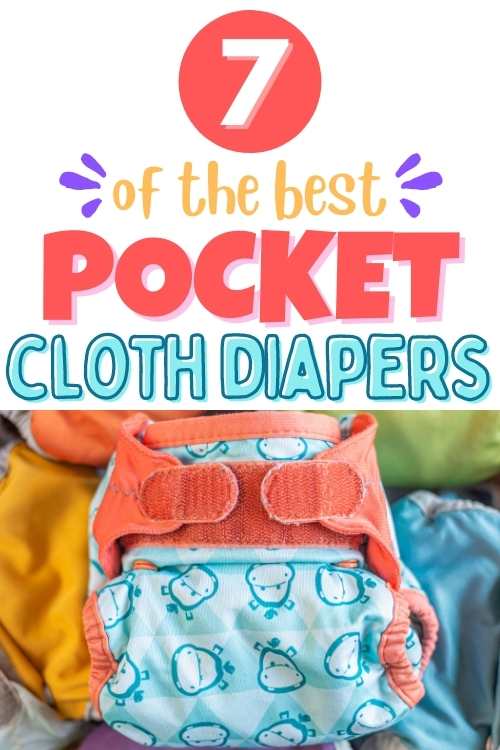 Features of Pocket Cloth Diapers
First of all, here's all the features of pocket cloth diapers:
They comprise of two parts: the waterproof cover and the inserts.
The waterproof cover has a pocket for the absorbent insert to go in.
They come in either different sizes or "one size fits all". One size pocket diapers have snaps so that you can adjust them to fit nicely around your baby.
The waterproof cover is made of PUL (Laminated Polyester), or a combination of PUL and fleece / wool. It closes with either snaps or hook & loop.
The liner, which is part of the waterproof cover, is synthetic, generally made of fleece or suede cloth.
Pros and Cons of Pocket Cloth Diapers
I really like how versatile this type of diaper is. You can use it with the insert in the pocket or outside the pocket. And you can use any insert you fancy (as long as it fits in the pocket).
However, here's a list of all the pros and cons of pocket cloth diapers
Advantages of Pocket Diapers
They are usually made of synthetic material so they dry super quick.
Because the inserts are detached from the waterproof cover, they also dry pretty quick.
Incredibly easy to put on and take off.
Once the insert is in the pocket, they are essentially a one piece diaper.
When paired with Pre-fold cloth diapers as insert, they are the perfect combination for nighttime.
Disadvantages of Pocket Diapers
If you use them with the insert inside the pocket, then the bum is in contact with the synthetic liner. If you want a natural fabric diaper, then this is not for you.
If you over stuff them with inserts to boost absorbency, you are going to compromise the fit of the diaper and they are likely to leak.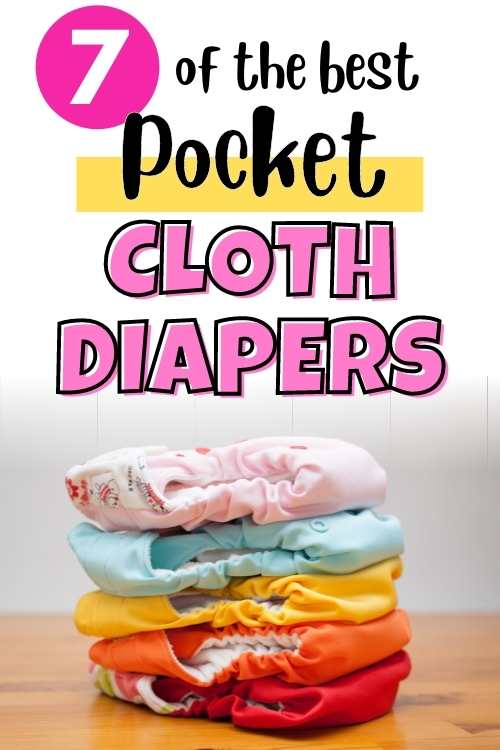 The Best Pocket Cloth Diapers
Without further ado, here's a list of the best pocket cloth diapers, taking into consideration price, quality and pros/cons.
Includes two inserts for customized absorbency

Stretchy tabs to help get a snug fit

Includes  two inserts for customized absorbency

Unique bra-strap sizing system

Fun range of colors and patterns

Includes one microfiber insert

Choice of snapsor hook & loop closure

Super soft fleece inner liner

Wide range of colors and patterns

Includes one microfiber insert

Super soft fleece inner lin

Wide range of colors and patterns

2 very absorbent soakers included

waterproof cover made of a biodegradable material

extra soft and comfortable inside

Includes 2 absorbent inserts 

Good range of colors and patterns

Choice of hook & loop or snap closure

Pocket opening on both ends

One microfiber insert included

Fun range of colors and patterns
1) BumGenius Original 5.0
The BumGenius Original 5.0 diaper is my favorite pocket diaper. I used BumGenius pocket diapers all the way with my first daughter and really love their design. Never leaked, perfect fit and the elastics are so stretchy and comfortable around baby's legs and back, leaving no red marks.
I bought them second-hand, so they didn't quite last with my second daughter. And by then I decided to swap to all-in-ones and hybrid diapers, as I find them to be more convenient. Had I bought them new, I think I would have kept using them for my second daughter as well, they are so good.
This diaper is one-size for babies 7+ lbs. The same model doesn't come in a newborn size, however you can buy the BumGenius Littles for a small baby.
It isn't one of the cheapest pocket diapers, however it comes with two microfiber inserts included: a newborn insert, that can be used as an overnight booster, and a one-size insert.
This is also the first pocket diaper with stretchy tabs that is most like disposables. The stretchy tabs help you get a snug fit without being too tight on baby's thighs every time.
I just wish it was available in more color and pattern options. And also wish it was available with the hook and loop, instead of just the snap closure. I used an older model with the hook & loop as I prefer it over snaps.
>> Buy the BumGenius Original 5.0 on Amazon here <<
2) Charlie Banana Pocket Diaper
The Charlie Banana Hybrid Cloth Diaper is a unique and very clever pocket diaper. It is a one size fits all type of diaper, but what's unique is the sizing system: it has a smart bra-strap to adjust the size instead of the usual snaps found in all other one size diapers. It makes it so much easier to adjust the size of the diaper to baby's size.
Each diaper comes with two polyester inserts that are highly absorbent and soft, making them great for both daily and overnight use. It can also be used with standard and hemp inserts, sold separately here.
There's one thing about this diaper that I don't like and find confusing! Charlie Banana calls it an AIO Hybrid Diaper – aaargh! It's neither a hybrid or an all-in-one. It's a pocket diaper!!
>> Buy the Charlie Banana Cloth Diapers on Amazon here <<
3) Nicki's Diapers Pocket Diaper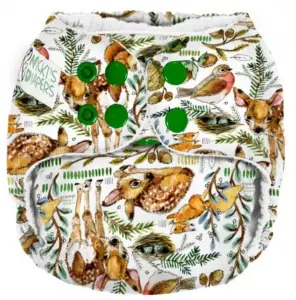 Nicki's Diapers Pocket Diaper is a high quality cloth diaper at economical price. It is also a one-size diaper for babies 8+ lbs. It doesn't have an equivalent for newborns, but you can find other newborn cloth diapers on the Nicki's Diapers website.
This diaper has many great features:
It comes with a free one-size insert made of 4 layers of microfiber.
It has a super soft fleece inner lining.
It has openings both in the front and rear, making stuffing easier. In fact, if there's one thing that annoys me about pocket diapers is the time it takes me to stuff the insert inside the pocket.
Choice of hook & loop or snap closure: love it!
Awesome range of colors and patterns to choose from!

4) Imagine Pocket Diaper
The Imagine Pocket Diaper is very similar to the Nicki's Diapers Pocket Diaper. Similar price and similar features.
One size to fit babies 8+ lbs.
Includes a one-size microfiber insert.
Super soft fleece inner lining.
Wide range of colors and patterns.
However, this diaper only comes with snaps and the pocket is more traditional, with only one opening.

>> Buy the Imagine Pocket Diaper on Amazon here <<
5) Rumparooz OBV
The Rumparooz OBV (Organic Cotton Bamboo Velour) is a top of the range pocket diaper, with outstanding absorbency performance and made of the best materials. It does come with a pretty high price tag, but if you can afford it, it is a great investment.
One of the things I love the most about this diaper is that the waterproof cover is made of TPU, instead of the usual PUL. TPU is a solvent-free and biodegradable material. The process to create TPU is low in toxicity and is much better for the environment compared to PUL. Bonus point for sustainability!
The inside of the diaper is made of a organic cotton and bamboo velour. This means it's extra soft and comfortable. The diaper also comes with 2 bamboo soakers made of  50% bamboo, 20% organic cotton and 30% poly fleece. These two inserts have multiple snaps, so that they can be snapped together at different settings, to adjust the absorbency to your needs.
Another great feature is the dual inner gussets guard against leaks that keeps the messiest of messes locked in. And, last but not least, the diaper is a one size pocket diaper, fitting all babies from 6+ lbs.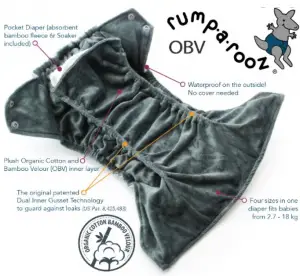 If you like this diaper but your are looking at a cheaper option, you can also look into the Rumparooz normal pocket diaper. The inside of this pocket diaper is not as soft and is made of micro chamois. However, the rest of the diaper is identical. It still comes with the two soakers and has the bonus of giving the choice between hook & loop or snap closure.

>> Buy the Rumparooz OBV on Amazon here <<
6) Thirsties
The Thirsties pocket diaper is another one size cloth diaper for babies that are 8+ lbs. The inside liner is made of polyester microfleece and it comes with 2 inserts: a full size insert made of 5 layers of hemp jersey cotton and a newborn insert made of 3 layers of microfiber. The inserts can be used individually or snapped together, so you can customize its absorbency.
Similar to the Nicki's Diapers Pocket Diaper, it has the pocket opening on both ends, to allow for easy insert stuffing and easy cleaning. Because the insert will agitate out in the washing machine, there is no need to remove soiled inserts from the diaper.
Two extra bonuses:
It comes in a good range of colors and patterns.
It has the choice of either hook & loop closures or the snap closures.

>> Buy the Thirsties Pocket Diaper on Amazon here <<
7) Mama Koala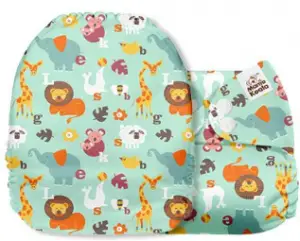 The Mama Koala pocket diaper is one of the cheapest options out there. I think the performance reflects on the product: I tried these a few times and they don't absorb as much as the other brands. So, still a good choice for during the day if you don't want to spend too much money, but I wouldn't use them as overnight diapers.
It is another one size diaper for babies that are 8+ lbs and it does include a microfiber insert. However, one microfiber insert is not absorbent enough to hold the pee in for too long before it leaks.
A nice feature is the two snaps on the insert to adjust its length. Also, the diaper comes in a fun range of colors and patterns.
>> Buy the Mama Koala on Amazon <<

FAQs
1) How do you wash all in one cloth diapers?
It's super easy, just throw them in the wash with the rest of your clothes and hang them in the sun to get rid of any stains! If there is poop on it, first rinse it in the toilet.
You can have a read here for lots of tips on how to wash cloth diapers.
2) Do you really save money using cloth diapers?
YES!! Maybe not immediately but, in the long run, you will save lots of money! Have a look here at a price comparison between cloth diapers and disposables.
3) What are the different types of cloth diapers?
All in one cloth diapers are only one of the many different cloth diapers out there that you can choose from. You can find out about all the different types with their pros and cons here: The different types of Cloth Diapers – How do I choose the right one?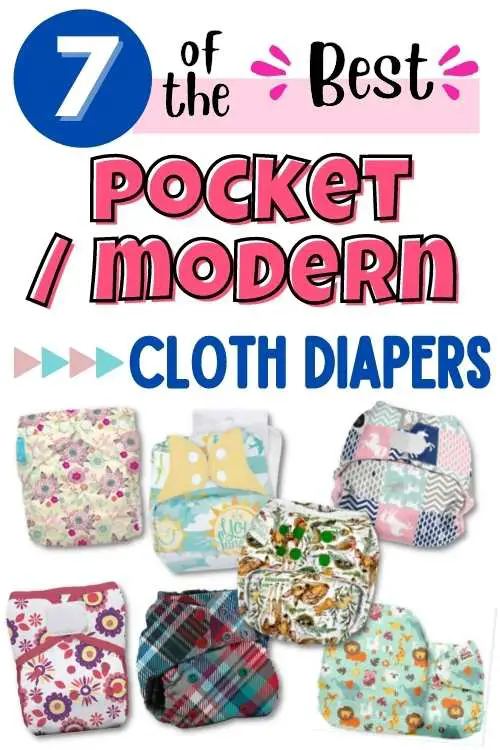 Pocket Cloth Diapers: Final Thoughts
Here it is mama, my list of best pocket or modern cloth diapers! I hope you've found this information useful and that you are ready to start buying more cloth diapers for our baby!
I have absolutely loved my cloth diaper journey with my daughters and all in ones definitely made it so much easier and enjoyable.
For more tips, information and product recommendations on cloth diapers, also check out these related posts:
---
Do you have any question about any of the information provided above? Or have you used pocket cloth diapers with your kids and would like to share your thoughts? Is there's another product that you think should be added to this list? Then please let me know in the comments below – I'd love to hear from you!
Did you find this useful? Pin It!