Do you constantly get frustrated when your baby drops their pacifier and it gets all dirty? It's easy to avoid losing a pacifier by getting a clip to keep it attached to your baby and this guide helps you find the best pacifier clip. In our family, we actually had two pacifier clips with my daughter, one of which was always in the car just in case we lost the other – as a backup!
However, finding the perfect clip can be a little overwhelming with the choice as there are so many different types, with different looks and different materials. Some also work as teethers, which is great if you have a baby that constantly wants to chew on things. Whatever you buy, you need to be really careful to to check the safety guidelines and if the pacifier clip meets these as it's essential that the pacifier clip is safe enough for your baby and avoid choking on it or get caught up with it.
So, how do you choose a pacifier clip and what do you need to look for in one before buying it? I have answered all of these questions for your in this article, and I have included some of the cutest and what I think are the best clips that can be bought online in this review of 20 of the best pacifier clips for you.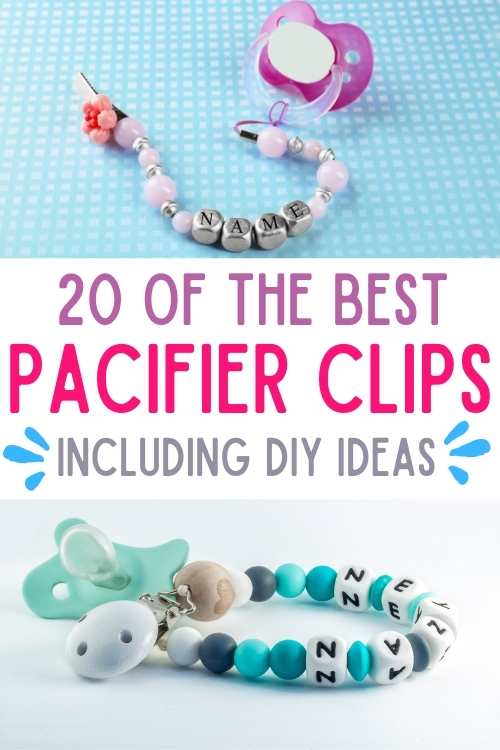 Are Pacifier Clips Safe?
Is a pacifier clip actually safe for your baby, or do they pose a risk? Well, the answer is that it depends on the clip. There are some features that you should be looking out for to make sure that it's safe enough for babies, and these are mainly it's length and how durable it is.
According to the CPSC (Consumer Product Safety Commission), the tether or ribbon of the pacifier clip should be no longer than 7-8 inches to be safe. Any longer than that and it could wrap around a baby's neck.
Also, pacifier clips with beads do present a potential choking hazard if they break easily. Some brands have been recalled for this very reason, so it might pay to check reviews from other parents to see how durable it is, or check for recalls before buying a beaded clip.
As a general rule though, you should always remove a clip when your baby is not in view, especially when they are sleeping.
What to Consider When Buying a Clip
Other than its safety, look at the materials it's made from. Clips can be made of wood, silicone, leather, fabric or plastic and the clip holder is normally made of plastic or metal.
Each material has its own pros and cons, and I go through them later on in the article, so it really depends on what you are looking for in a pacifier clip to find out if one is better for you than the other. Some made of wood or silicone are great if you want your child to use it as a teether as well. Whereas leather or fabric are more for just the look and purpose.
Some materials and shapes are also easier to clean compared to others. I could not stand to clean a crochet pacifier clip every time for example.
Or, with regards to the clip holders, metal ones are a usually bit more sturdy compared to plastic ones, but they may rust over time and therefore shorten the life span of your pacifier clip. If you have a metal clip, be sure to check the clip for rust after the first few times you wash it.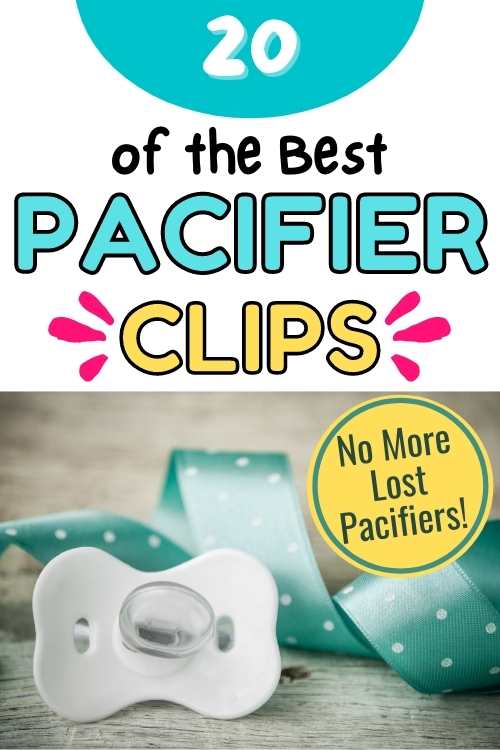 How Many Pacifier Holders Do You Need?
I mentioned above that we used to have two pacifier clips for my daughter, but that was just an extra precaution. After losing three pacifiers, that's how much we hated the idea of not having a clip anymore!
You might also like to have multiple clips in case one gets dirty: you can keep using one while you clean the others. And there are plenty of shops, including Amazon or Etsy online shops where you can buy them in bulk. They usually come in packs of 2, 6 or 8 baby pacifier clips.
That said, if you are wondering how many your should buy, know you really only need one and if your budget is really tight and you are not too worried about going for short periods of time without a clip, then one will be fine.
Related: Baby on a Budget – Top Tips on How to Save Money with a New Baby
Choosing the Best Pacifier Clip
Without further ado, here's a list of the best pacifier clips I could find. Note that they are sorted by material: wooden first, followed by silicone, leather and fabric (including crochet ones). The last section also includes those personalized with your baby's name.
I've split this next set of reviews by material that the clip is made from:
Wooden Clips
Silicon Clips
Leather Clips
Fabric Clips
I've also added a section on personalised pacifier clips and even how to make your own clip! In each section, I've looked at some of the best (and the cutest) clips available.
Wooden Pacifier Clips
I love wooden pacifier clips – there's something about the color of natural wood that brings to mind a peaceful simplicity. Plus, wooden clips also work as teethers for babies and, if you are very conscious about what baby is putting in their mouth, you can be assured they are only chewing on natural materials.
Wood pacifier clips are usually made with natural beechwood, which is a non-splintering hardwood that is chemical-free and antibacterial. This means that it kills bacteria rather than letting it sit on the surface, before it can be end up in your child's mouth.
Beech hardwood can also be more resistant than other materials such as silicone when being punctured by baby's teeth (which will only strengthen your baby's teeth and their roots).
Wood should not be submerged in water to clean: just wipe with a damp cloth.
All of the wooden clips I looked at are made with beads, though there isn't much choice of brands that use exclusively wood beads and most are made of a mix of silicone and wooden beads.
Here are some of my favorites: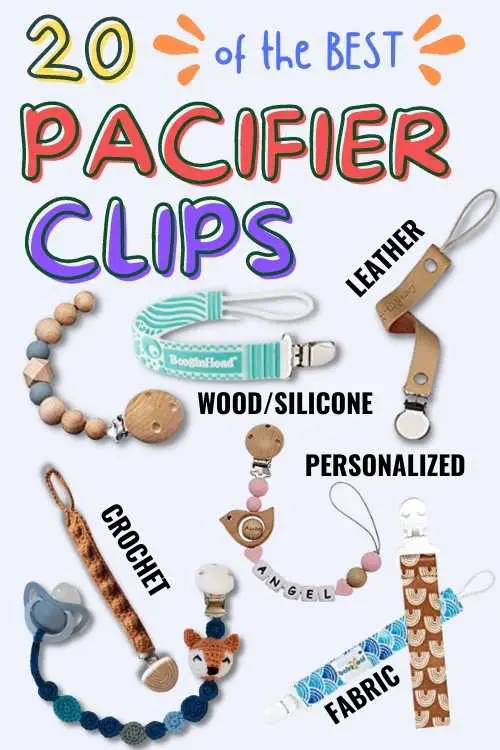 1) Mushie Pacifier Holder
This teething pacifier clip from Mushie is made of 100% wooden beads. The store actually has lots of other options that include silicone beads as well, but this one only has wood.
Note that there's a few reviews of parents complaining that the beads can come off easily, so remember never to leave your child unattended with a beaded clip!
Length: 7 inches.
2) Silicone / Wood / Crochet Beads Pacifier Holder
This No products found. is made up of a mix of silicone, wooden and crochet beads, and the result is stunning. The beads also have different shapes, as well as textures, to exercise baby's grip.
It comes in 4 different colors of crochet beads: gray, gray and white, white and brown. And all reviews mention how durable and sturdy it is!
Note that this clip is quite long compared to what's recommended by the CPSC, as it's 11.4 inches. So be extra careful not to leave your baby unattended with it.
No products found.
No products found.
3) Wood / Silicone Pacifier Clip
This No products found. is also beautiful and elegant at the same time. It is made up of a mix of beech wood and silicone beads, and the actual clip holder is made of stainless steel so it will not rust.
Another pro is that this model is CPSC tested and ASTM (American Society for Testing and Materials) approved, so you can be assured this is a safe clip to use.
No products found.
No products found.
4) Moon Pacifier Clip
This pacifier clip is another one of the very few models I could find that used exclusively wooden beads rather than a mix of wood and plastic, and the moons on some of the beads just make it extra cute.
This is handmade and only available on Etsy. Length not specified.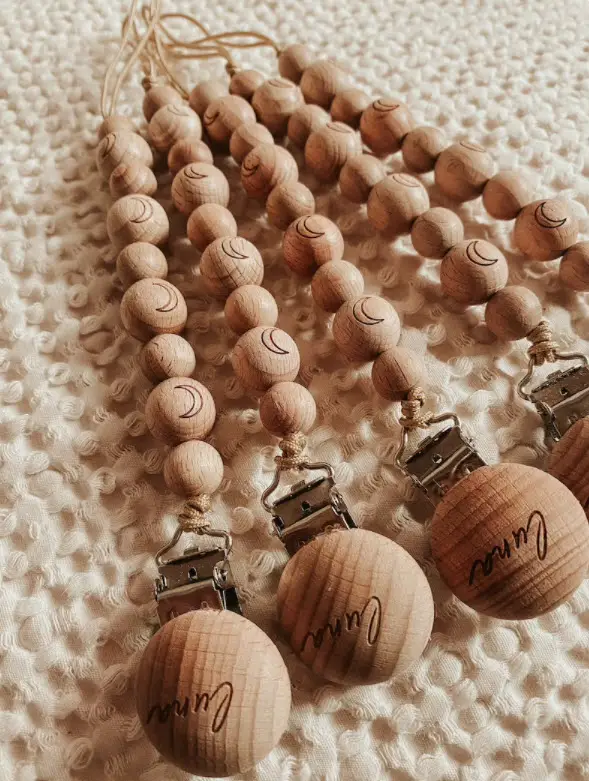 Silicone Pacifier Clips
Food grade silicone makes for a perfect teether material too, so having a clip for your pacifier made of silicone is another great option if you are looking for a clip that serves that double purpose. Silicone is 100% non-toxic, as it contains no BPA, lead, cadmium, phthalates, PVC or latex, and is resistant to bacteria, fungus, and mold. I personally think this is the best material you could buy.
Silicone clips and teethers are also generally easy to clean by using a mild soap and warm water or putting it into the dishwasher.
There are lots to choose from online, however, these are some of my favorites.
1) Animal Clips
These No products found. have adorable animal shapes in between the silicone beads and they come in a pack of 6, including a squirrel, a fox, a koala, a panda, a hedgehog and a sheep. I love how bright and colorful these are, and the animals add such a nice touch.
The animals themselves are made of silicone too, whereas the clip holder seems to be made of plastic.
Length: 9.6 inches.
No products found.
No products found.
2) Braid Strap with Clip
These silicone pacifier clips are made of silicone "braids", instead of beads, with a stainless steel clip holder. The greatest things about this type of teething pacifier clip compared to a beaded model is that it is way easier to clean, without any dirt getting stuck in between the beads.
These clips in particular come in two different range of colors with, I'm guessing more pink for girls and some more blue for boys. They also come in a pack of 8, so that you can rotate through them.
Length: 5.6 inches.
3) Pacigrip Silicone Clip
Here's anther silicone pacifier clip that's super easy to clean! So many parents (and their babies) are very happy with this model.
It comes in different colors and the clip holder is made of metal. It is compliant with all CPSIA and European safety guidelines and it's 7 inches long.
4) Baby Girl's Beaded Clip
Last but not least of the silicone clips for pacifiers, this is one of my favorite No products found.. It is made of silicone, with soft colors and beads that look like wood (but are all silicone). The clip holder is made of plastic instead of metal.
It comes in a nice packet of 2, within a nice box that would also make it a perfect baby shower gift. It is CPSIA compliant.
There's also other options with more vibrant colors if you prefer.
No products found.
No products found.
Leather Pacifier Clips
Leather is another popular choice of material, giving a minimalist, yet elegant touch to your baby's pacifier.
A pro about leather, compared to wooden or silicone pacifier clips with beads, is that it's more flexible and lightweight. Many moms don't like how stiff or heavy others can be.
However, the one thing about leather is that, depending on the way it's been treated, it can contain a great deal of toxic contaminants, so be careful about using a leather product if your baby likes to chew on it. Not to mention that if chewed on a lot, it can get soft enough and break into pieces, creating a choking hazard.
To clean the leather, simply hand wash them and clean them with soapy water, or wipe with a wet cloth.
1) Care & More Leather Clips
These leather pacifier clips  have a very minimalist design that will fit any pacifier.
They come in a pack of 2, the clip is made of metal, and they are 8.8 inches long.
2) Rainbow Leather Pacifier Clips
I love these leather pacifier clips with wooden rainbow clips holder found on Etsy: the design is simply too cute!
You have a choice of 3 different colors (not 4 as per photo): light grey, pale pink or brown. Length: 7.9 inches.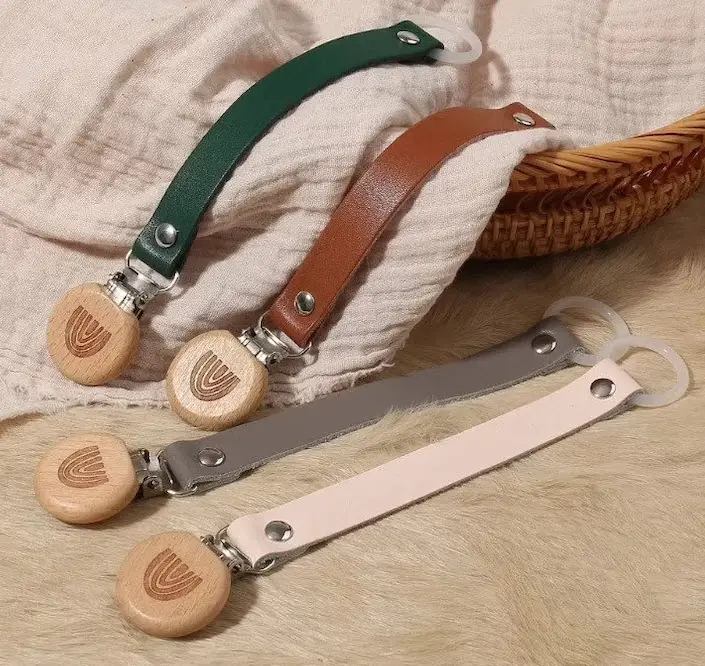 3) Braided Leather Baby Holder
Finally, check out these beautiful braided leather pacifier clips from Etsy as well. They come in 6 different gender neutral colors: tan, medium brown, cream, and combos of tan/medium brown, tan/cream, and medium brown/cream. I really love the combos one.
Length: 7-8 inches.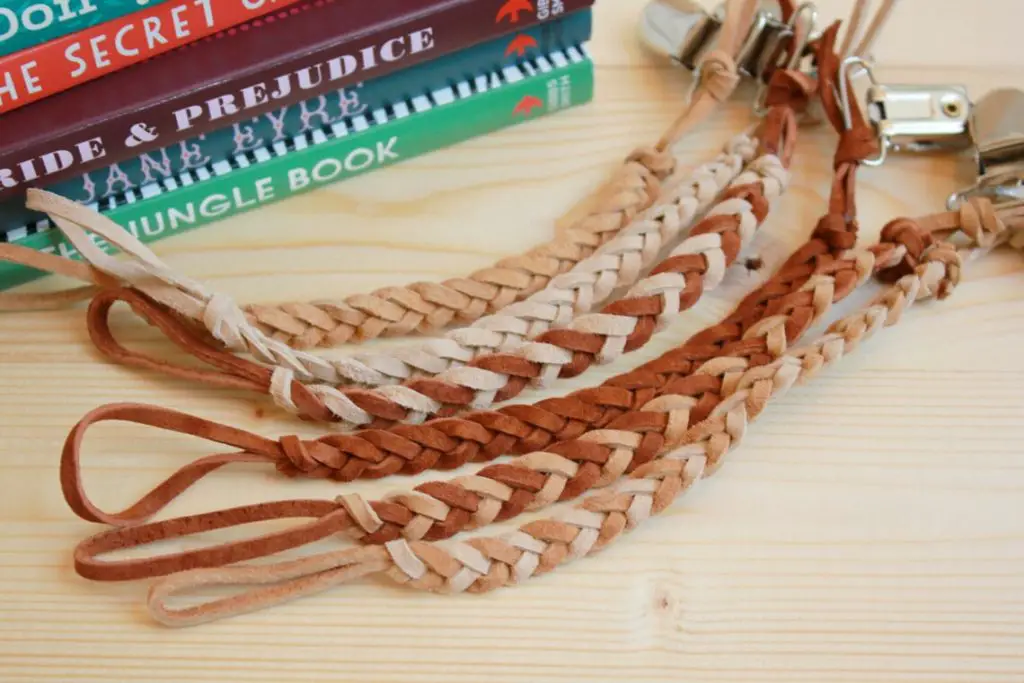 Fabric Clips
Products made of fabric are another option and these are usually quite durable and safe. They don't easily fall apart or break down if baby starts chewing on it.
Most of them are made of polyester fabric, but some are also made of 100% cotton (some even organic cotton). So, depending on how comfortable you feel about having your baby chewing on polyester, you might prefer one material over the other. Either way, they are all very easy to wash by simply throwing them in the washing machine.
Here's some of my favorites.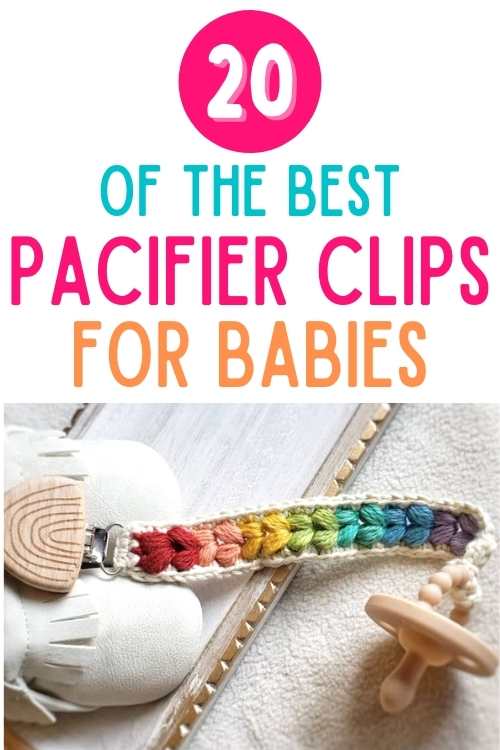 1) Stadela Clips
I love these adorable baby pacifier clips – I am a big fan of these retro colors, in case you haven't noticed! Oh, and rainbows 🙂
The ribbon is made of soft and sturdy polyester fabric digitally printed, whereas the clip holder is made of plastic. The ribbon is 7 inches long.
2) Babygoal Clips
Babygoal has a wide range of clips to keep your pacifier safe, with lots of beautiful patterns and colors, and I love how gorgeous they look. Plus you get a pack of 6, so you can rotate them depending on your mood!
Some clips are more for girls, some are more for boys, are some are unisex (but still bright and beautiful). The fabric consists of either just polyester, or polyester with waterproof PUL on the outside, whereas the clip is made of plastic.
I am not 100% sure about the length of the fabric ribbon, but they are CPSIA certified, so you should be safe from that point of view.
3) Cotton Pacifier Holder
These pacifier clips are made of 100% cotton and I found them on Etsy. You can choose between different cute patterns, including stars, foxes, owls, dots, etc. I am not sure about their length.
There are a few other options on Etsy if you are specifically looking for cotton clips instead of polyester.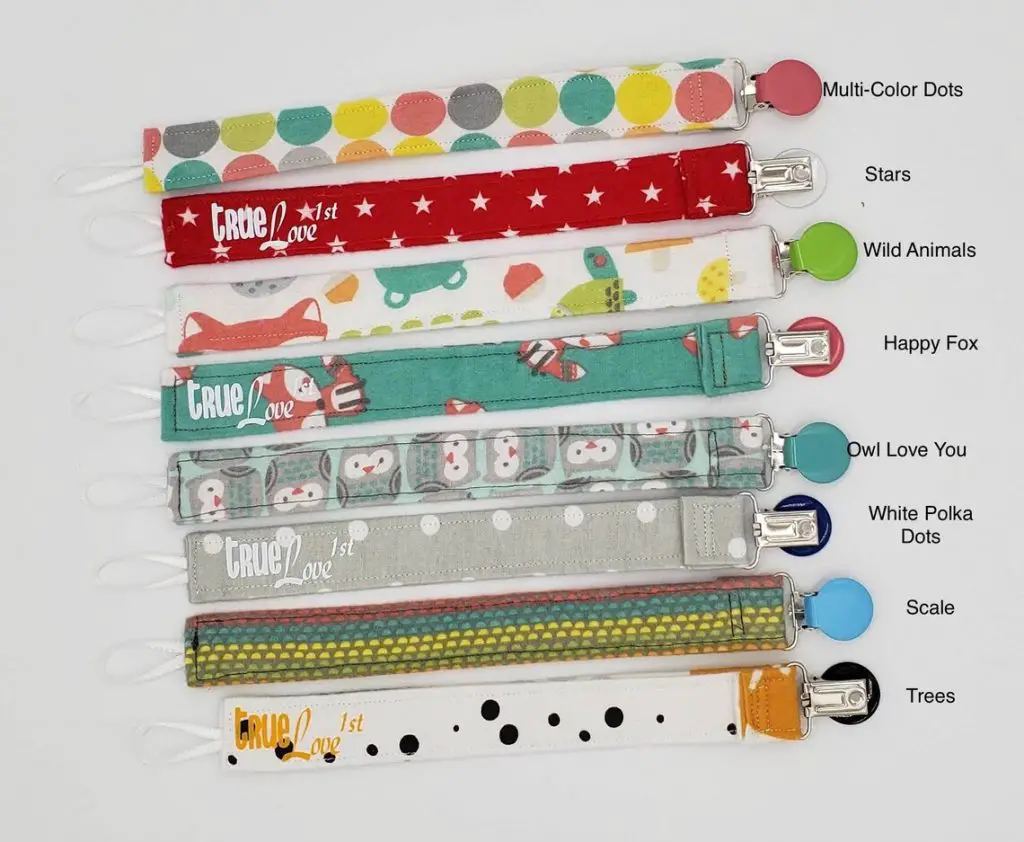 4) Crochet Clips
Another option for fabric clips is crochet ones. These can be absolutely stunning, but one downside is that they can be a bit hard to clean and might start to smell after a while.
I couldn't find any on Amazon, but here are some beautiful ones from Etsy. Check out some more on Etsy here.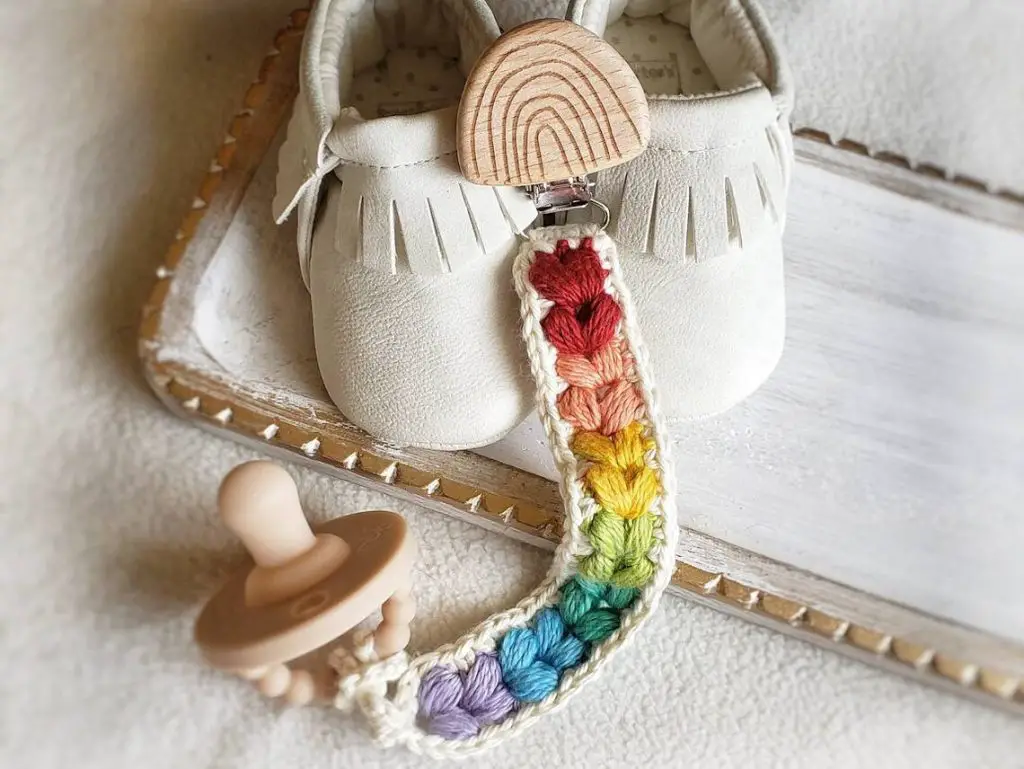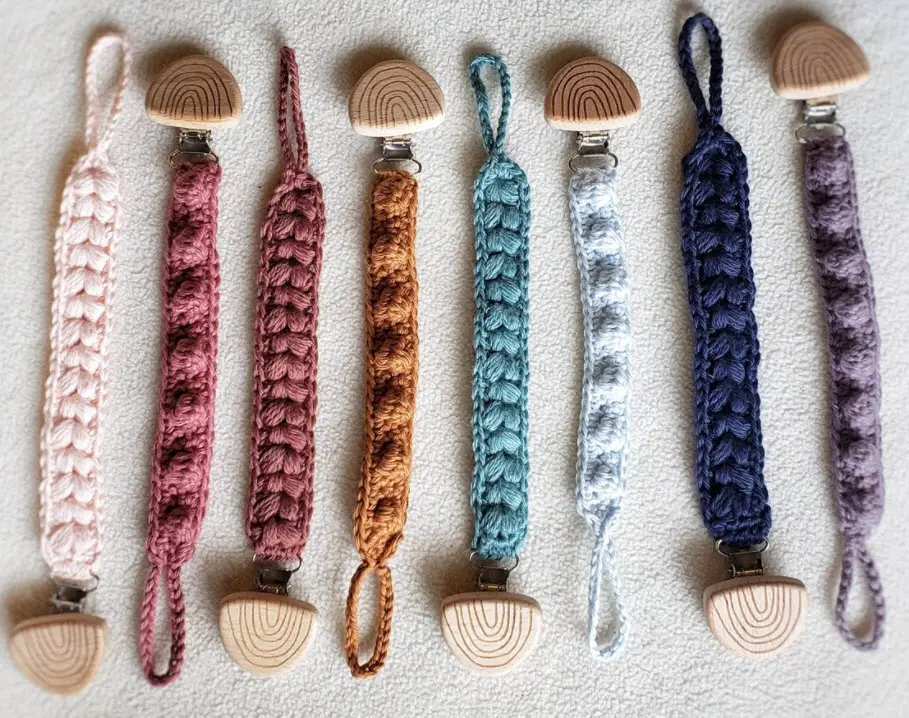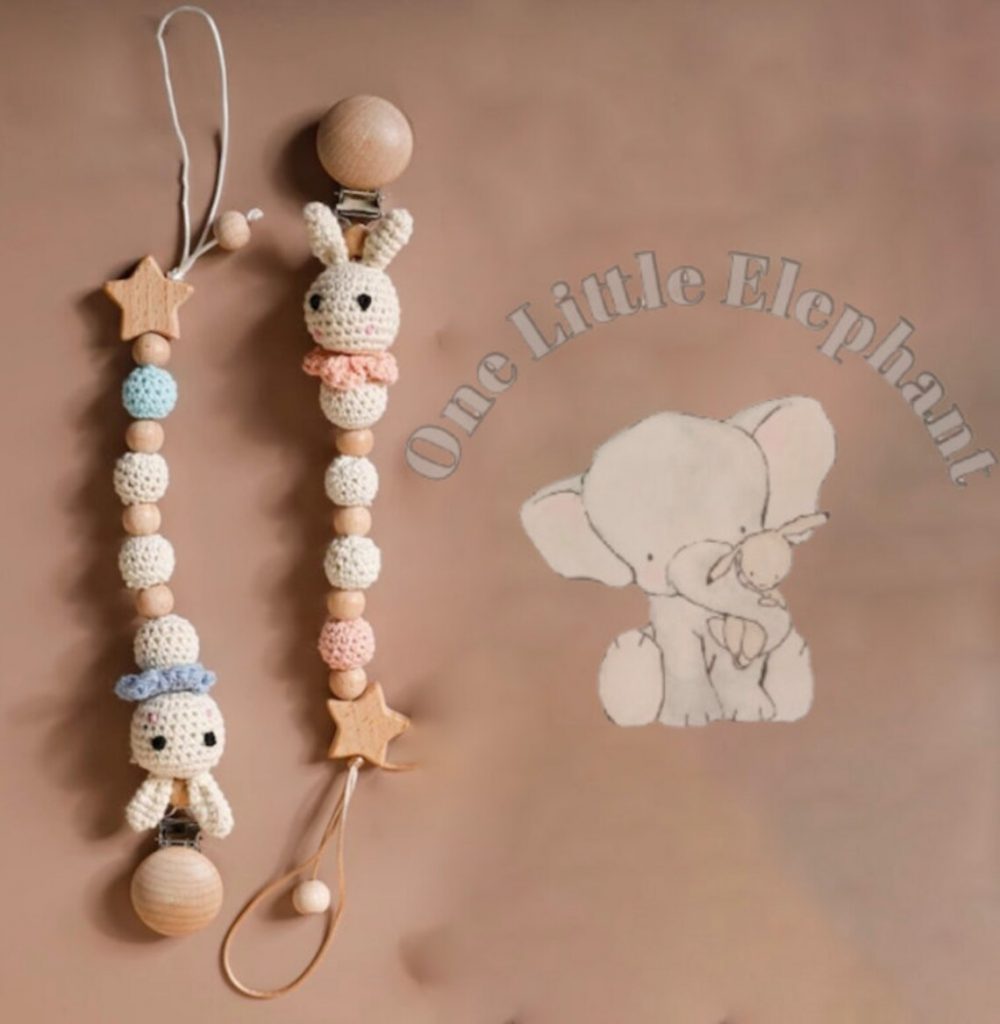 Personalized Pacifier Holders
Finally, there's lots of options out there for a customized clip for your pacifier that includes your baby's name! Wouldn't it be extra special to have a clip with your child's name on it?
There are plenty of options for custom designs on Amazon or on Etsy, but here's some of the cutest. Just make sure that if your child has a long name, the clip doesn't become too long: depending on the type of clip, this could become a problem.
1) Baby Girl Clip with Wooden Bird
This personalized pacifier clip is absolutely adorable and would make it the perfect gift for a baby shower where the mom is expecting a little girl. The beads are made of silicone, with the cute bird made of wood. The clip holder is also made of wood.
Length not specified.
No products found.
No products found.
2) Dinosaur Pacifier Clips
This very cute dinosaur pacifier holder comes in different colors, including colors that are perfect for baby girls, not just boys. The beads are mostly made of silicone, with one crochet bead and a little dinosaur at the end made of silicone as well. The dinosaur clip is made of wood.
I think this is really one of the best available with baby's name on it.
The total length is 11.4 inches.
No products found.
No products found.
3) Personalized Fabric Clips
These fabric clips are made of fabric and you can customize them with a fabric and font of your choice and your baby's name or initials. They come in a pack of 2 and I think these would actually be perfect for daycare, so you can make sure the teachers never lose your baby's clip.
The clip holder is made of metal and the total length of the clip is 11 inches.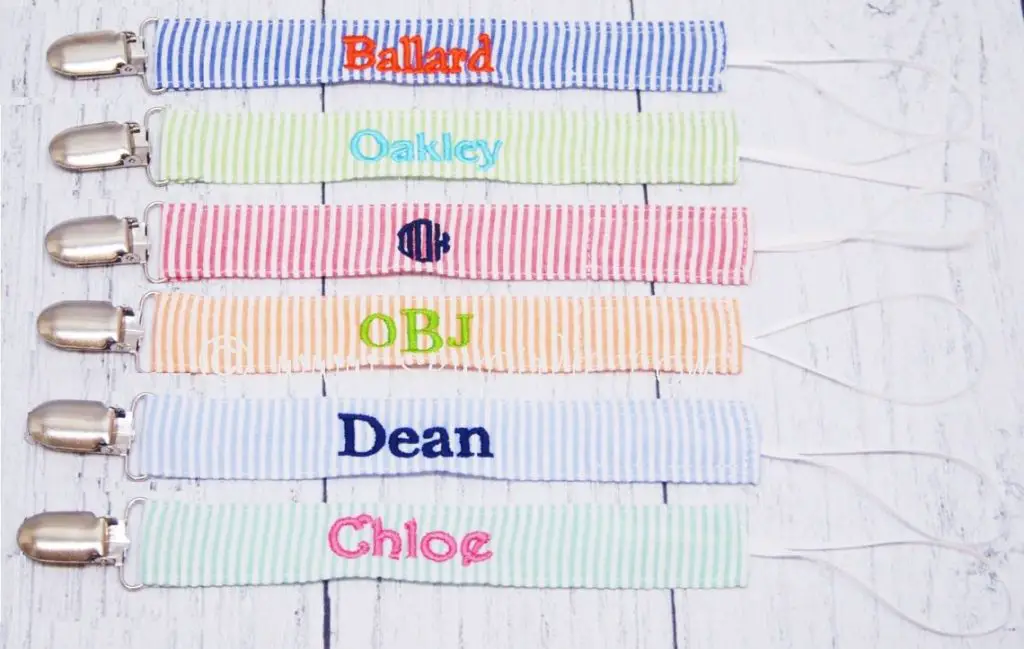 >> Personalized Fabric Pacifier Clips on Etsy here <<
How to Make A Pacifier Holder
If you like doing arts and crafts and are quite handy yourself, also consider a DIY pacifier clip. These can be really easy to make and there's plenty of tutorials online that you can follow to make one.
Here's some of the best tutorials:
If you like crochet, you can also find lots of beautiful patterns on Etsy, like this one for animal clips or this one for this super cute fox clip.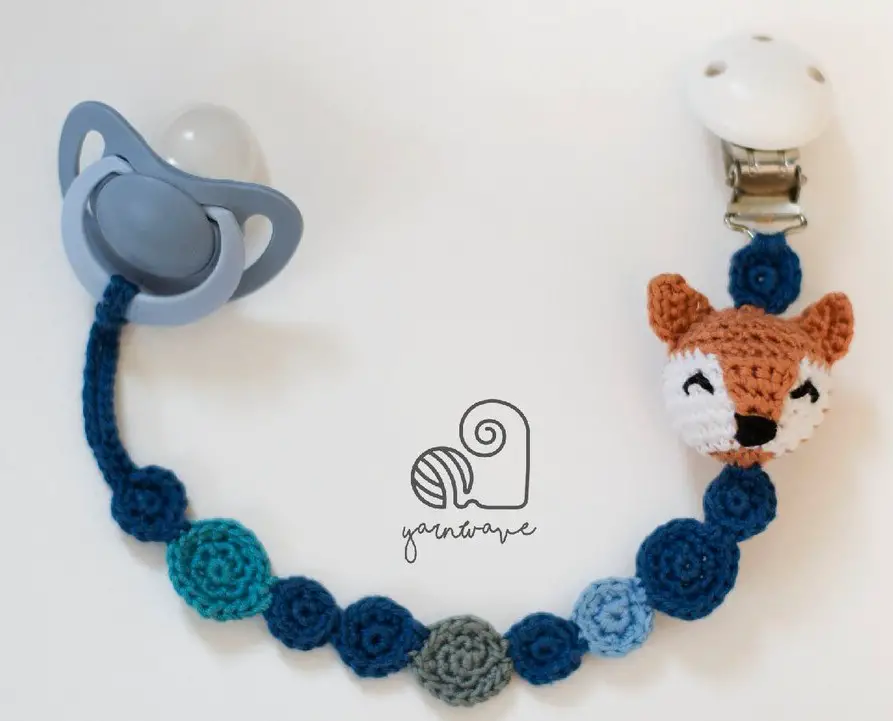 Summing Up
In this article I've give you all the information you need to start shopping for the best pacifier clip for your baby, and a list of some great clips to choose from. I really hope you've found what you where looking for and have settled on a style that you like!
If you are still unsure, I would highly recommend you bought a silicone model. These are beautiful and affordable at the same time, they are totally safe for babies to chew on (just make sure the beads don't come off), and come in so many different color and shape combinations.
If you are looking for some funny pacifiers to brighten up the mood at home, or for some alternatives because you can't wait to wean your baby off the pacifier, also check out these related posts:
For more baby tips and information, also check out these posts:
For baby feeding tips:
---
As a mom, do you have more questions that haven't answered here? Or do you know of another cute model that you think should be added to the list? Then please let me know – I'd love to hear from you!