When you're breastfeeding, flying or even taking a short road trip takes a lot of planning and you might not be comfortable using a breast pump on the plane, but we gotta do what we gotta do.
As an exclusive pumper who has done her fair share of traveling post-pregnancy, I can tell you that it gets easier with time. Just make sure to plan everything ahead of time and keep your breast-pumping accessories in a separate bag.
Remember that the key to successfully traveling with a breast pump is to stay organized (take a look at our guide to the best breast pumps and our introduction article on pumping as a good starting point). If you're not sure about the do's and don'ts, relax and read my 8 fail proof tips for flying and traveling with breast milk and a breast pump below.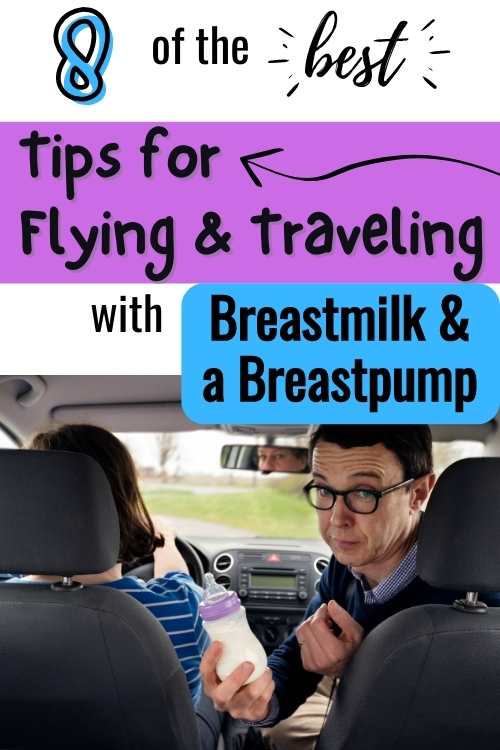 8 Tips for Flying and Traveling with Breast Milk and a Breast Pump
1) Go Through the Airlines Rules
The number one tip when flying with breast milk and breast pumps, is to read through the airlines rules!
Here in the U.S, breast pumps are considered a medical device. Although the rules are pretty much the same across all U.S airlines, you should check the breast pump-related guidelines on the airline's website before booking your ticket.
According to TSA guidelines, they can be both checked or carried on.
Since your baby's survival depends on it, carrying the pump would be a wiser move. You can stow it under your seat on the flight. At the security checkpoint, take the pump out of your bag instead of letting it be buried under a pile of clothes and other stuff.
An even better way to speed up the process would be to carry the pump and related accessories in a separate bag of its own.
Breast milk comes under the category of liquid medicines, so you are allowed to carry more than 3 oz. of it. Frozen breast milk bags in cooler bags are also allowed.
This Breast Pump Bag with Cooler by GoGOSo is perfect if you want to store everything in one bag: both the breast pump with all its accessories and the milk bottle. It can be used both as a backpack and a handbag and it has lots of nice compartments to keep everything tidy inside.
The TSA guideline also states that the security inspector can't ask you to taste the breast milk. But they can request you to open the bottles.
2) Find Breastfeeding Rooms at the Airports
The FAM or Friendly Airports for Mother Act states that all commercial airports in the States are required to set up lactation rooms in each terminal. In most airports, you will find the lactation room beyond the security screening area.
You don't need to worry about privacy as all these rooms have locking doors. Every airport lactation room I've visited had a proper seating arrangement and electrical outlet.
All the facilities are built to be disability-friendly. If you are an exclusive pumper and need to replenish your milk supply for in-flight feeding, you won't have to rush to the cramped-up restroom anymore for pumping.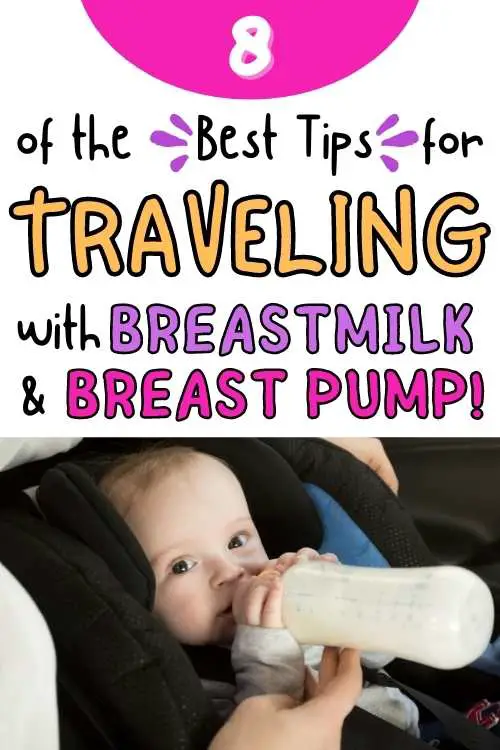 3) Find a Right Travel-Friendly Breast Pump
Another good tip when travelling or flying with a baby and pumping at the same time is do have a travel breast pump.
Although breast pumping is a totally normal thing to do on an airplane or airport, people are going to stare. To be as discreet as possible, choose a portable, travel-friendly pump. These pumps use an ultra-silent motor, therefore, are quiet as a cat.
A quality travel breast pump should also be easy-to-assemble (possibly with limited parts), and a breeze to clean up. Although manual pumps are the quietest of their kind, using them on a flight can be cumbersome.
Your best bet would be a battery-powered double electric breast pump. A wearable pump with a silent motor would be a neat option too if your budget allows for it.
This Double Electric Wearable Smart Breast Pump from Elvie is actually amazing: it's so compact and silent that you can even wear it under your bra without anyone noticing! It's a bit expensive, but definitely worth the investment if you travel a lot.
If you have been experiencing delay or a drop in milk production, it's best to invest in a pump with a let-down button, such as the No products found.. In the letdown mode, the pump stimulates your breasts to trigger the let-down reflex.
No products found.
No products found.
Finally, for a more comfortable pumping experience, also make sure your pump has multiple suction modes.
4) Getting Organized
When traveling with a breast pump, another tip is also to pick the right bag to store your pumping kit and accessories. Since you'll be carrying it along with your carry-on bag, be mindful of the size of the bag: it should be spacious enough to fit everything you will need but also small enough to fit under your seat.
Like I mentioned above, the Breast Pump Bag by GoGoSo is perfect if you want the cooler incorporated in the bag.
Next up, create a checklist of things you'll need to pack. Here's a ballpark packing list to get you up to speed:
Breast pump, of course.
Accessories like breast shields, tubing, charger, car power adapters.
Back-up batteries, if applicable.
Milk collection bottles and collection bags.
Cooler bag along with ice packs.
Sanitizer spray or wipes.
Bottle brush
If you are planning on pumping at a public restroom or airplane washroom, think about how you are going to clean the apparatus. Every pump part that touches your breast needs to be thoroughly cleaned.
You can clean everything over the washbasin with hot water and a cleaning brush. Breast pump sanitizing wipes are a great alternative as well for on-the-go mamas.
If you're not in a position to clean the pump in the washroom, ask the cabin crew to help you out. If you request them to sanitize the pump and parts in a steam bag, I'm sure they'll be happy to oblige. This is actually one of my best bottle feeding tips when flying with a baby!
Related: 30 Formula & Bottle Feeding Tips (to Make it Easier!)
5) Finding a Place to Pump
If you are flying with a breast pump and are in a scenario where you couldn't pump enough in the airport lactation room, you have no other option but to squeeze on the plane. The washroom is obviously the best place for the job.
Worried about getting the 1000-yard stare from the people on the plane for occupying the washroom for too long? Divide your pumping schedule into shorter 5-10 minute sessions. Alternatively, try hitting the washroom when you don't see anyone using it for a while.
But what if you are traveling with your baby alone? Somebody needs to watch your bub while you're away. You might consider asking a friendly co-passenger for help. If that's not an option and you have to pump while sitting, don't get nervous.
The loud humming noise of the plane will mask the sound of the motor. You can also wear a nursing cover if you feel self-conscious. Unless necessary, pump at night when the lights are dim and everyone is asleep.
Get a FREE Nursing Cover at www.uddercovers.com/ by using the coupon code MUMINTHEWOODS!
So where does the baby go when you are pumping on your seat? Pumping with the baby in your lap is going to be very difficult. If you don't have a traveling companion, you might want to book a separate seat for your baby.
Or, you can check your airlines and see if they provide an in-flight bassinet. Some airlines even provide a free open seat upon request.
If you are traveling by car, simply wait till the baby falls asleep.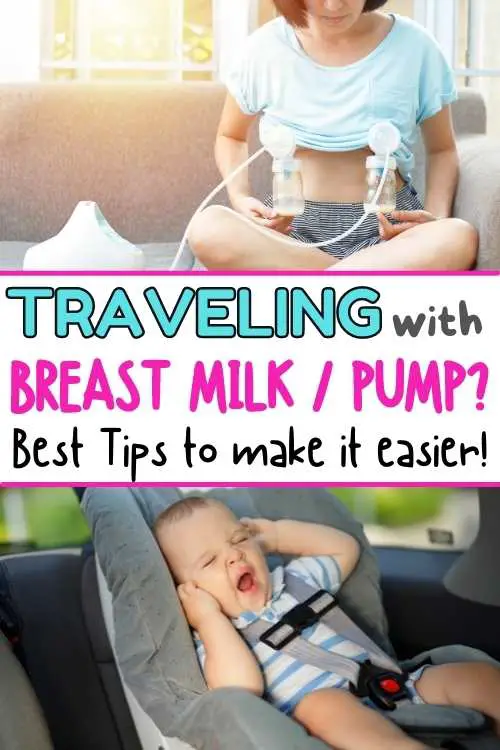 6) Storing the Freshly Pumped Milk on the Go
One full pumping session is probably going to make you end up with more milk than your baby can immediately consume. If it's a long-haul flight or road trip, carry plenty of ice packs, gel packs, bottles, and a water-tight cooler with you.
Standard milk collection bottles can only contain 3 oz. of liquid. To be safe, pack as many extra bottles as you can. Declare it at the security checkpoint. As you already know, breast milk is considered a liquid medicine.
So if you tell the inspector that the empty bottles and extra ice packs are for the breast milk, they will allow it. Request the TSA agent to wear gloves while inspecting the bottles.
Remember that breast milk stays fresh in a cooler with ice packs for about 24-hours. If you're traveling by car, invest in an electric cooler. Plug it into the outlet of your car and you're sorted.
7) Book a Hotel Room with a Refrigerator
In case you don't have a plug-in cooler, make sure to call your hotel and book a room with a refrigerator. If your room doesn't have a freezer but has a mini-fridge, you can perhaps put the thermostat on the lowest setting.
As a last resort, go to the hotel desk and ask them to allow you to keep the cooler in the hotel freezer.
8) Ship the Milk
What if there's no way to get access to a freezer? What do you do with the large stash of milk you pumped during the trip? It's not like you can make ice cream with it or whatever. If you find yourself in a situation like that in the middle of a long trip, ship it home.
You can ship breast milk overnight via FedEx, USPS, and UPS. They use dry ice and handle the packaging carefully. Mind you that dry ice is cold enough to shatter plastic milk bottles.
So make sure to carefully pack the bottles or bags in a zip-lock bag. Beef it up with styrofoam blocks or crumpled newspaper. Granted, shipping milk is a costly affair but it's better than throwing the milk away.
Please note that this solution that may not work if you are traveling internationally.
Flying and Traveling with Breast Milk and a Breast Pump: Final Thoughts
Here it is mama, all my best tips for flying and travelling with a baby if you are pumping and bottle feeding. I really hope this will help you get well organized and take some of the stress away!
Remember not to hesitate to ask around for help, should you need it. The airport staff and flight attendants are usually quite happy to help breastfeeding mothers.
Finally, if you are using a rechargeable pump, always double-check the charging level before stepping out of the door. And, Most importantly, while pumping in a public place, act casual, act like you know what you are doing.
In most countries, people don't care. And even if they do, you shouldn't.
For more information and tips on breastfeeding or bottle feeding, also check out these posts:
---
Are you a mom who's about to travel with a baby and a breast pump and have a questions with regards to the tips above? Or do you have more tips not listed here that you'd like to share? Then please let me know in the comments below – I'd love to hear from you!
Did you find this useful? Pin It!