A baby could sit in a high chair after 6 months of age!
However, age isn't the best indicator of whether your baby is capable of sitting in a high chair or not. So, you need to know a few things more.
Knowing that a high chair can make your life easier can tempt you to get your child on it as soon as possible. You won't have to hold your baby and feed them. Moreover, you get to eat together as a family.
That said, as many as 9400 children got injured in the U.S while sitting on high chairs from 2003 and 2010. So, you just need to have a little bit of patience and make the final call when it is absolutely safe.
If you are wondering when can baby sit in a high chair, here's all you need to know!!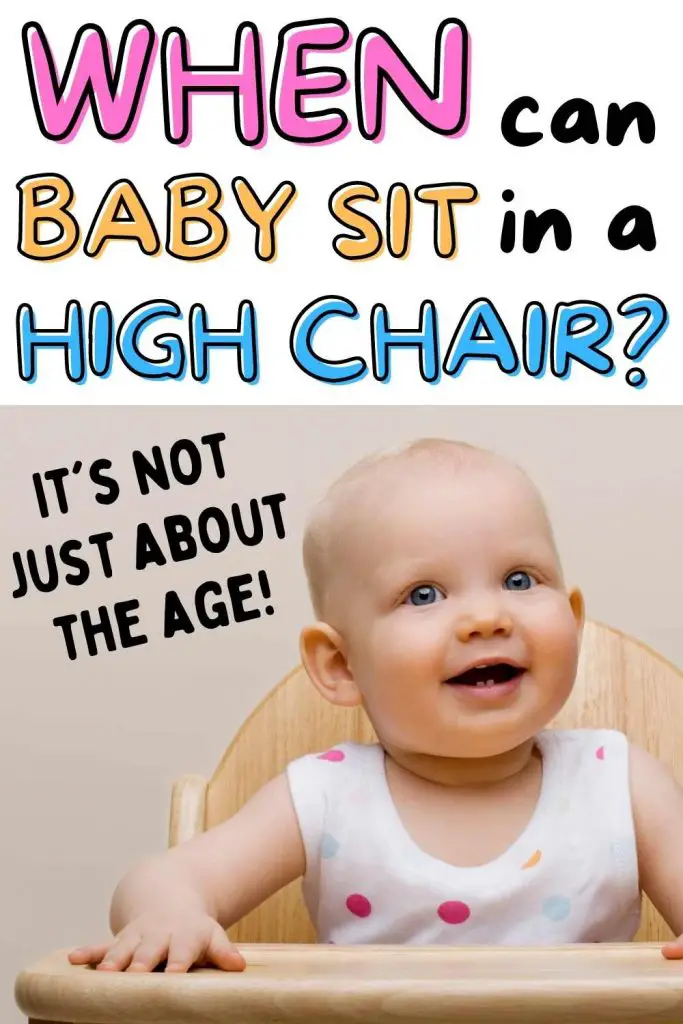 High Chair: Brief Intro and Why Parents Use It?
High chairs have been in use since the 17th century but mass productions only began in the 1950s. So, it's easier to say this handy baby equipment has been around for a while.
It's a simple chair equipped with a feeding tray, height adjustable frame and safety buckles. The idea is to enable the baby to eat independently and the adjustable height gives you freedom to spoon feed your baby from a standing position.
High chairs usually have a wide open base for increasing the stability. You will also find booster seats that can be attached to another chair and they also work just like high chairs.
Some adjustable high chairs can even be used with counter height tables which can reach up to 32-36 inches in height. And some models can be attached directly to the table which allows you to keep your baby at just about any height. For more details on these types of high chairs, check out this guide.
Signs that your Baby is Ready for a High Chair
When do babies start using high chairs? Here's all the signs that your baby is ready to sit in one!
1) Surpassing 6 Months
One of the most asked questions we get from parents is: at what age do babies use high chairs? As said earlier, 6 months old is the minimum age for high chairs. That's because that's the age when babies usually begin to sit with a little help.
However, we recommend waiting a month or two more to make sure that the baby is a lot more stable and ready for the shift. At 8-9 months, when babies can usually sit independently without support, a high chair is much safer to use.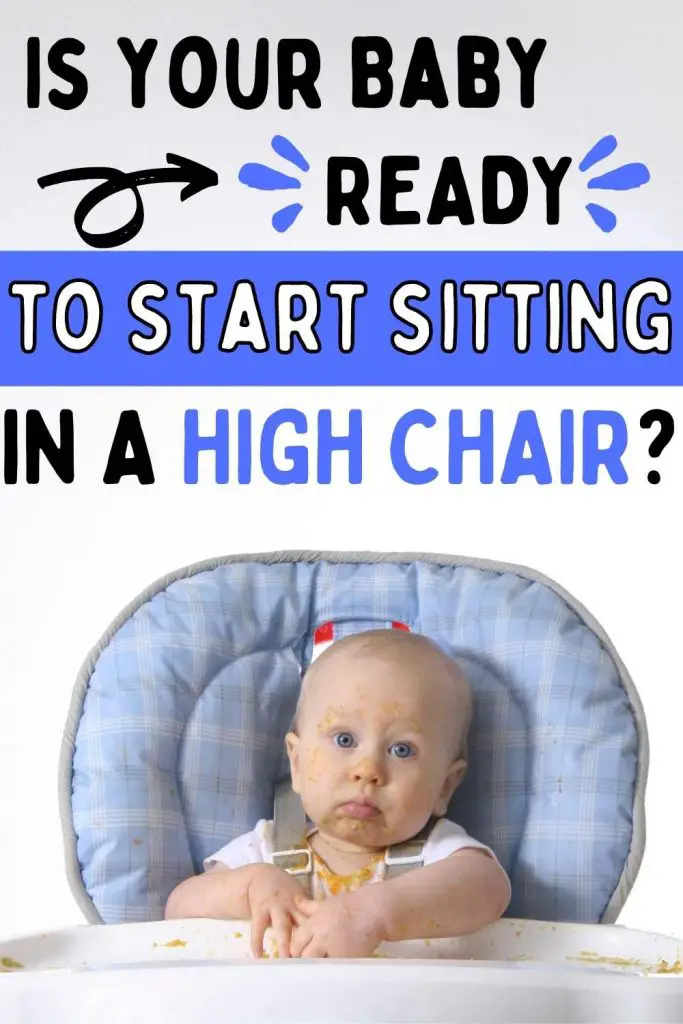 2) The Stability of the Body: Head, Neck and Shoulders
Age should not be the only factor when deciding to transition to a high chair. Physical development of babies varies. So, you need to check out a few things:
Check if your baby is able to hold his neck and head upright for a long time without needing any pillows for support. This means, the head shouldn't wobble to either side, forwards or backwards.
Next, observe your baby's shoulders. Are they upright or swaying sideways for support? Shoulders upright and stable are a green signal.
Your baby should also be capable enough to use his hands to grab food from the tray. The trick here is to analyze if your child is more concerned about remaining upright or grabbing the food. If they spend too much effort remaining stable, that's a red sign which means they aren't ready yet.
3) Baby has started eating Solid Foods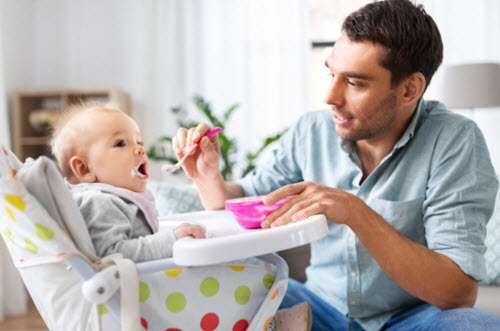 When your baby starts eating solid foods, this is also a sign that they can sit upright and are eligible to use a high chair. This isn't the ultimate rule, but you can keep this in your checklist along with the other signs mentioned here.
4) Your Baby doesn't move too much or jumps in the air
If you are wondering when baby can sit in a high chair, also consider that older babies that are quite mobile can be at risk when using one.
Most of the cases related with high chair injuries involve children moving too much, standing or even jumping on the high chair. So. if your baby is too fussy and doesn't stay calm even for a few minutes, it's best to avoid buying a high chair (or stop using one if you have done so till now).
Even if you do use one, always monitor your baby and use the buckles!
Advantages of using a High Chair for Babies
If you are not sure whether a high chair is a good investment for your baby or not, have a look here at all the advantages. I have used a high chair with both my kids and I honestly couldn't have done it without it!
1) It keeps your Baby Safe and Comfortable
High chairs nowadays are nothing like before. Through design improvement manufacturers now offer comfy padded seats and an array of security features.
Many high chairs even come with wheels, straps and other features to make it safe and comfy for the baby.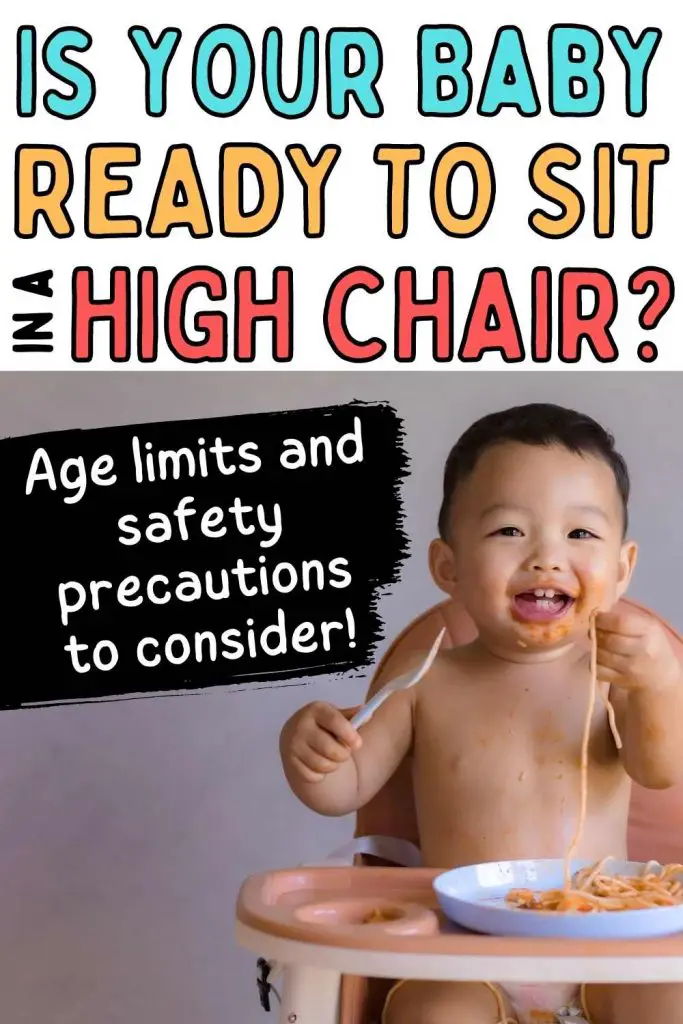 2) It encourages your Baby to sit on their own
On a high chair, your baby will naturally start eating on their own. The food is just in front of them and, with other family members eating closely, the baby will adapt quickly.
A high chair also encourages your child to be independent and self-reliant.
3) You can Travel Anywhere with it
Most modern high chairs have folding mechanisms that make them quite portable.
If you are one of those parents who keeps thinking about when your baby can sit in a high chair at the restaurant, when your child comes of age, you can carry the high chair to any of your favorite restaurants and enjoy meals together.
This Primo PopUp Folding High Chair folds down to just 4 inches thick and weighs only 10 lbs, making it so convenient if you are often on the move and want to bring your high chair with you wherever you go.
4) It helps Babies learn to Socialize from an Early Age
A baby in a high chair will be able to see and observe how other family members eat and interact with each other. This will help them socialize, learn table manners and a lot of other stuff that you can't teach in other ways.
How to Transition Your Baby to a High Chair
It can be a difficult task to introduce your child to a new concept and in this case the high chair. But with some basic methods, you can make the transition much safer and easier:
Before everything, you as a parent should educate yourself on high chairs. Inspect the high chair carefully and try to understand how it works and all that stuff.
Let your baby use it for a short span of time over a week. This will give them time to get familiar with the high chair and will also minimize chances of accidents.
Always keep the high chair at such a height that your baby can see you or others at the dining table.
Put your baby on the high chair and pretend that you have left the room. Now observe if your child is trying anything silly like standing or jumping. If so, stop them immediately and make them understand that she needs to follow some rules. This trick will let you know that you can't keep your baby unattended.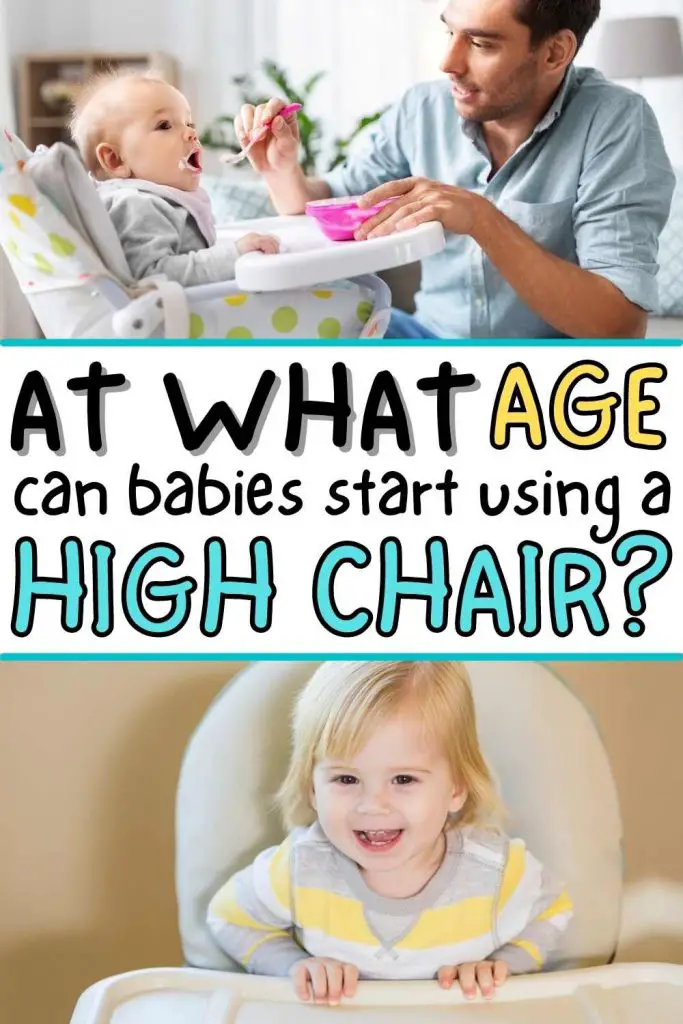 What to Consider When Choosing a High Chair for a Baby
Here's everything you need to consider when buying a high chair.
1) Adjustable Height 
Apart from safety features, the adjustability of a high chair is what you need the most. This will allow you to use it with tables of varied heights.
If you have a counter height table, look for a chair that can reach close to 36 inches, such as the Graco Blossom 6 in 1 Convertible High Chair. This high chair has 6 height adjustments and goes up to 32 inches. Plus, it has 3 recline positions, so that you can start using it from when your baby is still very little to a toddler age, and it has a detachable booster sit!
2) Safety features
There are two basic safety features which should be available in the high chair you buy. First it should have a 3-point or 5-point harness. And second, the base should be stable enough that the chair doesn't move or fall with baby's movement.
If you have a very wriggly baby, I would highly recommend a high chair with a 5-point harness instead of 3. In this case, the shoulder straps work just like the belt of a car seat, keeping your baby's torso from falling forward and also prevent your little one from getting out (as they may be able to with a 3-point harness).
I have personally experienced this with my second daughter: she was just so determined in getting out all the time and I had to change high chair to keep her safe!
Here's a couple of examples of high chairs with a 5-point harness:
3) Functional Food Tray
A fixed food tray isn't an issue. But there's a lot of models in the market that have a swiveling tray or trays that can be moved using one hand. These sort of trays will save you a lot of trouble.
The Graco Blossom 6 in 1 Convertible High Chair shown above has a tray that can be removed with just one hand.
4) Portability
Better if the high chair has lockable wheels. This will allow you to move the chair from one room to another where necessary. Moreover, some models can be folded to some degree and enable you to carry it to restaurants or anywhere else.
The Evenflo Symmetry High Chair shown above has wheels and can be folded for easier storage or travel. Or another good options is the Safety 1st 3-in-1 Grow & Go High Chair: it has 4 lockable wheels (instead of just 2) and it becomes super compact when folded.
5) Reclining back and footrest
A reclining back will give your child freedom to relax back, while the footrest will add more comfort as your child will have a place to rest his feet. However, these features are completely optional and you will need to pay an extra price for them. If you are on a budget, don't worry too much about these!
Related: Baby on a Budget – Top Tips on How to Save Money with a New Baby
The Graco Blossom 6 in 1 Convertible High Chair has both features or another good option is the Chicco Polly High Chair.
Safety Precautions for High Chair
Finally, here's some things to consider to make sure that you are using the high chair as safely as possible.
Always and make sure the strap is on! Even when you are away for a few minutes, when you come back, check the strap again. Clever ones can quickly figure out how to get the strap off. So, be careful.
It's best to never keep your baby unattended on a high chair. Keep an eye on them while they are eating.
Don't use the high chair for anything other than eating. It might be tempting to keep your baby on it even after they finish eating. But avoid it altogether!
Check the condition of the chair periodically: make sure that the seat isn't cracked or the seat pads have peeled off. 83% of all seat related injuries on high chairs involve cracked seats.
If the high chair has wheels, you've got a new headache. Sure, wheels are handy and will keep the chair mobile. However, you might forget to lock the wheels and your child can get injured. So, always check the wheels are locked before you make the baby sit on the chair.
When can Baby sit in a High Chair: Final Thoughts
Here it is mama, this guide should be comprehensive enough to answer some of the common queries like "When can I put my baby in a high chair?", "How will I make my baby start using a high chair?" or "Is my baby grown up enough for a high chair?".
Always remember that more than age, your baby's physical development and the ability to remain stable matters!
If your baby is ready to sit in a high chair, then you should also check out these hip seat baby carriers! They are amazing and way more comfortable for parents' backs and shoulders compared to traditional carriers.
For more baby tips, also check out these related articles:
---
Do you have a small baby that you think might be ready to transition to a high chair and have some questions about the information provided above? Or do you have more tips and information that you'd like to share with other moms? Then please let me know in the comments below – I'd love to hear from you!
Did you find this useful? Pin it!