Growing up is not easy. There's so much about life that kids still need to figure out and finding the words to express what you are feeling inside can be really hard sometimes.
Plus, there's so much that us, as parents, want to teach about life to our children, yet we often fail to find the right words. Whether it's to inspire them to become the best version of themselves and believe in themselves, to give them comfort during hard times, or to transmit them our values, these quote will really help you do all of that.
I have gathered here 80 of the best quotes for kids about life that you can share with them when in need. I have grouped them in different sections, so that you can choose the most appropriate ones depending on what's happening in their world and on your motivation.
Some are just cute and remind our kids about the gift of life and how we shouldn't give it for granted, some are inspirational quotes to teach our kids how to be successful in life, some are about the importance of being kind to one another or to love yourself for who you are, and so on.
Keep reading and I am sure you will find the perfect quote about life for your kid.
Are you also expecting another child or caring for another little one? Then also check out these cute baby quotes and pregnancy quotes, perfect to lift your spirit or to post on social media.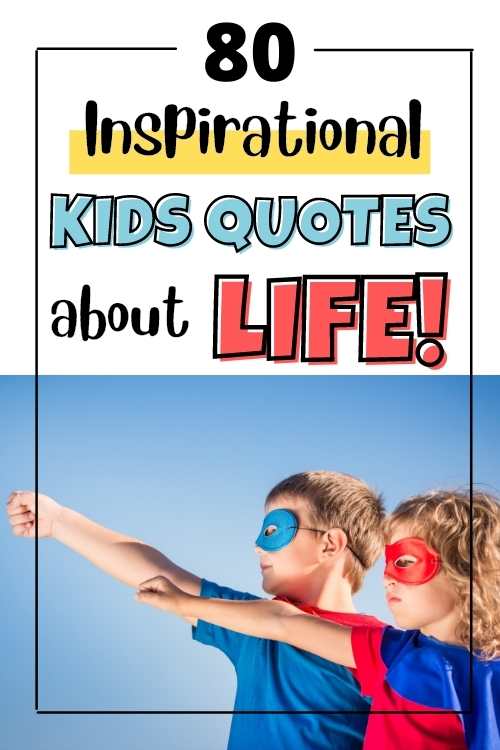 Best Kids Quotes about Life
I am going to start with quote that actually have the word 'life' in them. They are either about the purpose of life, what life is and how you should live it to make the best out of it.
1) "When life gives you a rainy day, find the rainbow" – Unknown
2) "The meaning of life is to find your gift. The purpose of life is to give it away" – Pablo Picasso
3) "Choose your friends with caution, plan your future with purpose, and frame your life with faith" – Thomas S. Monson
4) "The best adventure you can ever take is to live the life of your dreams" – Oprah Winfrey
5) "Life is a gift" – Unknown
6) "Go confidently in the direction of your dreams. Live the life you have imagined" – Henry David Thoreau
7) "Life itself is the most wonderful fairy tale" – Hans Christen Andersen
Quotes that the Importance of Kindness and Love in Life
These particular children's quotes about life focus on kindness and love and the importance of having and practicing both in life.
I particularly love quote number 10 as I believe it takes an incredible amount of strength to always show kindness to other people when you feel like no one does anything in return for you or when you feel like your life itself is being turned upside down. But I do believe that random acts of kindness will always pay off in life and will always end up making you feel good about yourself.
8) "It's not what we have in life, but who we have in our lives that matters" – Unknown
9) "There is only one happiness in this life, to love and be loved" – George Sand
10) "No matter what life throws at you, always throw kindness back at it" – Unknown
11) "We make a living by what we get, but we make a life by what we give" – Winston Churchill
12) "Love is the most important thing in life" – Sheryl Crow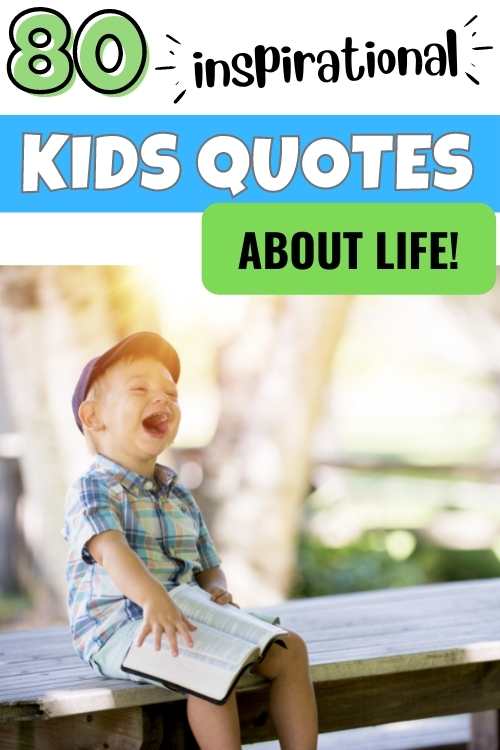 Quotes about success in life
If you feel like your kid needs some motivation in life to reach their goals or dreams, or a simple reminder that the path to success is never easy or straight, then these inspirational quotes are for you.
13) "Life is like riding a bicycle. To keep your balance, you must keep moving" – Unknown
14) "Life isn't about waiting for the storm to pass. It's about learning how to dance in the rain" – Unknown
15) "When life gets you down, do you wanna know what you've gotta do? Just keep swimming" – Dory, Finding Nemo
16) "Choose a job you love, and you will never have to work a day in your life"  – Confucius
17) "When you do the common things in life in an uncommon way, you will command the attention of the world" – George Washington Cover
18)  "The whole secret of a successful life is to find out what is one's destiny to do, and then do it" – Henry Ford
19) "Aim for success, not perfection. Never give up your right to be wrong, because then you will lose the ability to learn new things and move forward with your life. Remember that fear always lurks behind perfectionism" – David M. Burns
20) "The most important thing in life is to stop saying "I wish" and start saying "I will" – Charles Dickens
21) "Each day is a new day, a new opportunity to work towards making your life the way you want it" – Josie Cluney
22) "Life is tough, but so are you" – Unknown
23) "Life doesn't give us purpose. We give life purpose" – The Flash
24) "Mistakes are part of the dues one pays for a full life" – Sophia Loren
25) "Life is a succession of lessons which must be lived to be understood" – Helen Keller
26) "Don't let life discourage you; everyone who got where he is had to begin where he was" – Richard L. Evans
27) "You get in life what you have the courage to ask for" – Oprah Winfrey
Other Quotes on Life for Kids
Here's other quotes about life for children. While these don't specifically mention the word 'life', they still contain valuable life lessons and messages for our kids.
Quotes about Positivity and Getting through Hard Times in Life
These quotes are about the importance of always being positive and looking at the glass being half full, as well as the importance of never stop trying or believing in yourself. We all go through some rough patches in life, but there is always a light at the end of the tunnel, and these quotes will keep reminding you of that.
28) "No matter how bad things get, something good is out there, over the horizon" – Green Lantern
29) "It's not how many times you get knocked down, it's how many times you get back up" – Unknown
30) "Mistakes are proof that you are trying" – Unknown
31) "Don't cry because it's over, smile because it happened" – Dr Seuss
32) "Fall seven times, stand up eight" – Japanese proverb
33) "Never fear shadows. They simply mean that there's a light somewhere nearby" – Ruth E. Renkei
34) "I am only one, but I am one. I cannot do everything, but I can do something. And I will not let what I cannot do interfere with what I can do" – Edward Everett Hale
35) "When one door of happiness closes, another opens" – Helen Keller
36) "You cannot change the circumstances, the seasons, or the wind, but you can change yourself. That is something you have" – Jim Rohn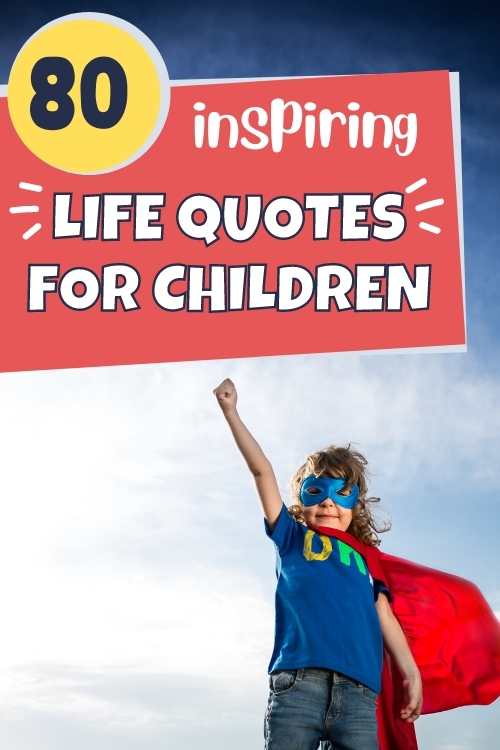 Inspiring quotes about Dreams, and Believing in Yourself
We all need a reminder of the importance of having dreams in life and what it take to achieve them. Believe in your dreams and never give up – this is what these quotes are about.
37) "All your dreams can come true if you have the courage to pursue them" – Walt Disney
38) "Reach high, for stars lie hidden in your soul. Dream deep, for every dream precedes the goal" – Pamela Vaull Starr
39) "Believe you can and you will" – Unknown
40) "Never give up on what you really want to do. The person with big dreams is more powerful than one with all the facts" – Albert Einstein
Quotes about Kindness, Caring for One Another and doing the Right Thing
In our society we tend to be so focused on having success, always winning or making lots of money, that we often forget that's not all that matters in life. Some people will actually argue that is not what matters at all.
For kids and teenagers in particular it can be hard to lose that focus on how important it is to consider the way we treat other people around us with kindness and compassion. How we all play a role in making this a better and kinder world for everyone else.
These quotes will help your children regain that focus or that consciousness. They will remind them to 'do the right thing', even when the pressure of society is getting at them.
41) "You don't need a cape to be a hero, you just need to care" – Unknown
42) "The more you give away, the happier you become" – Unknown
43) "Do the right thing even when no one is looking" – Unknown
44) "Be the change that you wish to see in the world" – Mahatma Gandhi
45) "The time is always right to do what is right" – Martin Luther King, Jr.
46) "In any moment of decision, the best thing you can do is the right thing. The worst thing you can do is nothing" – Theordore Roosevelt
47) "Success is not how high you have climbed, but how you make a positive difference to the world" – Roy T. BEnnett
48) "Forgiveness does not change the past, but it does enlarge the future" – Paul Boese
49) "You will never have a completely bad day if you show kindness at least once" – Greg Henry Quinn
50) "People will forget what you said. People will forget what you did. But people will never forget how you made them feel" — Maya Angelou
Quotes about Being Different
Having grown up feeling that I was different from everyone else but not being able to wrap my head around it until I realize I was gay in my 20s, these particular quotes really strike a chord with me. And I am sure they have the potential to affect positively so many other kids out there.
If your child is one of those kids that don't 'fit-in' and feels different, please share these quotes with them!
51) "You have to be unique and different and shine in your own way" – Lady Gaga
52) "Why fit in when you were born to stand out?" – Dr. Seuss
53) "Being different isn't a bad thing. It means you are brave enough to be yourself" – Luna Lovegood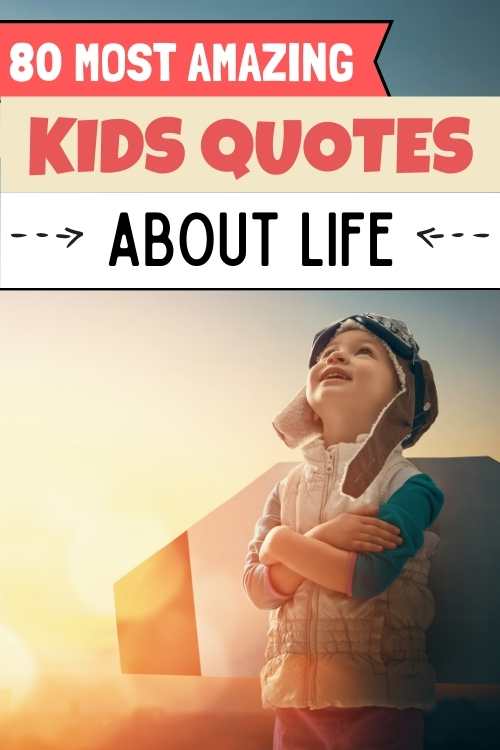 Quotes about Success in Life
Here's more inspiring kids quotes on what it takes to be successful in life.
I particularly like the Epictetus at point number 59: "It's not what happens to you, but how you react to it that matters". I often find that your attitude towards something that happens to you and the way you react to it can make a huge difference in how you become successful in life.
If you are looking to inspire your kids to do better or get better at something, you might find the right quote for your here.
54) "Don't wait until you reach your goal to be proud of yourself. Be proud of every step you take" – Simone Biles
55) "Winning doesn't always mean being first. Winning means you're doing better than you've done before" – Bonnie Blair
56) "Don't let what you can't do stop you from doing what you can do" – John Wooden
57) "The secret of getting ahead is getting started" – Mark Twain
58) "Only those who dare to fail greatly can ever achieve greatly" – Robert F. Kennedy
59) "It's not what happens to you, but how you react to it that matters" – Epictetus
60) "It is better to be a failure at something you love than to be a success at something you hate" – George Burns
61) "Only those who will risk going too far can possibly find out how far one can go" – T. S. Eliot
62) "Opportunities don't happen, you create them" – Chris Grosser
63) "You don't learn to walk by following rules. You learn by doing and falling over" – Richard Branson
64) "If you are offered a seat on a rocket ship, don't ask what seat! Just get on" – Sheryl Sandberd
65) "The best way to predict the future is to create it" — Abraham Lincoln
66) "The people who are crazy enough to believe they can change the world are the ones who do" — Steve Jobs
67) "It always seems impossible until it is done" – Nelson Mandela
68) "Success is not final, failure is not fatal: it is the courage to continue that counts" – Winston S. Churchill
Quotes about the Importance of Education
If you believe in the importance of education but you are struggling to get that message across to your child, then these kids quotes about life that focus on education might help you out. I would particularly print Oprah's quote and get my kid to read it out loud every morning!
69) "Knowledge will bring you the opportunity to make a difference" – Claire Fagin
70) "Develop a passion for learning. If you do, you will never cease to grow" – Anthony J. D'Angelo
71) "Education is the passport to the future, for tomorrow belongs to those who prepare for it today" – Malcolm X
72) "Everybody's a teacher if you listen" – Doris Roberts
73) "Education is the key to unlocking the world, a passport to freedom" – Oprah Winfrey
Quotes about the Importance of Discovery in Life
What's life without a bit of adventure, exploring new worlds, cultures and landscapes? If this is the message you want to get across to your kid, check these out.
And, like M. Proust said, it doesn't necessarily need to be about the physical discovery of new places.
74) "The real voyage of discovery consists not in seeking new landscape, but in having new eyes" – Marcel Proust
75) "Twenty years from now you will be more disappointed by the things that you didn't do than by the ones you did do. So throw off the bowlines. Sail away from the safe harbor. Catch the trade winds in your sails. Explore. Dream. Discover." – H. Jacksen Brown Jr.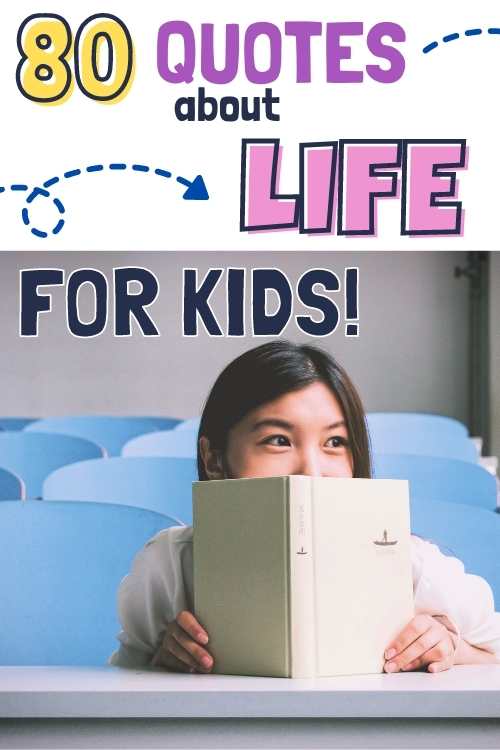 Other Kids Quotes about Life
Finally, some extra inspiring kids quotes about life that didn't really fit in any of the categories above, but I thought where still worth being mentioned here.
76) "Live as if you were to die tomorrow. Learn as if you were to live forever" – Mahatma Gandhi
77) "Every action in our lives touches on some chord that will vibrate in eternity" – Edwin Hubbel Chapin
78) "Do a little more than you're paid to. Give a little more than you have to. Try a little harder than you want to. Aim a little higher than you think possible, and give a lot of thanks to God for health, family, and friends" – Art Linkletter
79) "Yesterday is history. Tomorrow is mystery. Today is a gift. That's why we call it 'The Present'" – Eleanor Roosevelt
80) "Remember, happiness doesn't depend upon who you are or what you have; it depends solely upon what you think" – Dale Carnegie
Quotes for Kids about Life: Final Thoughts
Here it is mom (or dad): all my best children's quotes about life that you can read and share with your kids. Whether it's to give them some courage to believe in themselves or to become a better person, I really have hope you found what you were looking for here.
Having kids or being one, particularly during the teenager years, can be really tough sometimes, and finding the right words to keep you going, lifting you up, or expressing all those feelings inside is not easy. But you got this and, as a parent, I am sure you are already doing an amazing job in helping your child grow into a wonderful human being (quotes or no quotes).
For more quotes if you are expecting another child or also have a little one at home:
---
What do you think of the kids quotes about life listed above? Do you know of any other quotes that could be added above or do you have any questions? Then please let me know in the comments below – I'd love to hear from you!
Did you find this article useful? Pin It!