This article may contain affiliate / compensated links. For more information, please see my disclaimer here.
I have collected here a list of free hypnobirthing apps available for download.
While some of these can be a great extra resource to practice your hypnobirthing techniques and prepare for childbirth, I highly recommend enrolling in a hypnobirthing course.
Hypnobirthing is way more complex than just listening to some relaxation music, birth affirmations, or practicing breathing techniques. It requires lots of practice and discipline. And it needs to be done right. Only a hypnobirthing course will equip you with the right tools to prepare for a calm and gentle birth experience 🙂
Related:
– Top 5 Hypnobirthing Online Classes
– Hypnobirthing breathing techniques
– The Most Powerful Birth Affirmations for a Positive Birth Experience
– Hypnobirthing 101: the hypnobirthing basics for a positive birth experience
Best Free Hypnobirthing Apps
Here's the list of best hypnobirthing apps I have found that include free content.
#1 Hypnobirthing
This is an awesome app with lots of free tracks including the Rainbow Relaxation, Birthing Affirmations and a Positive Cesarean track. It doesn't require the creation of an account which I always find to be a bonus.
You can add tracks to a favorite playlist and you can also get a pregnancy calculator as well as suggestions on pregnancy workouts.
Adds do come up occasionally and need to be closed to continue.
I really wish I had known about this app when I was pregnant!! I had MP3s but was always too lazy to put them on the phone … so when I was outside I was often listening to hypnobirthing tracks on Spotify, which has so many adds. Imagine you are listening to a peaceful relaxation track and all of a sudden you get a loud add trying to sell you something …. nice.
Online available for Apple devices.
#2 GentleBirth Hypnobirthing
This app creates a personalized plan of audio tracks for you depending on how many weeks pregnant you are. Therefore, when you first open the app, it will ask for a nickname and how far along you are. It does also ask to create an account in order to continue.
The daily personalized plan includes 2 audio tracks per day (they often repeat themselves). If you want to unlock more, you need to pay $9.99.
Bonuses are that it allows users to play downloaded sessions offline and to add audio tracks to a wish list.
Available for both Apple devices and Androids.
#3 Hypnobirthing: Calm Birth App
This app asks you to create an account straight away and it only includes 2 free hypnobirthing audio tracks: 'breathing affirmations for labor' and 'being present'. If you want access to more tracks, you need to subscribe to a plan for $8.99 per month.
It does include a pregnancy due date calculator which reveals interesting stuff about pregnancy and your baby.
Online available for Apple devices.
#4 Birth Made Easy – Hypnobirthing
The app is also called Inner Power Hypnobirthing. There's actually only one track that's free (Relaxation Visualisation). To listen to the other tracks you need to pay $14.99. This includes 7 more tracks that cover all eventualities from natural birth to c-section and how to help baby arrive if overdue.
Available for both Apple devices and Androids.
#5 iHypnoBirth-lite
This is the free version of the iHypnobirth app. It only contains two free tracks: one with positive birth affirmations created specifically for labor and birth and one relaxation music for birth. You can unlock all tracks for £3.99. I must say… I really like the theme!
Online available for Apple devices.
[maxbutton id="5″]
#6 Calm Childbirth
This app is free to download. However, you need to pay £4.99 to actually download the five hypnobirthing audio tracks. It does include two free hypnosis meditation sessions: 'Calm Childbirth Coaching Session' and 'Communicate with your Baby'.
Online available for Apple devices.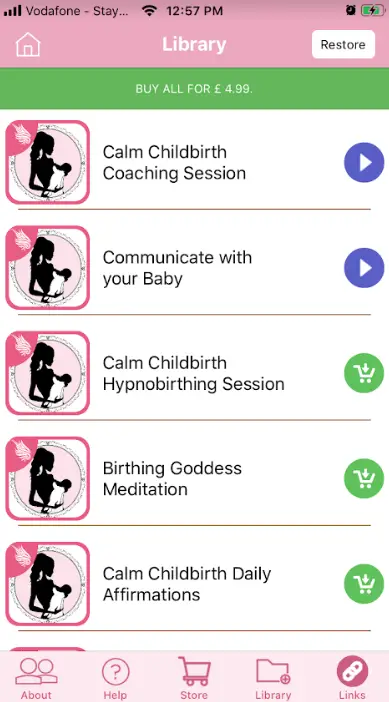 More Hypnobirthing Apps to Consider
The hypnobirthing app below is not free. However, I still think it's one of the best hypnobirthing apps out there, and it's still very affordable.
Freya Hypnobirthing App
The Freya App is the official up of the Positive Birth Company, the cheapest and one of the top online hypnobirthing classes. It does cost £2.99 and it doesn't just include some other audio tracks like the other apps: it's actually designed to coach you through labor!
Related: Top 5 Hypnobirthing Online Classes
Here's what it offers:
Coach you through each and every surge with a simple breathing technique
Help you to relax in between surges with a mix of positive affirmations, calming visualizations, guided meditations and gentle music
Keep track of how frequently your surges are coming and how long they are lasting
Let you know when labor is established and it might be a good idea to contact your midwife
Freya is available for both Apple devices and Androids, as well as Apple Watch compatible, meaning you can switch between iPhone and Watch at any time!
---
Did you come across another hypnobirthing app that's not listed here but you think it worth adding? Please let me know in the comments below! 🙂
Found this helpful? Pin It!