Perineal massage is a very helpful massage of the perineum pelvic floor tissues that you can practice during pregnancy. It will increase your chances of having an easier labor and delivery and reduce the possibility of tearing, bruising, or having an episiotomy.
This also means that your postpartum recovery will also be much easier and quicker!
Perineal massage is also one of the key elements for the success of hypnobirthing, and one of the best tips if you want to achieve a natural birth. If you've never heard of hypnobirthing, I really recommend you find out more about it here. It allowed me to have the most amazing, calm, empowering and pain free birth.
Related: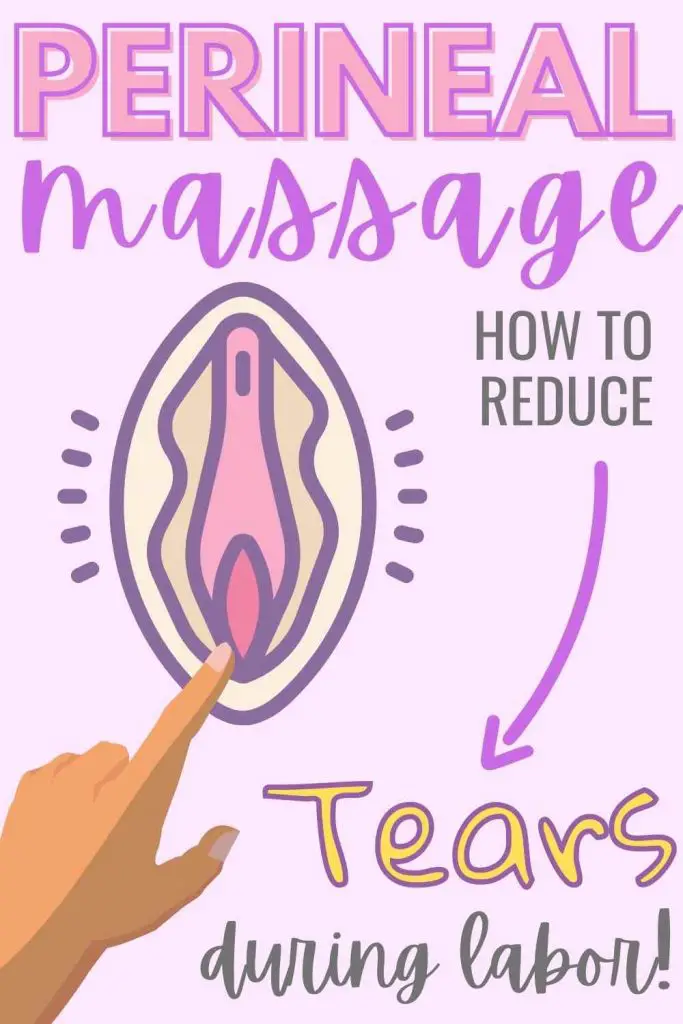 How does the Perineal Massage Work?
A Perineal Massage works by improving the health, blood flow, elasticity and relaxation of the pelvic floor muscles. When your perineal rim is soft and relaxed, the folds of the perineum open easily, and the baby can slip past the rim and out of the front bottom.
In a recent study, researchers discovered that women who received massage during the second stage of labor (during and between pushing) had a lower risk of third and fourth degree tears.
The Benefits of Perineal Massage
Like I mentioned before, massaging your perineum during pregnancy increases your chances of having an easier labor and delivery and reduce the possibility of tearing, bruising, or having an episiotomy.
But let's look more in details at all its benefits.
1) Prepares the Tissues of the Perineal Area
Massaging the area increases blood flow to the perineum and may help the tissues and skin stretch with more ease. This results in less pain when giving birth naturally.
2) Less Risk of Tearing
Massaging your perineum regularly during pregnancy significantly reduces your chances of tearing during childbirth. In fact, around 1 in 15 women who regularly do perineal massage don't need an episiotomy or otherwise experience a tear that requires stitches.
3) Less likely to need Stitches
Even if the massage doesn't prevent any tearing, it can still reduce the need for stitches by as much as 10 percent. And, trust me, stitches after birth are not much fun: I struggled to pee for a few days and survived only thanks to the Peri Bottle in my postpartum care kit.
Related: Postpartum Care Kit Checklist (with all Essentials!)
4) Helps if you have Scar Tissue
Women who have had a previous injury or otherwise have a rigid perineum (dancers, horse riders) may find this massage is especially useful.
5) Helps you Practice for Birth
Paying attention to the area that stretches the most during delivery allows you to focus on relaxing and learning the sensations you may encounter. This may help you get in the zone for birth both physically and mentally.
6) Less Risk of Postpartum Urinary and Fecal Incontinence
Massaging your perineum will allow your muscles around the pelvis to recover quicker after birth, therefore making it less probable for your to experience urinary of fecal incontinence postpartum.
When to Practice the Perineal Massage
The perineal massage needs to be practiced towards the end of pregnancy, 6 to 8 weeks prior to the due date. And it needs to be done every day for at least 5 minutes.
Some people recommend only doing it once or twice a week, others every other day. HypnoBirthing recommends doing it every day. However, I think the frequency also depends on how rigid your perineum is.
It may pay to ask your care provider (midwife or obstetrician) if they recommend anything specific for you.
Perineal massage can also be practiced during labor itself! You can ask your partner or midwife to help doing the massage during the second stage of labor (during or in-between pushing). This study showed that perineal massage during labor significantly lowers the incidence of severe perineal trauma.
Oils to use for the Perineal Massage
You should not massage your perineum without the help of some sort of lubricant to avoid friction and to help hydrate the tissues of the perineum. You can choose amongst a variety of oils while massaging your perineum, and choosing a specific type is up to your personal preference, access, and budget.
You could try:
Natural oils, like organic sunflower, grapeseed, coconut, almond, or olive
Personal lubricants, like K-Y Jelly, are also a good choice because they're water soluble
Your body's own cervix lubricant, if and only this makes you more comfortable
I personally used olive oil from my kitchen. But, whatever you choose, stay away from using synthetic oils or lubricants, like baby oil, mineral oil, or petroleum jelly. Also avoid perfumed oils.
Perineal Massage Technique
Here's how to do a perineal massage during pregnancy:
Start by washing your hands! And if you have long nails, I suggest you clip them to avoid scratching yourself.
Sit in a comfortable position that allows you to reach your perineum, such as sitting in bed with your back against some pillows and your knees bent, or squatting against a wall for support.
Apply the oil to your clean hands.
Insert the finger(s) into the vagina, approximately two to three inches in, pressing downward on the area between the vulva and the back bottom. Rub the oil into the inner edge of the perineum and the lower vaginal wall. You can use either or both thumbs, your index or middle fingers, or two fingers on each hand.
Maintaining a steady pressure, slide the fingers upward along the sides of the opening in a U type motion. This pressure will stretch the tissue, the surrounding muscles, and the outer rim of the perineum.
At the beginning you will feel the muscles being quite tight. However, with time and practice, the tissue will feel softer and more relaxed.
Also, make sure not to massage too hard, as this can boost the blood flow to the area too much, which can lead to inflammation, irritation, discomfort or pain.
Perineal Massage Tips
Here's a couple of tips to make the perineal massage as effective as possible.
Tip #1: Relax
Try to relax as much as possible during the massage. This means relaxing both your body and your mind. You may become more comfortable with the sensations as your tissues stretch over time.
Regardless, keep your eye on the time. Your total massage time shouldn't exceed 5 minutes a session.
Tips #2: Ask your partner for help
It may be easier having your partner or someone else do the massage for you, as your big belly might make it quite uncomfortable for you to practice 🙂
If your partner is doing the massage, they would use the first two fingers. If you do it yourself, it may be easier to use the thumb(s).
Perineal Massage Video
Here's a perineal massage video that will make it easier for you to visualize what you need to do.
Perineal Massage: Final Thoughts
If you are planning on having a vaginal birth, either with or without an epidural, you should definitely consider perineal massages towards the end of your pregnancy. There are plenty of studies on how it helps reduce the risk of trauma to the area and, the worse that can happen is that it will not work!
Just remember to be consistent with it, as you definitely won't see any results if you only practice it once or twice.
For more info and tips on having an unmedicated childbirth and hypnobirthing, refer to these related articles:
For tips on how to survive pregnancy:
---
Are you still pregnant and have some more questions about the perineal massage that haven't been answered above? Or are you already a mom that practiced perineal massage before giving birth and have more tips to share? Then please let me know in the comments below – I'd love to hear from you!
Did you find this useful? Pin It!