This article may contain affiliate / compensated links. For more information, please see my disclaimer here.
While both Hypnobirthing and Hypnobabies are childbirth education programs, where parents learn practical and empowering techniques for achieving a satisfying, relaxing and stress free birth, they are not the same thing. Here's an analysis of Hypnobirthing vs Hypnobabies programs.
Hypnobirthing vs Hypnobabies: what are they?
What is hypnobirthing? Hypnobirthing is a childbirth preparation course that focuses on teaching special breathing, relaxation, visualization and meditative practice techniques, so that the body can relax and overcome the fear of pain or birth complications, thus resulting in a confident, calm, peaceful and often pain-free childbirth.
The main idea behind hypnobirthing is that childbirth is not intended to be painful, but it became so after hundreds of years fear being instilled into women. Fear physiologically creates tension in the body and draws blood and oxygen away from the uterus, which results in a very painful and prolonged birth.
Related: Hypnobirthing 101 – the basics for a positive birth experience
For some inspiration, you can read my birth story here: How i had a natural and pain free childbirth thanks to Hypnobirthing.
On the other hand, Hypnobabies® Childbirth Hypnosis is a complete childbirth preparation course that teaches expectant families comprehensive childbirth education and somnambulistic hypnosis techniques, as well as imagery and birth visualization to "re-program" the inner mind (like powerful software!) in a very positive way. This helps to lessen, and in some cases eliminates, fear and discomfort from the birthing experience.
Basically, both programs teach you very similar techniques to use during childbirth. The main difference is that hypnobirthing believes that pain is not a necessary part of birth and, if you master their techniques, your body will be able to birth with ease and little to no discomfort. Whereas Hypnobabies believes that pain is a normal part of birth, but it can be managed or eliminated by using the their hypnosis techniques.
Who are HypnoBirthing and Hypnobabies instructors?
Both Hypnobirthing and Hypnobabies instructors are trained and certified in their respective programs. Anyone can become a Hypnobabies or Hypnobirthing practicioner.
A list of all certified Hypnobabies practitioners is available on their website. For certified Hypnobirthing instructors, make sure that the teacher has the required qualification.
Some of the world's most popular hypnobirthing courses are:
The HypnoBirthing emblem is a sign of both credibility and professionalism for Educators of the Mongan Method internationally. Make sure they display the gold emblem on their website!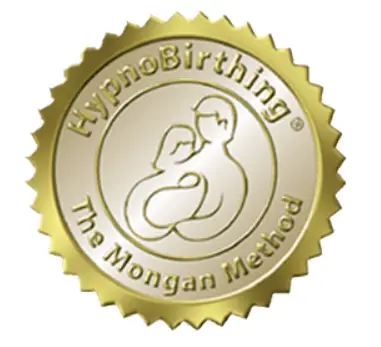 To find Hypnobirthing classes near you, the easiest way is to search on google for HypnoBirthing classes in your town. For Australia though, there's a handy link with all locations displayed on a map on the Hypnobirthing Australia website. KG Hypnobirthing, with teachers all over the world, also has an interactive map to find instructors near you.
To find Hypnobabies classes near you, you can use the search tool from the official Hypnobabies website.
Are there hypnobabies or hypnobirthing online classes?
Most Hypnobirthing and Hypnobabies classes are taught face-to-face. However, more and more practitioners are giving the option to also opt for hypnobabies or hypnobirthing online classes.
For a list of available Hypnobirthing online classes, refer to my post about the Top 5 Hypnobirthing Online classes.
Hypnobabies also offers a Self Home Study Course.
How long do these programs last?
The Hypnobabies program lasts for 6 weeks (3 hours a week).
The Hypnobirthing courses last for around 12 hours. These can be spread in different ways depending on what the practitioner offers.
How much do these programs cost?
The cost for Hypnobirthing classes varies depending on the practitioner. However, most classes I found charge around US $250. But can also cost as low as US $150 or as high as US $400. Hypnobirthing programs taught online seem to be cheaper, for even less than US $150.
For a cost comparison of Hypnobirthing Online Classes, also read: Top 5 Online Hypnobirthing Classes
The cost for the Hypnobabies programs also varies, with most prices I found being between US $375 and US $425. The Hypnobabies Home Study Course costs US $179.95.
All classes include supporting materials such as books or CDs with audio tracks.
The following hypnobirthing courses also offer free hypnobirthing classes online (previews of the full course):
When to start Hypnobabies or Hypnobirthing classes?
Both programs can be started at anytime during pregnancy. However, they both suggest starting as soon as possible – anytime after the first trimester is the right time!
This is because the success of both these methods rely on doing a lot of practice for all the different techniques that are taught. And the more you practice, the better you become at it 🙂
Hypnobirthing and Hypnobabies Birth Stories
Below is a list of Positive Birth Stories from women that did either a Hypnobirthing or a Hypnobabies course.
Hypnobirthing success stories
Hypnobabies success stories
Was this helpful? Pin It!